Canadian Truckers in Ottawa 'Siege' Could Face Fines, Possibly Prison Time
Ontario Premier Doug Ford declared a state of emergency, calling the ongoing protest by the Canadian Freedom Convoy a siege and threatening heavy action against those who refuse to leave.
In a press conference on Friday, Ford said that the original protest can no longer be considered a protest due to its blockage of the Ambassador Bridge, which connects Detroit, Michigan, with Windsor, Ontario. He also said that protesters who do not leave on their own will be fined $100,000 and could face up to a year in prison.
"We're now two weeks into the siege of the city of Ottawa," he said. "I call it a siege 'cause that's what it is. It's an illegal occupation. This is no longer a protest."
He went on to declare a state of emergency throughout the province.
"Today, I am using my authority as premier of Ontario to declare a state of emergency in our province," he said, "and I will convene cabinet to use legal authorities to urgently enact orders that will make crystal clear it is illegal and punishable to block and impede the movement of goods, people and services along critical infrastructure."
Ford said he will increase police presence in areas affected by the blockade, including the Ambassador Bridge over the Detroit River. The licenses of those who refuse to comply with orders could also be suspended. Ford said the measures are temporary, for now.
"We have every intention to bring new legislation forward that will make these measures permanent in law," he said.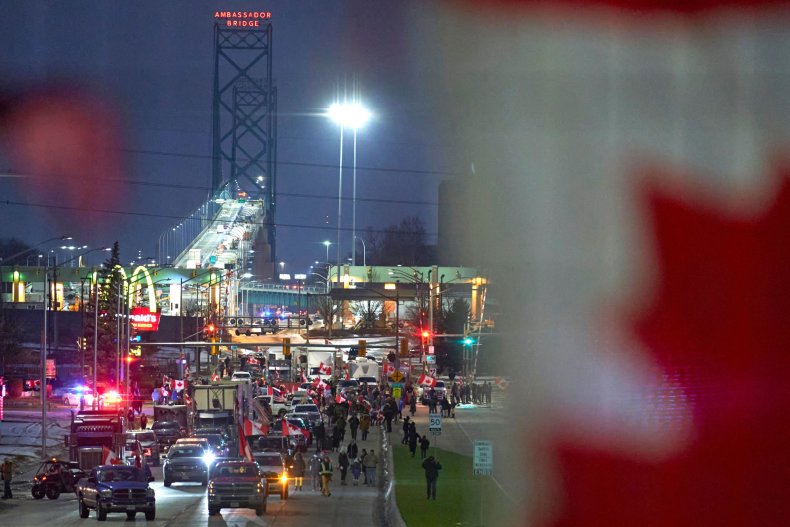 The declaration comes after it was announced that the ongoing blockade is on track to severely damage the economies of the U.S. and Canada. As of February 10, the blockade on the Ambassador Bridge has resulted in over $1 billion of revenue lost daily. The bridge is critical for trade between the two countries, as tens of thousands of trucks cross it each day to deliver goods.
"If you have a disruption like that, it doesn't take long to get into tens of billions or hundreds of billions of dollars," labor expert Arthur Wheaton previously told Newsweek. "That's the total value for some of these car companies, so in a matter of a couple of months, you're talking about losing more money than all of General Motors is worth."
Further, the blockade has resulted in about $325 million worth of food not entering the United States. Michigan Governor Gretchen Whitmer recently condemned the blockade, saying that citizens of her state depend on the bridge.
"The Ambassador Bridge is the busiest land border crossing in North America, used by tens of thousands of commuters and truck drivers carrying hundreds of millions of dollars of goods every day," she said. "Countless Michiganders rely on this daily flow of goods and people to get things done."
Update 2/11/2022, 12:15 p.m. ET: This story has been updated with additional information.