Candace Owens Accuses Madonna of 'Touching Upon Pedophilia' in 'Sex' Book
Candace Owens has accused Madonna of "touching upon pedophilia" in her book Sex, which was released in 1992 and featured the pop star—as well as others—in various states of undress along with erotic stories and musings.
Featuring photographs by Steven Meisel and edited by the late writer Glenn O'Brien, the book—which sold 150,000 copies on its first day of release in the U.S.—has Madonna assuming the role of a fictional character named Dita.
A number of her character's stories accompany the provocative images. She writes in her foreword to the book that it is a dream and urges readers to use condoms in real life, in recognition of the rising cases of HIV/AIDS at the time.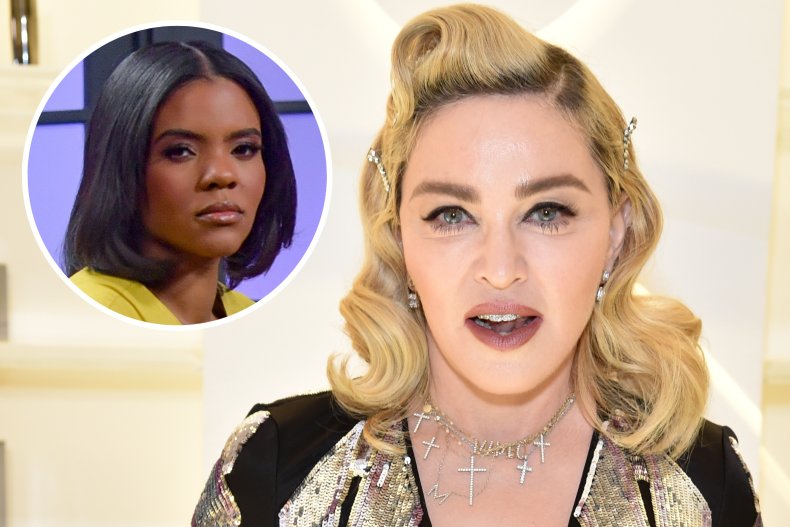 Speaking on her eponymous podcast on Wednesday, Owens, 33, called Madonna, 64, a "deeply disturbing individual" before reading an excerpt that she said was taken from Sex.
The conservative commentator said the writing "is a work of fiction, so Madonna is not saying that she did these things. In fact, she's playing a character in this book. She's created a young character."
Owens then went on to read an excerpt of the character saying that "sex with the young can be fun if you're in the mood." The character, Owens continued, also told of her experience with a "teenage boy" who "hardly had any pubic hair."
According to Owens, the character relates how her relationship with the boy went from his visits to her apartment and watching her put on makeup as she got ready to go out to their having a sexual relationship.
"I had sex with him and it was really awesome because he was so young and so in wonderment of it all," Owens read. "He was fearless. He would do anything."
Owens quoted the character as concluding that the experience was "probably the most erotic sex I ever had. But he gave me crabs. That's what you get. So you win some and you lose some."
After reading the excerpt, Owens said that Madonna should have been "banished from society" for the now scarcely available book.
"Upon publishing this, she should have just been banished, old school banished. Just send her out to an island onto herself, because this is...she's touching upon pedophilia. I don't know what age it is that boys hardly have any pubic hair, but I know it's not old enough for a woman to be talking about having sex with them."
Owens then went to the crux of the podcast's segment, where she criticized Madonna for her new covers for three European editions of Vanity Fair. In the Italian, French and Spanish versions of the magazine, Madonna is seen portraying the Virgin Mary while wearing a gilded Dolce & Gabbana headpiece and vintage veil.
The religious iconography continues throughout the spread, with the "Like a Prayer" singer re-creating the Last Supper. Appearing to portray Jesus in the imagery, Madonna is seen surrounded only by women.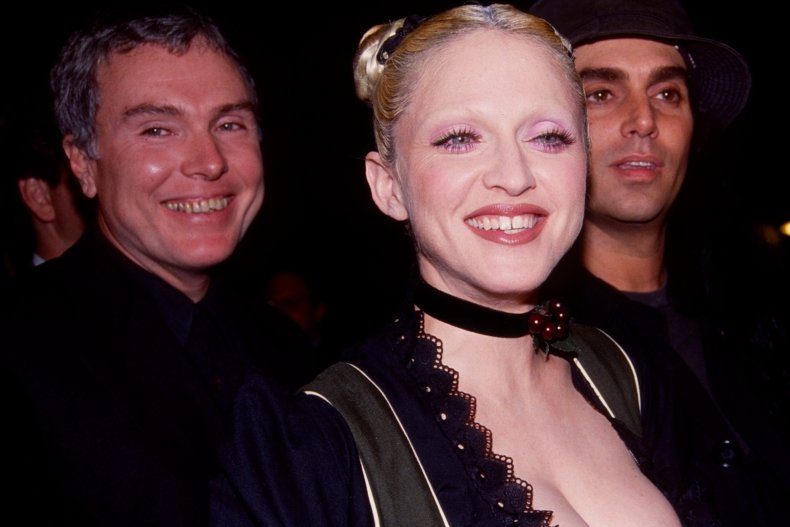 Calling it a "disturbing shoot," Owens said: "If you're wondering whether or not there is a hell, Madonna's certainly going to find out after this one."
She went on to describe the cover image as "demonic," adding, "Yeah, let's just mock Christians. Let's just put the demonic nature of everything that you represent by using Christian imagery."
Newsweek has reached out to a representative of Madonna for comment.
Imagining that Vanity Fair staffers approached Madonna and told her that she "should have been locked up in 1992" over the excerpt from her Sex book, Owens said: "This is the world that we live in. And I don't know why it is that people cannot recognize how important it is for us to fight back culturally and to call this stuff out as soon as we see it because there was an entire generation of children coming up and they think that this is normal behavior."
She went on: "They believe that it renders them cooler and freer to do things like this because their favorite celebrities are doing it. And look what it's bought them. It's bought them success and accolades and awards and trophies.
"[Madonna's] onstage being perverse. She is honestly someone that is in need of saving, and she is someone that should be prayed for. She's a tremendously unhappy individual—I know that, for a fact, that she is unhappy.
"And so the only way that she feels that she can feel trace moments of happiness...is for her to do things like this, which is just get attention, feed the outrage machine, get attention, get clicks, get likes. Make yourself a part of the conversation so that you feel important because you don't feel important enough in the capacity of your own personal life," Owen said.
In a 1992 interview with Newsweek while promoting Sex, Madonna, who has recently announced a new tour, told David Ansen how her Catholic upbringing was related to the erotic themes in her book.
"When I was growing up, there were certain things people did for penance," she said. "I know people that slept on coat hangers or kneeled on uncooked rice on the floor and prayed for hours. And for me as a child, I think somehow things got really mixed up. There was some ecstasy involved in that.
"And the whole thing of crucifixion—a lot of that, the idea of being tied up. It's surrendering yourself to someone. I'm fascinated by it. I mean, there's a lot of pain-equals-pleasure in the Catholic Church. And that is also associated with bondage and S&M."
Madonna continued: "Also, just the idea of role-playing. If a person is really aggressive and in control in their everyday life, the idea of changing that role around and being tied up, being able not to be the person that's running the show, cracking the whip. There's something titillating about it, certainly for me.
"But let me just preface all of this by saying that for me it's always about mutual consent, never about being forced or taking advantage of someone," she said.