Candace Owens Defends Brittany Aldean in Transphobia Controversy
Candace Owens has entered the chat.
It all started last week when Brittany Aldean, wife of country superstar Jason Aldean, posted a before-and-after makeup video of herself on Instagram along with the following caption: "I'd really like to thank my parents for not changing my gender when I went through my tomboy phase. I love this girly life."
After backlash from artists including Maren Morris and Cassadee Pope, Candace Owens took up for Aldean, responding to Morris, "It's easier to not castrate your children. But I guess whatever helps sell bad records."
Brittany's and Owens' remarks come at a time when states including Florida and Texas have sought to criminalize gender transitioning, for example by investigating for abuse parents who seek gender-affirming care for their children.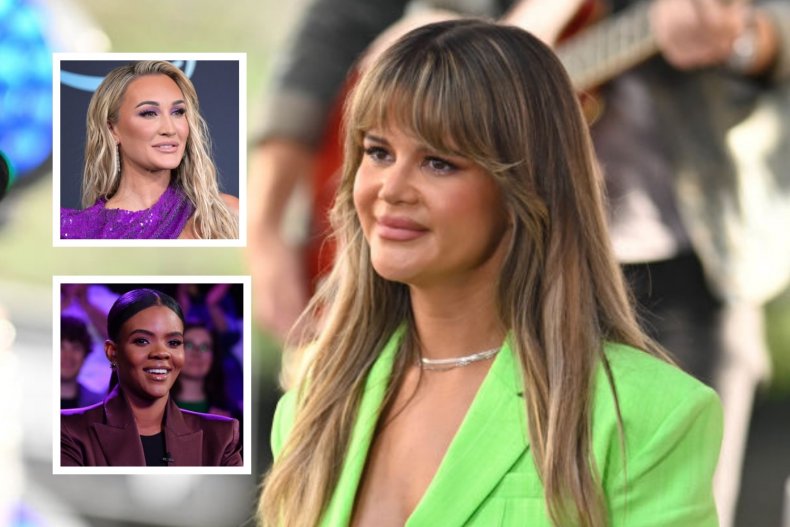 According to the Gay & Lesbian Alliance Against Defamation (GLAAD), "Infants are assigned a sex at birth, 'male' or 'female,' based on the appearance of their external anatomy, and an M or an F is written on the birth certificate. However, the development of the human body is a complex process, and sex is not solely determined by anatomy, nor is it strictly binary."
But gender identity, according to GLAAD, is "a person's internal, deeply held knowledge of their own gender. Everyone has a gender identity. For most people, their gender identity matches the sex they were assigned at birth (...cisgender...). For transgender people, their gender identity does not align with the sex they were assigned at birth."
Aldean and Owens both seemed to conflate the ideas of gender and sex in the recent social media controversy.
Though Aldean's post has 175,000 likes and counting, many people, including Morris and Pope, were quick to call out Brittany's seeming lack of understanding of gender.
"You'd think celebs with beauty brands would see the positives in including LGBTQ+ people in their messaging," Pope tweeted on August 26. "But instead here we are, hearing someone compare their 'tomboy phase' to someone wanting to transition. Real nice."
Morris responded to Pope's thread the same day, calling out Brittany, "It's so easy to, like, not be a scumbag human? Sell your clip-ins and zip it, Insurrection Barbie."
Brittany hit back with, "Karen Morris, thanks for calling me Barbie," adding a kiss emoji. She also seemed to reference Pope in an Instagram Story, saying, "The other day [my son] Memphis wanted to be a dinosaur, and tomorrow [daughter] Navy will want to be a cat. They're children. Some parents want to be accepted by society so badly, that they're willing to make life-altering decisions for their children who aren't old enough to fully comprehend the consequences of those actions."
After Owens replied to Morris directly, the singer responded, "Oh my god, not you. My Grammy is positively sobbing right now. Also, why do y'all always go to 'castration' and 'pedophiles' to try and shut an argument down? It's honestly concerning and worth looking into."
Owens hit back, "You sound like a 15-year-old girl on Tik-Tok. You are in your 30s. Grow up." And: "When you chop a penis off, it is the literal definition of castration... Also, I said groomers—not pedophiles. Got something else on your mind you want to share with the class, sicko?"
Neither Brittany nor Owens has been shy about their conservative socio-political views around gender in the past.
Owens has been highly outspoken, going so far as to claim in May that the Uvalde shooter's motives may have had to do with "cross-dressing": "What's [sic] drives and 18 year old to murder innocent children? I don't know, but we can assume there were plenty of signs that he was mentally disturbed and abused by adults in his life. Societal cowardice ignored those plenty of signs." In May 2021, she tweeted, "Announcing that your pronouns are they/them is just poor grammar. I don't care your reasons—please stop trying to make low academic achievement a thing."
In September 2021, Brittany appeared on Instagram in an "Anti Biden Social Club" T-shirt. At the time, her husband said, "I will never apologize for my beliefs or my love for my family and country. This is the greatest country in the world and I want to keep it that way."
He and his wife have also proudly flaunted their relationship with Donald Trump, calling him the "GOAT" in New Year's Eve party post.
Jason Aldean is perhaps best known for being the performer onstage during the 2017 mass shooting at Las Vegas' Route 91 Harvest Festival, where a record-breaking 58 people were murdered. That year, he told the Associated Press that he thought guns were "too easy to get."
Newsweek has reached out to the Aldeans, Owens and Morris. Pope declined to comment further.