Coronavirus Could Shrink U.S. Economy by 4 Percent This Quarter Says Advisory Group, Its Biggest Slump Since 2008
The coronavirus outbreak, which has already hammered global stock markets, could also shrink the U.S. economy by up to four percent this quarter, the biggest slump for more than a decade, a financial advisory group has warned.
Capital Economics said in a report that the virus is already hurting consumption and investment and the U.S. economy could be hit even harder by tougher government measures, such as closing schools and banning public gatherings.
The Federal Reserve could stave off some of the damage by further rate cuts, but Capital Economics' gloomy prediction is that second-quarter GDP in the U.S. would fall by four percent and then stagnate in the third quarter.
This would be the biggest slump to the U.S. economy since the fourth quarter of 2008 and the first quarter of 2009, when it contracted by 8.4 percent and 4.4 percent respectively, Market Watch reported. It noted that the prediction by Capital Economics, which also cut its estimate for 2020 GDP growth forecast from 1.8 percent to 0.6 percent, is the most pessimistic one yet.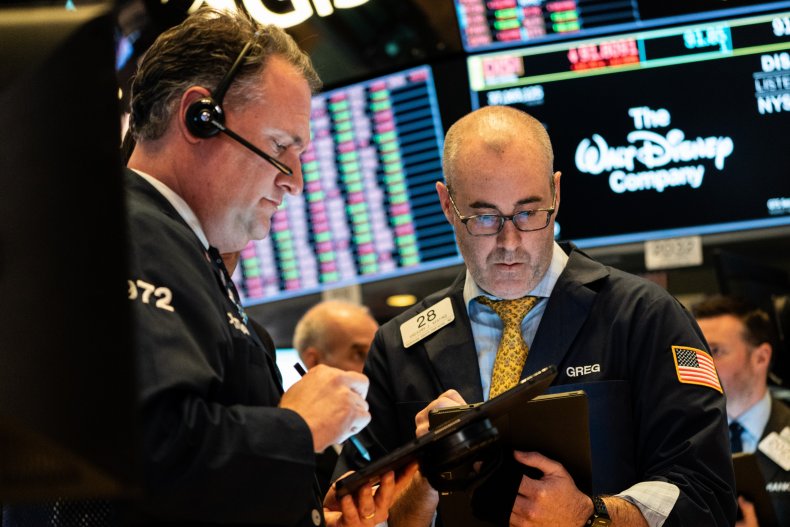 "We think this is going to have a very significant impact on activity over the next few months," said Andrew Hunter senior U.S. economist at Capital Economics.
"On the one hand there is going to be some hit to activity, because regardless of what the authorities do, consumers are very likely to avoid public places and to stop spending as much and business investment will be a lot weaker," he told Newsweek.
"In order to get the really severe declines in activity, that does depend on the assumption of governments taking more drastic measures, like banning public events."
However, Hunter expressed hope that if the number of coronavirus cases in the U.S. peaked in the tens of thousands, then the U.S. economy could "start to recover reasonably quickly."
"In terms of a single quarter, at the moment, we don't think overall things will be as bad as the financial crisis [of 2008] where the recession lasted for 12 to 18 months. We are still hopeful we could return to positive growth by the end of the year."
"We are talking about a short sharp hit to the economy rather than a prolonged downturn," he added.
His firm's report says that the announcement by President Donald Trump's of a 30-day ban on all inbound travel from mainland Europe would not have too much impact on the economy initially because most business trips had already been canceled and spending by European tourists accounts for only 0.2 percent of U.S. GDP.
However, the hit to GDP growth and the tourism sector, which accounts for 1 percent of GDP, could add up if travel restrictions become more widespread.
On Thursday, Trump had to clarify that the Europe travel ban from Schengen countries did not apply to trade and cargo, and that the restriction "stops people, not goods."
Adam Slater, lead economist from the think-tank Oxford Economics, said that the travel ban alone would have little short-term trade impact on the U.S.
"The longevity of the restrictions will matter. If the travel ban only lasts for a month then you wouldn't expect to get a very big effect...if it stretches out longer than that, you will get a bigger impact but also you might get a deeper medium-term footprint," he told Newsweek.
Slater added that if there was a widespread lockdown, such as the one currently in place in Italy, then "there is potentially an issue for global trade generally about the interruption of supply chains—we have already seen that happen with China."
The graph below from Statista shows the number of confirmed cases of COVID-19 worldwide, as of March 13, 2020.