Capital Gazette's Former Editor Was 'Seriously Concerned' About Alleged Shooter, Warned Wife
Thomas Marquardt, the Capital Gazette's former editor and publisher, was very concerned about alleged shooter Jarrod Ramos, after Ramos filed a lawsuit against Marquardt and started harassing the paper's staff.
Marquardt, who was named as a defendant in Ramos's 2012 defamation lawsuit, told The Baltimore Sun that he called Anne Arundel County police in 2013 about Ramos and considered filing a restraining order.
Related: Capital Gazette publishes paper day after horrific shooting
"I was seriously concerned he would threaten us with physical violence," Marquardt explained to The Sun. "I even told my wife, 'We have to be concerned. This guy could really hurt us.'"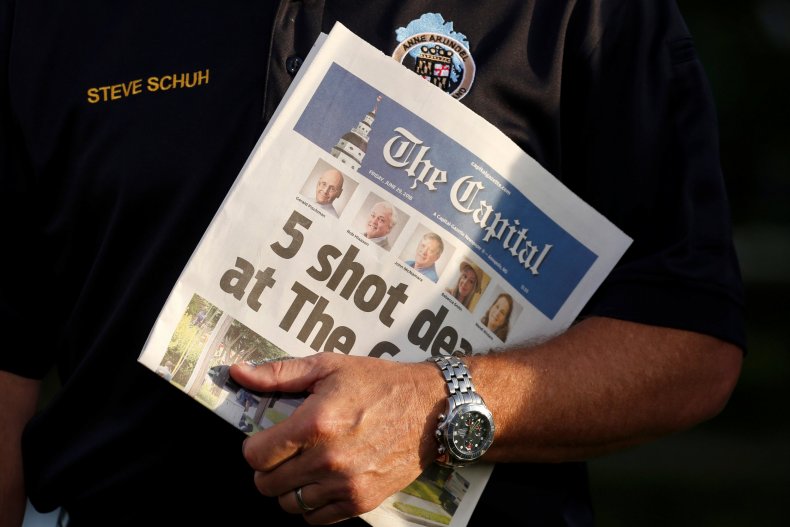 Marquardt, who was the editor and publisher of the paper for 35 years, said during his interview with The Sun that he was so worried about Ramos that he told the paper's attorneys, "This is a guy who is going to shoot us."
Ramos was perturbed by an article the paper published in 2011 that detailed he stalked and harassed a woman for more than a year, according to court records reviewed by Newsweek.
Along with filing a defamation lawsuit, which was later dismissed, a Twitter handle with Ramos's name criticized the paper and the account's biography said the user was "making corpses of corrupt careers and corporate entities." It also referenced the 2015 attack at the office of Charlie Hebdo in Paris and the two journalists who were shot and killed on live television.
The account was silent since January 2016, however, moments before the shooting, the account published a tweet that said, "F**k you, leave me alone."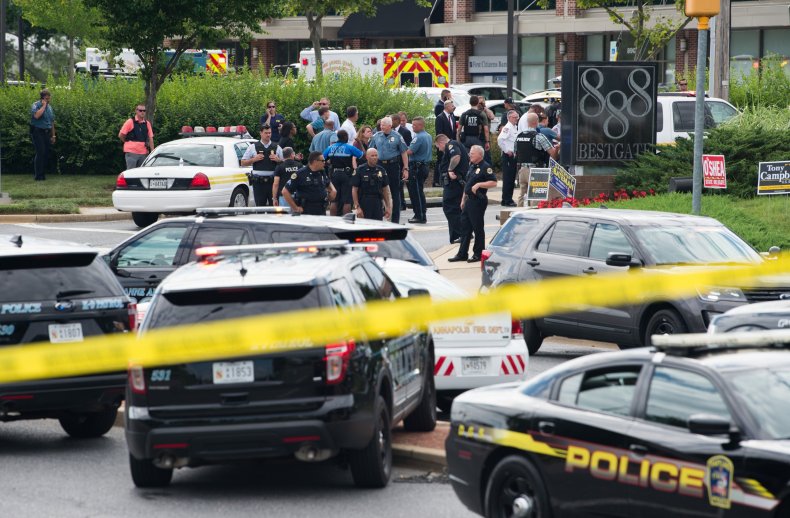 While Marquardt and others at the paper had concerns about Ramos, the editor told the Los Angeles Times that they were unsure how to handle the situation and adopted the theory "let's not infuriate him more than I have to."
Marquardt's interview took place before the alleged shooter was identified by police. He told the L.A. Times, "I pray it's not him," because if it was, he'd feel responsible.
Newsweek reached out to Marquardt but did not receive a response in time for publication.
Related: Capital Gazette reporter asks for more than thoughts and prayers
Anne Arundel County Deputy Police Chief William Krampf called it a "targeted" attack and said that the shooter was "prepared to come in today."
Five people—Wendy Winters, Rebecca Smith, Robert Hiaasen, Gerald Fischman and John McNamara—were killed during Thursday's shooting and others were injured. Despite the harrowing ordeal, the paper's staff still published a newspaper on Friday.
Ramos was officially charged with five counts of first-degree murder Friday, CNN reported. He has a bail hearing scheduled for 10:30 a.m. EDT on Friday morning.