Capitol Police Sergeant Says Officers Worry January 6 Will Be a 'Recurring' Event
U.S. Capitol Police Sergeant Aquilino Gonell, who defended the federal building and suffered injuries during the January 6 riot, said in a new interview that officers are concerned about the potential for another attack.
"A lot of the officers have in mind the possibility of this being a recurring annual or every four-year thing, which is why officers like myself are being outspoken about it, because we don't want to go through this again," Gonell said during an NPR interview published Thursday.
Gonell also criticized the members of Congress who voted against certifying President Joe Biden's 2020 election victory. Hours after the attack on the Capitol, 147 U.S. lawmakers—all Republicans—voted in favor of objections to Biden's win.
"We risked our lives to give them enough time to get to safety. And, allegedly, some of them were in communication with some of the rioters and with some of the coordinators or in the know of what would happen," Gonell said.
"And it makes you question their motives and their loyalty for the country, as we were battling the mob in a brutal battle where I could have lost my life and my dear fellow officers as well," he added.
Gonell said that at any other time in U.S. history, the events on January 6 "would have called for a national unity moment."
"Instead, we are being polarized, and some people believe that what happened wasn't that bad," the sergeant said.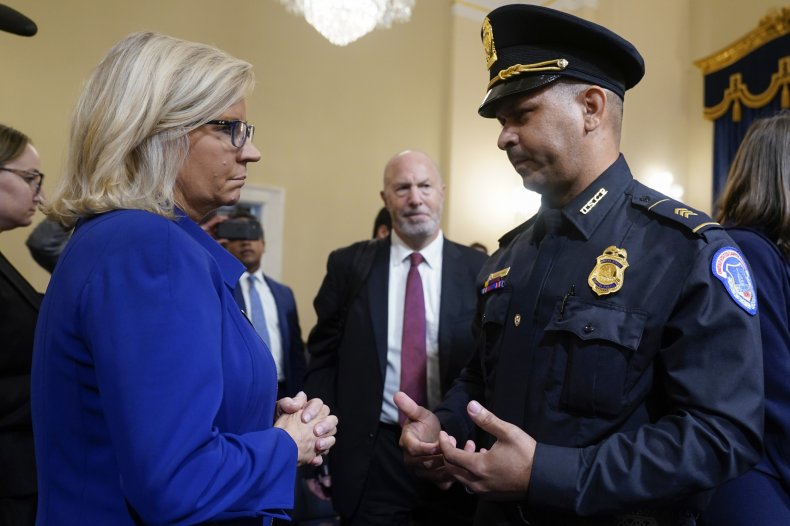 "Well, they need to come talk to me. I'll show them my injuries. I'll show them who I was fighting with, because these people were not pacifists. These people were intent on overthrowing the government," he said.
Gonell can't raise his left arm because of the injuries he suffered on January 6, NPR reported, and has also endured psychological effects. He said that while on the job about a week ago, the sounds of construction workers taking down metal scaffolding "brought me back to January 6."
"That particular sound was something I was hearing when they were breaking the barriers to use as projectiles to hit us," he said.
The Capitol Police sergeant also said that those who were involved in the attack on January 6 should face stiffer penalties. A Newsweek analysis this month found that judges have been lenient on Capitol rioters who pleaded guilty in 2021. Only about one-third of those who pleaded guilty to misdemeanor charges received prison sentences. More than half of the 71 rioters who were sentenced in 2021 avoided jail time.
"Their jail time is less than my recovery time," Gonell said. "The charges they're getting do not compare to the mental and physical injuries some of the police officers, including myself, got."