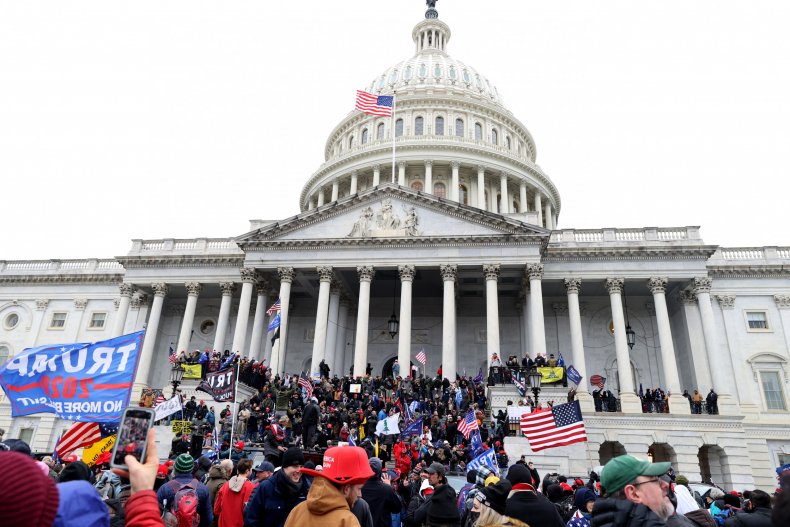 A man who blamed former President Donald Trump after storming the Capitol on January 6, 2021, has been found guilty of felony obstruction of Congress and five misdemeanors.
Capitol rioter Dustin Thompson, 38, could face 20 years in prison after being convicted by a jury in Washington, D.C., on Thursday. Thompson was captured in surveillance images taken inside the Capitol while carrying a coat rack and a bottle of bourbon that he had stolen from the Senate Parliamentarian's Office, according to Law & Crime.
After the verdict was read, Judge Reggie B. Walton ordered that Thompson be held in jail pending his July sentencing hearing. The judge also condemned Trump's rhetoric before the riot and Thompson's attempt to blame his actions on the former president, according to CNN.
"The insurgency, and it was in effect that, is very troubling," Walton reportedly said. "I think our democracy is in trouble because unfortunately we have charlatans, like the former president, in my view, who don't care about democracy and only care about power."
Before violence erupted at the Capitol, Trump told his supporters at a nearby rally to "fight like hell" or they wouldn't have a country anymore, adding "you'll never take back our country with weakness, you have to show strength and you have to be strong."
Thompson, of Columbus, Ohio, is one of several January 6 defendants who have blamed Trump for their participation in the riot. While testifying at his trial, Thompson told the jury that he felt "obligated" to become involved because "the president [was] giving you almost an order to do something."
"Besides being ordered by the president to go to the Capitol, I don't know what I was thinking," Thompson said. "I was caught up in the moment."
Thompson's defense lawyer, Samuel H. Shamansky, argued during the trial that Thompson had been "so influenced—so used and abused" that he could not be held accountable for his actions, according to The New York Times.
Prosecutors were not convinced. During closing arguments, Assistant U.S. Attorney William Dreher reportedly called the defense strategy a "sideshow" and reminded jurors that they were not assigned to "President Trump's criminal trial."
A January court filing by Shamansky sought to enlist the U.S. Marshals Service to serve subpoenas on Trump and several of his allies including Sidney Powell, Rudy Giuliani, Lin Wood and Steve Bannon.
Shamansky told Newsweek at the time that the high-profile witnesses were "central" to Thompson's defense, maintaining that "Trump and his allies made an intentional effort to brainwash citizens and use them as pawns, as puppets, as tools to meet their goals."
Walton, an appointee of former President George W. Bush, rejected the request late last month. The judge argued that using the marshals in such a manner would be improper and called the request "utterly irrelevant," according to Law & Crime.
Legal expert Neama Rahmani recently told Newsweek that those accused of storming the Capitol on January 6 pointing their fingers at Trump was "not surprising," adding that it was "really the only viable defense here."
Newsweek reached out to Shamansky's office for comment.