Alleged Capitol Rioters Turn On Trump to Save Themselves
Former President Donald Trump is once again the focus of the U.S. Capitol riot as a growing number of people charged in connection with the January 6, 2021 insurrection are telling the courts they were directed by Trump to storm the area.
Such an argument is "not surprising," legal expert Neama Rahmani told Newsweek. Rahmani is a former federal prosecutor and president of West Coast Trial Lawyers.
"It's really the only viable defense here," Rahmani said of defendants pointing their fingers at Trump or other government officials.
Only one Capitol rioter has been acquitted so far, after the defendant argued police officers allowed him and others to enter the Capitol through the Rotunda doors. Rahmani said other defendants blaming Trump are attempting to use a similar strategy, known as the "public authority" defense.
Rahmani said these defendants are saying, "It's not like I knew I wasn't allowed to do that but I did so because the government allowed me to do it, and who's higher than the president the United States?"
Another accused Capitol rioter invoked Trump while testifying at his trial this week.
Dustin Byron Thompson, an Ohio man charged with stealing a coat rack and bourbon from the U.S. Capitol building and fleeing a police officer, doesn't deny he joined the mob on January 6. Instead, he said during his trial this week that he did so to gain Trump's "respect."
"Besides being ordered by the president to go to the Capitol, I don't know what I was thinking," Thomspon told the jury, according to CNN. "I was caught up in the moment."
Before the violence unfolded at the U.S. Capitol, then-President Trump told his supporters gathered at the nearby Ellipse for a rally to "fight like hell" or they wouldn't have a country anymore.
"Because you'll never take back our country with weakness, you have to show strength and you have to be strong," he told the crowd.
Trump has denied riling up the attendees at his Stop the Steal rally that preceded the riot, often pointing to his remark in the speech that they should march to the U.S. Capitol "patriotically and peacefully."
But last year, Jacob Anthony Chansley—infamously dubbed the QAnon Shaman after being photographed in the Capitol bare-chested and wearing a fur hat with horns while carrying an American flag—repeatedly argued he was influenced by Trump.
At one point, Chansley's attorney told the media: "Let's roll the tape. Let's roll the months of lies and misrepresentations and horrific innuendo and hyperbolic speech by our president designed to inflame, enrage, motivate. What's really curious is the reality that our president, as a matter of public record, invited these individuals, as president, to walk down to the Capitol with him."
Chansley has been sentenced to 41 months in prison after pleading guilty to one felony count of obstruction for his role in the events of January 6, 2021.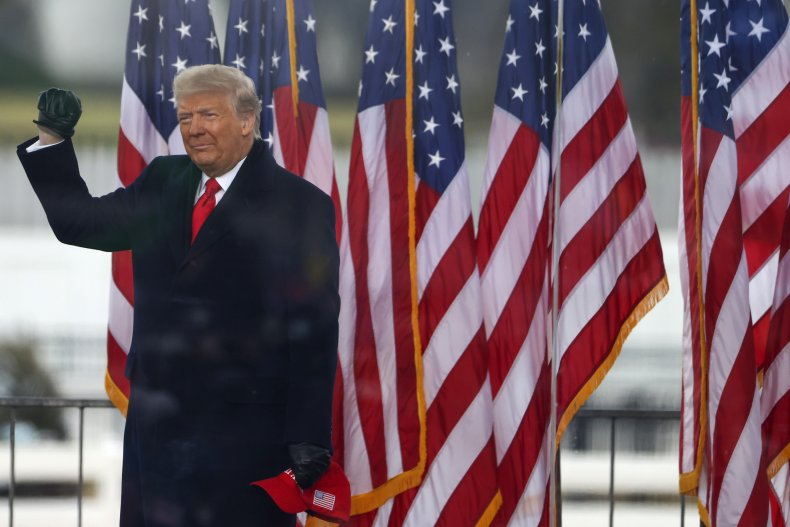 Last October, Army veteran Leonard Gruppo argued he shouldn't get jail time for his role in the Capitol riot because he was "misled" by Trump. Gruppo pleaded guilty to parading, demonstrating or picketing in a Capitol Building and was sentenced to 24 months probation with 90 days of home detention.
Several alleged rioters are also working with the House's select committee that is investigating the Capitol riot.
Politico reported Thursday that defendant Carla Krzywicki of Connecticut met with three investigators from the January 6 committee last month. Additionally, Robert Schornak of Michigan, who pleaded guilty to the misdemeanor charge of entering and remaining in a restricted building, received a lighter sentence for cooperating with lawmakers.
Trump has railed against the House committee, which has recently entered the final phase of its 8-month probe. The panel has floated the possibility of potentially charging Trump.