Douglas Jensen, who was arrested and charged for participating in the January 6 Capitol riots, says he now feels like he was "deceived" and is a "victim" himself, rather than an insurrectionist according to arguments from his lawyer.
"Doug Jensen became a victim of numerous conspiracy theories that were being fed to him over the internet by a number of very clever people, who were uniquely equipped with slight, if any, moral or social consciousness," Christopher M. Davis, Jensen's lawyer said, according to court documents filed on Monday and obtained by Newsweek.
In January, Jensen was arrested and later charged with obstructing a law officer during a civil disorder; assaulting, resisting or impeding a federal law enforcement officer; entering and remaining; disorderly and disruptive conduct inside a capitol building; violent entry and disorderly conduct; and parading, demonstrating and picketing in a capitol building.
He can be best recognized as the man captured on camera holding a knife and walking in the front of the crowd of rioters who advanced against Capitol Police officer Eugene Goodman. Goodman deceived and lead the crowd of rioters away from unprotected senators, earning a Congressional Gold Medal.
Official documents show Jensen was detained because, among other things, he "unlawfully entered the Capitol, armed with a knife, refused to obey orders to leave and led a mob in a chase after Officer Goodman of the Capitol Police."
Davis' claimed, however, indicate that Jensen "was not an intended part of any group or mob at any time that day. He simply went to observe 'The Storm.' He was at the front of the crowd, but in no way leading anyone. He was in front of everyone for the now disclosed silly reason to get Q recognized for 'The Storm' that was about to take place."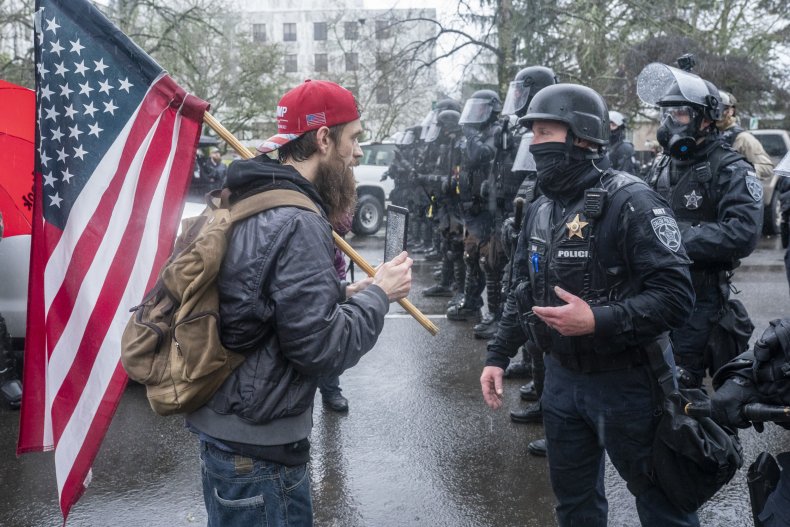 In the document, Jensen's lawyer also argued that bringing a knife to the riot inside the capital "for protection" is different than arming himself. "He never even planned to go to the Capitol, and certainly did not plan to 'arm himself' and 'violently' interfere with governmental functions," Davis wrote.
He also emphasized that the knife Jensen brought inside the capitol with him was "his work knife," though he did not explain why that distinction was relevant. Newsweek has reached out to Davis for comment.
Jensen's lawyer is the latest to position his client as the real victim when charged with crimes related to participation in the January 6 Capital riots. Jacob Chansley, the "QAnon Shaman's" attorney argued that Chansley "felt like he was answering the call of our president."
Similarly, Davis argued that Jensen "came to DC to support the president; he did not foresee the destruction of his family."