Car Catches Fire From 'Hoarded Fuel' in Trunk After Driver Loses Control of Vehicle
Gasoline stored in a car's trunk exploded when a woman lost control of the vehicle, causing the car to flip over and ignite. The explosion occurred Thursday night in Pickens County, a region northwest of the city of Greenville.
A Pickens County Sheriff's Office deputy saw a 2007 Pontiac G6 that had been reported as stolen. The deputy then began to pursue the vehicle in their patrol car.
As the deputy attempted to pull the car over, the car's driver sped off and turned onto a nearby road to escape. But before the deputy could call in the pursuit to fellow officers via radio, the driver lost control and flipped the car. The car then caught fire, according to a police press release.
Police heard multiple explosions from inside the vehicle. A 28-year-old woman named Jessica Dale Patterson then escaped the car with her body on fire. A deputy pushed her to the ground in an attempt to extinguish the flames.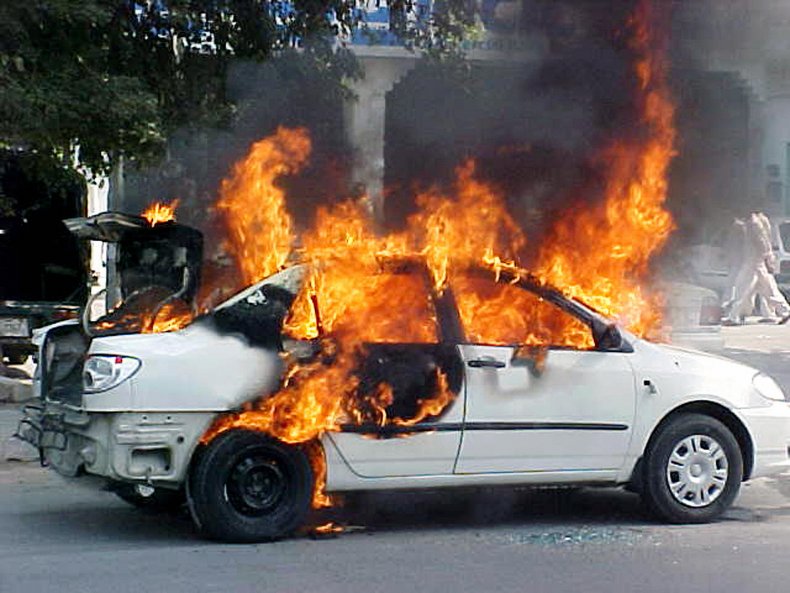 She told police that she had several containers of gasoline in the car's trunk. She was later taken to a local hospital for treatment, though her condition remains unknown. It's also unclear if she has been charged with any crimes in connection to the car's alleged theft.
The South Carolina Highway Patrol (SCHP) is investigating the scene. Newsweek contacted SCHP for comment.
Patterson's vehicular explosion is just the most recent to occur. On Wednesday, a 2004 Hummer H2 caught fire near a gas station in Homosassa, Florida, a city along the state's west-central coast.
Firefighters discovered that the car's driver had stored fuel in tanks located inside the car's rear. The tanks of gas were capable of holding a combined 20 gallons. The resulting explosion reportedly left the car "melted and blackened." The explosion's cause has not yet been publicly identified.
An unnamed person was injured in the fire, but refused transport to the hospital against medical advice. The person had purchased the gas at a nearby Texaco Food Mart shortly before the explosion occurred.
Public officials have recently advised people not to stockpile gas in take-home containers. Some people have done so in a panic after the Colonial Pipeline, a fuel line serving most of the eastern U.S., shut down. The shutdown was due to a cyberattack allegedly perpetrated by Eastern European hackers late last week.
The pipeline's shutdown has created temporary fuel shortages in several Southeastern states. The shortages have been worsened by panic-buying, stockpiling and price gouging by some gas stations.
Though the pipeline resumed operations on Wednesday evening, officials have said it may take some time before fuel supplies replenish.