Watch Moment Car Crashes Into Salon on Worker's Last Day: 'Could've Died'
An employee captured the moment a car crashed into the front of her workplace on her last day, in a video that has been seen more than 7 million times.
Meredith, known online as @meredithinezz, shared her video to TikTok on August 17, after she unbelievably caught the crash and her reaction on camera.
The salon employee had been making a "vlog" to send to her friends, talking about her last day at work and excitement for her next venture. As she recorded herself talking in the salon, a large crash could be heard, unsurprisingly causing her to jump and swiftly swing the camera around from her face and toward the source of the noise. The video then showed that a car had crashed into the front of the salon, smashing all of the windows.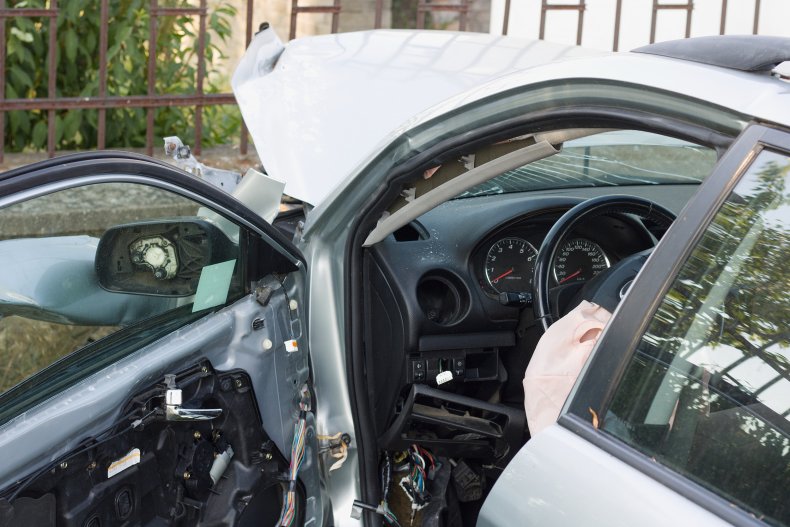 "Of course this would happen on my last day," she captioned the post, adding the hashtag #couldvedied.
In a second video, Meredith gave further details on what happened and who was responsible for it. She also confirmed that the salon opened just six hours later.
"So basically I was taking a vlog to send to my friends in our group chat, and for everyone asking what I was about to say, I was just talking about my next job that I have lined up and how excited I am to start," she said.
"It was just some old lady and she's fine, everyone was fine, lucky there was nobody sitting in the lobby or anything so no one was injured but no one knows what happened."
According to Meredith, they believe the driver likely accidentally pressed the wrong pedal when attempting to start the car, meaning she drove full-force into the place instead of backing away.
In 2020, there were almost 48 million licensed drivers over the age of 65 in the United States, a whopping 68 percent increase from 2000, according to the CDC. It's also reported by the CDC that "age-related changes in vision, physical functioning, and the ability to reason and remember, as well as some diseases and medications, might affect some older adults' driving abilities."
Viewers of the video were left shocked by the scene, and especially that it was caught on camera, rushing to comment on the video.
"Workers comp for emotional distress," wrote one TikTok user.
"Ma'am, you can't park there," joked another.
Another user noted: "That fact that this was caught is pretty epic."
Newsweek has contacted Meredith for comment.