Cardi B and Akbar V Feud on Twitter: Insults and an Alleged Sex Tape
Cardi B and Akbar V on Monday engaged in a heated exchange on social media that included various accusations, as well as the sharing of a personal phone number and an alleged leaked sex tape.
Like Cardi, Akbar first came to national exposure during her time on the VH1 reality show Love & Hip Hop. The Atlanta-born rapper has also been riding high recently due to her appearance on Nicki Minaj's "Super Freaky Girl" remix. On Monday, though, she drew attention for an all-out Twitter war with Cardi B.
Akbar seemingly started the feud off by what was perceived to be her questioning the success of Cardi's new remix single with Glorilla, "Tomorrow 2," which was released last week.
"If @chartdata ain't say it we ain't believing the CAP," Akbar V tweeted on Sunday.
By the early hours of Sunday, Cardi responded.
"Count all the times chart data posted u," she wrote over a series of tweets. "I don't really like the internet games...My dms is open and also the streets!"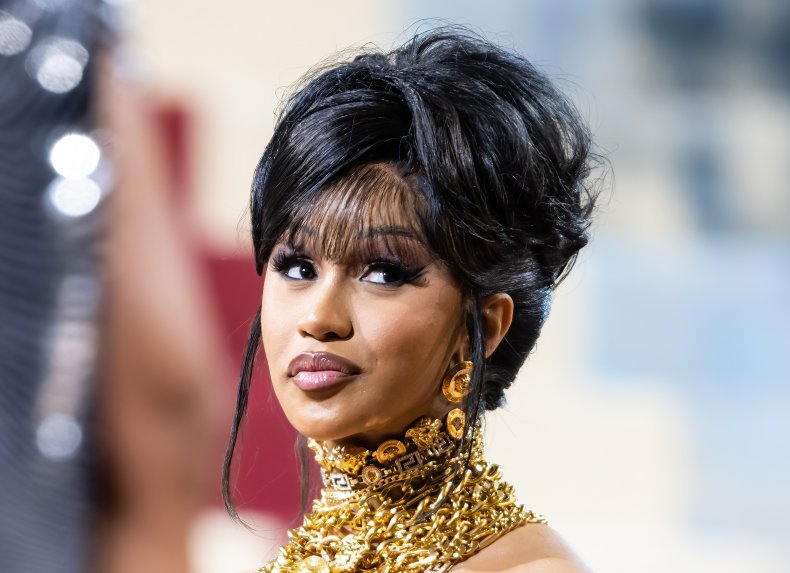 The back-and-forth continued with Cardi sharing what appeared to be Akbar's personal phone number, and Akbar chastised the unnamed person who provided Cardi the digits in a profanity-filled tweet.
"Now my kids got to watch this again @iamcardib u dead wrong for that uploading that porn stuff about me again u scoop so low but kool....u just threw me back into anxiety...," Akbar wrote.
Cardi acknowledged at one point that she contacted Akbar directly and accused her online rival of taking the fight public via Twitter.
Parenting skills were also a topic of discussion between the two, with the Bronx-born Cardi saying in an apparent dig that she had always taken care of her kids (though using less-polite terms). Akbar replied that she didn't have the opportunities that Cardi had with parenthood, arguing that, unlike Cardi, she didn't wait for motherhood when she was already famous and wealthy.
Though Cardi deleted the clip from the sex tape, she indicated she was upset in a later message after learning that Akbar had used a still image from the video for the cover of a single.
The feud began to die down by Monday afternoon after Cardi quote-tweeted Akbar and added the caption: "I came from The Bronx ..Highbridge to be exact ....clearly ain't forget since I'm wasting my time arguing with you."
As of press time, Cardi's final tweet that referenced the exchange was a video of her in a car talking about the single "Tomorrow 2."
"Tell me you love me," Cardi said in the video, quoting a line from Akbar's alleged leaked tape. "Tell me you love me Bardi gang."
Newsweek reached out to Cardi B and Akbar V for comment.