Cardi B Snaps Back at Twitter User Questioning Her Bisexuality
Cardi B had the perfect response to a tweet about her bisexuality, which fans have hailed as the "bisexual awareness week tweet we needed."
The "WAP" rapper went viral after she retweeted a Twitter user who seemingly called out artists who identified as bisexual.
Along with a photo of Harry Styles, Lady Gaga, Billie Eilish and Cardi B, Twitter user @Thelightiscumin caught the hip hop star's attention with their controversial caption.
"Celebrities that came out as bisexual but never dated someone of the same gender," they captioned their post.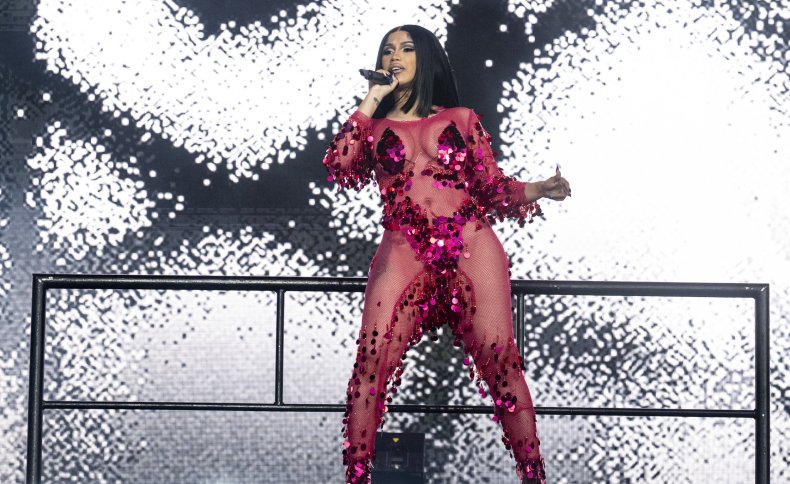 Cardi quickly clapped back saying she does not have to prove her sexuality to anyone.
"I a*e b****es out before you was born .....Sorry I don't have razr phone pics to prove it to you," Cardi wrote.
She also later retweeted a fan who asked, "didn't you have a girlfriend in high school?" Cardi replied to that fan saying, "Lmaaooo yes when I was freshman."
Fans were quick to defend Cardi and celebrated her response.
"Bisexuals don't owe you a rundown of their sexual and romantic histories," wrote one fan.
Author Lane Moore added: "the bisexual awareness week tweet we needed. thank you thank you thank you👑."
Moore also responded to the original tweet explaining how bisexuality was still valid regardless of someone's dating history.
"The biphobia always comes out extra during bisexual awareness week🙄so here's a reminder: You're still bisexual even if you've never dated ur same gender. You're still bisexual even if ur currently dating someone of the opposite sex. You don't have to explain that to anyone ever🏳️‍🌈," Moore wrote.
Bisexuality is defined as an attraction to more than one gender whether that be a physical, romantic or emotional attraction, according to the Bisexual Resource Center.
It's just one of the sexualities under the Bi+ umbrella, which overlap and have nuanced differences, but generally can mean an attraction to someone regardless of their gender.
Other Bi+ sexual identities include pansexual, polysexual and omnisexual.
Bisexual Awareness Week, also known as #biweek, runs from 16 to 23 September, which aims to raise awareness of bisexual rights and to promote understanding of the community.
It was co-founded by LGBTQ advocacy group GLAAD which completed research on the negative experiences and erasure of bisexual people.
The research found that bisexual people face "disproportionately high rates of physical and mental illness, and are more likely to experience sexual and intimate partner violence than gay, lesbian, or non-LGBT people."
Cardi—whose given name is Belcalis Marlenis Almánzar—has been married to Migos rapper, Offset, since 2017.
They are parents to daughter Kulture, four, and son Wave, one.
Born and raised in the Bronx, Cardi rose to fame on the VH1 reality series Love & Hip Hop: New York. Her first studio album, Invasion of Privacy debuted at number one on the Billboard charts in 2018.
The lead single from the album "Bodak Yellow" saw Cardi become only the second female rapper at the time to have a solo single to hit the top of the charts, after Lauryn Hill's 1998 hit, "Doo Wop (That Thing)."
Cardi's achievements don't end there, she has the highest streams on Spotify of any female rapper, with more than one billion and is a multiple award winner including a Grammy and six American Music Awards.