Cardi B has deactivated her Twitter and Instagram accounts after getting into a spat with her fans over her decision not to attend Sunday's Grammy Awards.
The "WAP" hitmaker, 29, clashed with her Twitter followers as they accused her of leading them to believe she would be in attendance at the show, where she was nominated for a Best Rap Performance award for her track "Up."
Before departing social media, she wrote, per Billboard: "I'm deleting my twitter but On God I hate this f***in dumba** fan base. You got the slow dumba**es dragging my kids all cause y'all though I was going to the Grammys and I didn't the f***? When the f*** I hinted I was going ? just f***in stupid I can't I needs to protect myself."
Cardi B, born Belcalis Marlenis Almánzar, also responded directly to other fans' tweets on the matter as she defended herself from the allegations.
"When did I hype y'all up?" Cardi B wrote earlier on Sunday. "Where and when did I ever gave hints ? Like are you ok ? I'm not going to a award if I don't got a new song to perform Or my album ain't out ...Next year."
She further stated in another tweet that she had "been posting on my IG stories where I been at ... like clearly I'm in my house and I'm in NY." The awards ceremony was this year held at the MGM Grand's Garden Arena in Las Vegas.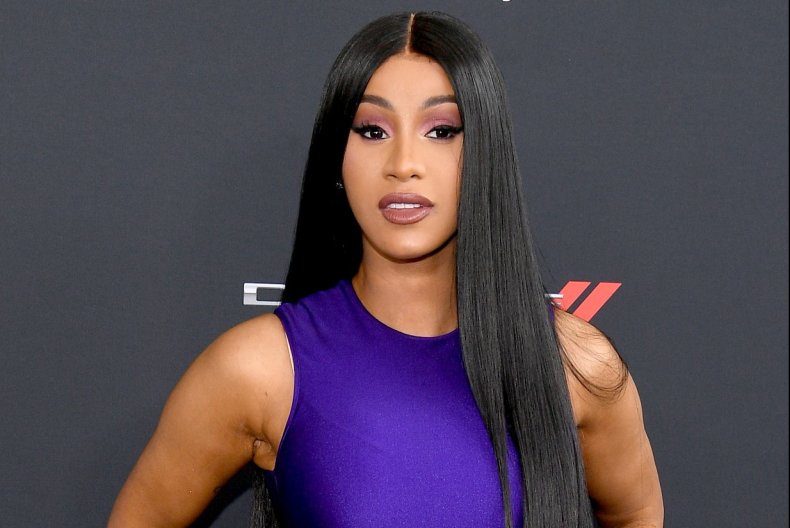 The "Bodak Yellow" rapper, who has two children with her husband Offset, was reportedly driven to deactivate her social media accounts when fans expressing disappointment in her Grammys absence started to speak about her children.
Reacting to those messages in questions, the musician shot back: "y'all so f***in dumb I really don't like y'all."
Soon after her Twitter account was deleted, Cardi B, who performed at the Grammy Awards in 2021, also appeared to deactivate her Instagram account as it is no longer available.
Newsweek has contacted a representative of Cardi B for comment.
The star previously deactivated her Twitter account in March 2021, in an exasperated reaction to fans constantly demanding that she release a new album. She also briefly walked away from the platform in October 2020 amid criticisms of her personal life and her husband, Offset, real name Kiari Kendrell Cephus.
Over the years, Cardi B has used her Twitter account to speak out on a number of matters, including politics and Russia's ongoing invasion of Ukraine.
Addressing the then-impending crisis in Eastern Europe, Cardi B said in a video shared on Twitter on February 22: "I actually want to say a lot of things but I'm just going to mind my business because sometimes I feel like I have such a big platform that if I don't say the right things I might get killed.
"I'm really not on NATO's side, I'm really not on Russia's side. I'm actually on the citizens' side. Because at the end of the day the world is having a crisis."
In a separate tweet, she voiced her concern for the Ukrainian people, writing: "Wish these world leaders stop tripping about power and really think about [who's] really getting affected (citizens).
"Besides the whole world is in a crisis," she said. "War, sanctions, invasions should be the last thing these leaders should worry about."