Cards Against Humanity To Give All Profit From Red States to Abortion Fund
The maker of the popular game Cards Against Humanity has announced that it will donate 100 percent of the profits made in red states to an abortion fund.
In an email sent to previous customers, opening with "Dear horrible friends," Cards Against Humanity LLC introduced new game packs it recently released, including the "Scary Pack," "Written by Kids Pack" "Picture Card Pack 3" and a new version of the "Climate Catastrophe Pack."
"While they were being printed," the statement read, "The Supreme Court overturned Roe v. Wade, and basically half the states wasted no time turning themselves into dystopian forced-birth hellscapes. It's f**king awful."
When people living in red states (Alabama, Arizona, Arkansas, Florida, Georgia, Idaho, Indiana, Kentucky, Louisiana, Mississippi, Missouri, North Dakota, Ohio, Oklahoma, South Carolina, South Dakota, Tennessee, Texas, Utah, West Virginia, Wisconsin and Wyoming) purchase a Cards Against Humanity Pack, their money will be donated to the National Network of Abortion Funds. Cards Against Humanity LLC announced that it has already donated $100,000.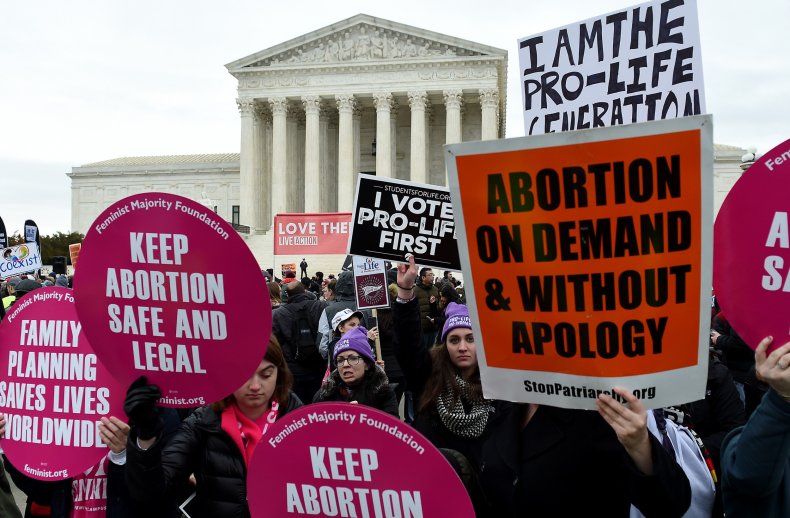 The National Network of Abortion Funds helps distribute money to those in need of abortions who can't afford one. The organization also helps with travel expenses.
The game also unveiled a survey they gave to people living in red states. They asked questions about abortion in their state and the anatomy of the female reproductive system.
According to their findings, in the seven states that have a full ban on abortion with no exceptions, 80 percent of people living in those seven states believe there should be an exception.
More than half of people living in red states want women who get illegal abortions to be sent to prison or executed. One in four people believes abortion should be illegal even if the mother will potentially die.
One in four men believes that a woman has the ability to "naturally" stop herself from getting pregnant if she is sexually assaulted.
"Everyone should be against forcing human beings to carry unsafe or unwanted pregnancies by threat of imprisonment," a spokesperson for Cards Against Humanity LLC said in a comment to Newsweek.
"Cards Against Humanity has always cared about issues like this. Back in 2017, we created a satirical version of our best-selling party game called Cards Against Humanity: For Her. It was the exact same game cards as the regular set of Cards Against Humanity, but the box was pink and we charged customers $5 more to purchase it, as an obvious jab at the pink tax. Cards Against Humanity: For Her was wildly successful and sold out in one day. All profits were donated to EMILY's List, an organization that works to elect Democratic pro-choice women into office.
"We're saddened and disgusted that many states are descending into forced-birth hellscapes. It's clear from our poll that support for Republican theocrats in these states stems from ignorance, prudishness, and outright cruelty. That's why we're giving profits to the National Network of Abortion Funds who distributes that money to local groups that help people get abortions when they can't afford them," they continued.
In a post-Roe world, it is in the hands of the states to determine if abortion should be illegal or not.
Is abortion banned in Kansas? No, on August 3, voters blocked Republicans' goal of banning abortion in the state. In Kansas, a person can receive an abortion up to 20 weeks after fertilization.
However, in Indiana, new legislation has been passed that will restrict access to abortion, effective September 15. What does this new restriction mean? Almost all abortions are banned in the state—however the law has exceptions in the case of rape or incest, up to 10 weeks after fertilization.
Update 8/9/2022, 9:18 p.m.: This article has been updated to include comments from Cards Against Humanity LLC.