Carl Paladino Upsets Rick Lazio in N.Y. Republican Governor's Race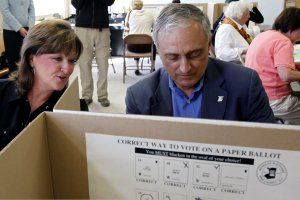 Unlike in Delaware, control of the Senate will not be determined by this upset, but it is no less shocking: Carl Paladino, a heretofore obscure Buffalo businessman, has toppled prohibitive favorite former Rep. Rick Lazio for the New York Republican gubernatorial nomination.
Paladino's victory sends the same message, though, as Christine O'Donnell's upset victory in the Delaware Senate race: previous political experience is a liability, rather than an asset in Republican primaries this year, and harsh fiscal conservatism is the ticket to victory.
"If we've learned anything tonight, it is that New Yorkers are mad as hell," declared Paladino to raucus cheers at his victory celebration. "And we're not going to take it anymore!" Paladino went on to deride his Democratic opponent Attorney General Andrew Cuomo, who holds a significant lead in every poll taken to date, as a liberal and a government insider who only offers "status Cuomo." (The punchline sounded oddly out of place in the middle of dour conservative bromides issued in Paladino's hoarse, edgy tone.)
"The ruling class knows -- they've seen it now -- there's a people's revolution," Paladino continued. His speech, inveighing against "the liberal elite," and reiterating his, and his supporters' anger, is an unusual message in New York politics. This is a state where Democrats outnumber Republicans 5-3, and the rare Republican who finds statewide success tends to come from the mild-mannered tradition of moderate Northeastern Yankee Republicanism.
Paladino, a lawyer and real estate developer, entered the governor's race as a major underdog. At the state Republican convention he only drew support from delegates from his geographic corner of the state. He forced his way onto the ballot by petition with canvassers who amassed tens of thousands of signatures. Paladino feuded with state party chairman Ed Cox, while Lazio, the former congressman from Long Island who lost to Hillary Clinton for Senate in 2000, was the party's frontrunner. But Paladino recently gained momentum through his rigidly fiscal conservatism -- he promises to cut state taxes by 10 percent and state spending by twice that much -- and open appeals to the Tea Party movement (which he thanked by name in his victory address).
Like O'Donnell, Paladino, in addition to having no experience in elected office, had some some history that might have given his conservative supporters pause. Paladino was a registered Democrat until 2005. He had a child outside of his 40-year marriage. And he has made some very strange policy suggestions, such as putting welfare recipients in prison to learn "personal hygiene." Admittedly, New York state Republicans are generally fond of prisons and not so fond of welfare recipients, so perhaps that did not hurt Paladino in the primary. What you would expect to hurt Paladino, considering his positioning as an outsider to state politics and a dedicated conservative, is the New York Times' recent revelation that Paladino has quietly funneled hundreds of thousands of dollars to a variety of state and local candidates in recent years, including officials with the ability to impact his business. And some of them, such as Elliot Spitzer, were Democrats.
But no. New York Republicans, fed up with years of corrupt and incompetent state government, were not looking for sobriety, much less consistency. They wanted to repudiate the party establishment and its leading figures, such as former Governor George Pataki and former Mayor Rudy Giuliani, who endorsed Lazio. They did. You can be sure that they will come out in force for Paladino this Fall. Will it be enough to overcome Cuomo? That's very unlikely. But this year, it seems, anything is possible.