Tea Party Wins Big as O'Donnell Topples Castle in Delaware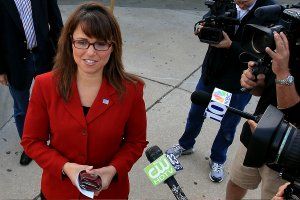 The Tea Party won a major victory in Delaware on Tuesday night as insurgent Christine O'Donnell, endorsed by Tea Party Express and Sarah Palin, came from behind in a late-game sprint that toppled Rep. Mike Castle in his bid for Delaware's Republican Senate nomination. But O'Donnell now faces an even greater challenge as she moves on to the general election.
As we told you on Monday, this race was the biggest ticket in this round of primaries. O'Donnell, a perennial candidate despised by the GOP establishment statewide, seemed in the early stages of the campaign to be only a minor distraction for Castle, a nine-term congressman and moderate Republican. But O'Donnell charged forward in the late stages of the campaign, buoyed by endorsements from high-profile Republicans aligned with the Tea Party, including Palin and South Carolina Sen. Jim DeMint, and the Tea Party Express, a major Tea Party group. She ultimately captured some 53 percent of the votes to Castle's 47 percent.
But as surprising and impressive as O'Donnell's win is, she faces a greater uphill battle now. Primary voters are always ideologically purer than general-election voters, but the divide will be even more costly in Delaware, which is a more liberal state. She's running against Democrat Chris Coons for Vice President Biden's old seat, and polls show her running well behind Coons. She's sure to tighten that gap with momentum from her primary win, but to what extent will she be able to rally the entire Delaware Republican Party behind her? While Senate Majority Leader Mitch McConnell has already pledged his support, the local party chair called her "a delusional liar" during the primary campaign. Her sudden success has touched off a round of soul searching in conservative circles in the last few days, as right-wingers consider the balance between ideological purity and electability. Her victory, and her lower chances of defeating Coons in November than Castle would have had, is widely expected to make it harder for Republicans to retake the Senate.
As I wrote Monday, this test was a special test for Sarah Palin. While Palin's endorsement was credited with helping the upstart Joe Miller knock out Sen. Lisa Murkowski in the Alaska primary, it wasn't clear how effective Palin's endorsement would be in the Delaware race. Although there are similarities, it was far from her backyard, and O'Donnell, with a controversial track record, had more baggage than Miller (she claimed she was being followed, holds very conservative beliefs, and sued a conservative organization where she worked for $6.9 million, alleging gender discrimination, among other things). It's tough to suss out how much of the credit for O'Donnell's victory should go to Palin, but the win is further evidence of her impressive political muscle—from coast to coast.