Carl Wayne Buntion's Last Words as Texas Man Executed by Lethal Injection
The oldest prisoner on Death Row in Texas was executed on Thursday evening, with the murderer using his last words to express remorse to the family of his victim.
The state executed 78-year-old Carl Buntion by giving him a lethal injection—making him the oldest prisoner to have been executed by the state in modern times. He had been sentenced to death after murdering police officer James Irby in Houston in 1990.
Before he died , he said: "I wanted the Irby family to know one thing: I do have remorse for what I did. I pray to God that they get the closure for me killing their father and Ms. Irby's husband... To all of my friends that stuck with me through all of these years, I am not going to say 'goodbye,' just saying 'so long.' I am ready to go to Heaven, warden."
The execution was the first Texas has carried out this year. Prison officials began administering the lethal dose of pentobarbital at 6:26 p.m. and pronounced Buntion dead at 6:39 p.m.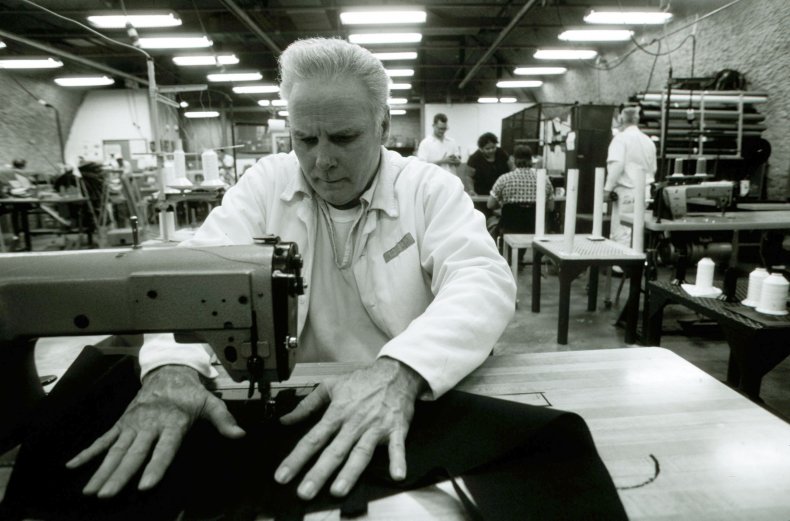 Houston Police Department motorcycle officers and retired officers from private bike clubs gathered outside the Huntsville Unit and revved their engines, a noise that could be heard by those attending the execution, according to those who had been inside. University of Texas at Austin professor Barbara Laubenthal witnessed the execution as a friend of Buntion. She told the Houston Chronicle that the engine noise was "disrespectful" and added: "We could hear it, loud and clear. The state of Texas got its punishment. But to rub it in and show this kind of revenge and disrespect while a human being is dying — it was disgusting." She said Buntion had no family left.
Irby, who was 37 and had served as an officer for 18 years, had a wife and two children, aged one and three, when he was murdered. Speaking after the execution, widow Maura said: "I felt like I took the deepest breath I was able to in the last 32 years. I felt joy."
Buntion's lawyers had argued that their client's age and his decades of good behavior in jail, should have spared his life. They added that his frailty—he struggled to walk—meant he could not be a danger to anyone.
Death Row attorneys David Dow and Jeff Newberry wrote in a court briefing: "Having lived under a sentence of death for over three decades in a state which keeps its death-row prisoners in solitary confinement, Buntion has been punished to a degree exceeding that inflicted on anyone else outside of a very small number of death-row prisoners. No legitimate purpose for the death penalty would be served by carrying out his execution."
But the U.S. Supreme Court denied a final plea to pause the execution on Thursday afternoon.
Buntion was 46 when he killed Irby during a traffic stop almost 32 years ago. He was a passenger in a car that was pulled over with heroin in the trunk. Buntion was out on parole after serving time for the sexual assault of a child and had a history of drug-related violent crime.
He shot Irby once in the face and twice in the back after he fell. He fled the scene and shot at another driver in a bid to carjack them, then fired at another officer, and held a passerby at gunpoint before he was arrested. He was convicted of capital murder and sentenced to death the following year, in 1991, but a prolonged legal battle delayed the execution for decades.
Lawyers argued that juries should be able to consider mitigating evidence, such as a perpetrators' childhood abuse or mental illnesses, when considering whether life imprisonment would be a more fitting punishment than the death penalty.
According to the Texas Tribune, Buntion himself had a very troubled life. His father was a violent man who broke his bones and smashed his mother's teeth, and once killed a man in front of one of his children. Buntion's twin brother was shot and killed by police in his 20s, while another brother spent about 20 years in jail himself.
Nevertheless, despite a jury reconsidering his punishment in 2012, Buntion was again sentenced to death.
Widow Maura Irby gave an emotional interview to abc13 last week as Buntion's execution finally approached. She fought back tears as she recounted her happy life with her husband; the couple had been married for just four years. She said Irby had loved being a dad and added: "He was a super guy, the love of my life."
Son Cody, who was just three when his dad was murdered and later served as a police officer himself, admitted he barely remembers his father. But he said: "You always feel like something's missing. Always. There's not a single day that goes by that you don't think about it."
Maura Irby, a nurse, admitted she had struggled with the death penalty, saying: "My whole adult life, I've spent saving lives and helping people. So the idea of condoning taking a life has been a challenge. It was from the beginning when we went through the first trial… But it's not about revenge… it's about justice."
Speaking after Buntion's execution this week, Maura Irby said: "I'm sorry someone died. But I didn't think of him as a person. I just thought of him as a thing, as a cancer on the face of my family."
Newsweek has reached out to Buntion's lawyers seeking comment.
Update 4/22/22, 10:58 a.m. EDT: This article has been updated to include quotes from Maura and Cody Irby.