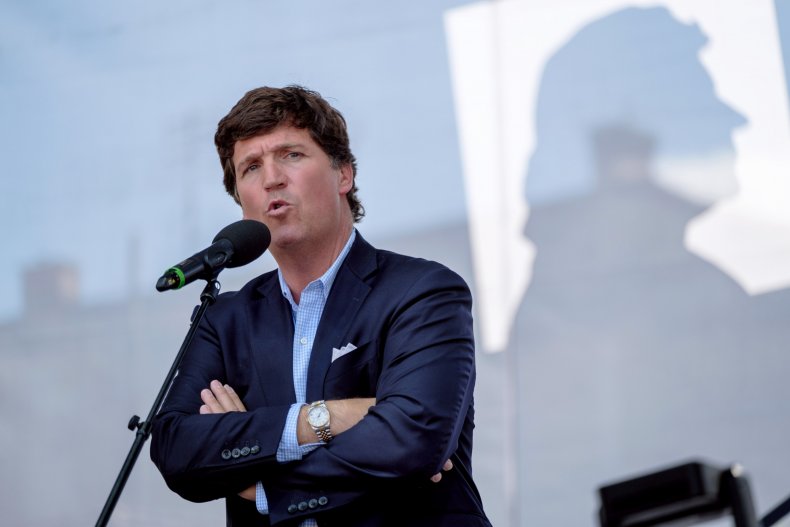 Fox News host Tucker Carlson has touted the controversial conservative social media account "Libs of TikTok" as "journalism" that is more trustworthy than The New York Times.
Conservatives expressed outrage on Tuesday when the name of the woman who created the account, Chaya Raichik, was included in an article published by The Washington Post. During a Tucker Carlson Tonight segment, the Fox News personality argued that some of the best reporting in the country could be found on the account, which has nearly a million followers across platforms that include Twitter, Instagram and YouTube.
"This is journalism," Carlson said. "No news organization in America has done more to reveal the reality within American schools than Libs of TikTok. We aired a number of their videos on the show and we are grateful for their reporting."
"It was far more straight-forward than anything you're gonna find in The New York Times or The Washington Post," he added. "Because it wasn't accompanied by a lot of bloviating, they just show you the tape and you can decide."
While Carlson insisted that Libs of TikTok content was free of "bloviating," posts shared to the account are rarely free of commentary or without a clear bias. Content often focuses on re-sharing videos or images from LGBTQ people in education alongside comments accusing them of "grooming" or "indoctrinating" children.
Newsweek reached out to The New York Times and The Washington Post for comment.
The Washington Post article prompted many outraged conservatives to claim that its author, columnist Taylor Lorenz, was guilty of "doxxing" Raichik, or releasing publicly available personal information that could be used to harass, stalk or intimidate her. Raichik said on Twitter that she was "holed up in a safe location" as of Tuesday night.
Lorenz defended herself against the criticism on Twitter. She also shared a meme that suggested the "ring wing media" could be intentionally misrepresenting "the most basic reporting practices" as "doxxing."
"Lots of convo about the 'harm' of covering a powerful online figure, but not much abt the harm done to the average LGBTQ+ ppl the acct seeks to drive out of schools and public life," Lorenz tweeted in reference to the criticism. "I hope people read this whole story and understand this account's impact."
The Washington Post defended Lorenz's reporting and dismissed the "doxxing" charge on the basis that Raichik's identity was already "public knowledge" on social media.
"Taylor Lorenz is an accomplished and diligent journalist whose reporting methods comport entirely with The Washington Post's professional standards," Cameron Barr, a senior managing editor at the Post, said in a statement shared with Newsweek.
"Chaya Raichik, in her management of the Libs of TikTok Twitter account and in media interviews, has had significant impact on public discourse and her identity had become public knowledge on social media," Barr added. "We did not publish or link to any details about her personal life."
Raichik described Barr's statement as "LIES" in a tweet, claiming that the newspaper had "included a link with personal information which they later removed because they knew what they were doing was abhorrent."