Taylor Lorenz Defends Libs of TikTok Exposé After Conservative Criticism
Taylor Lorenz, The Washington Post journalist who revealed Chaya Raichik to be the woman behind the Libs of TikTok account, is defending her reporting practices amid an onslaught of online criticisms from conservatives, who have attacked Lorenz for publishing Raichik's name.
Shortly after a number of right-wing figures expressed their outrage on Twitter, Lorenz shared a meme suggesting that the "ring wing media" was misconstruing "the most basic reporting practices" to be "doxxing," a term used to describe the release of personal information that is publicly available and oftentimes used to harass, stalk or intimidate an individual.
On Tuesday, the Post published an exposé by Lorenz in which she named Raichik to be the user behind a popular social media account that regularly targets liberals and accuses teachers of allegedly "grooming" and "indoctrinating" children on LGBT rights.
"Libs of TikTok's influence spreads far beyond its followers," Lorenz wrote. "It has become an agenda-setter in right-wing media, and the content it surfaces shows a direct correlation with the recent push in legislation and rhetoric directly targeting the LGBTQ+ community."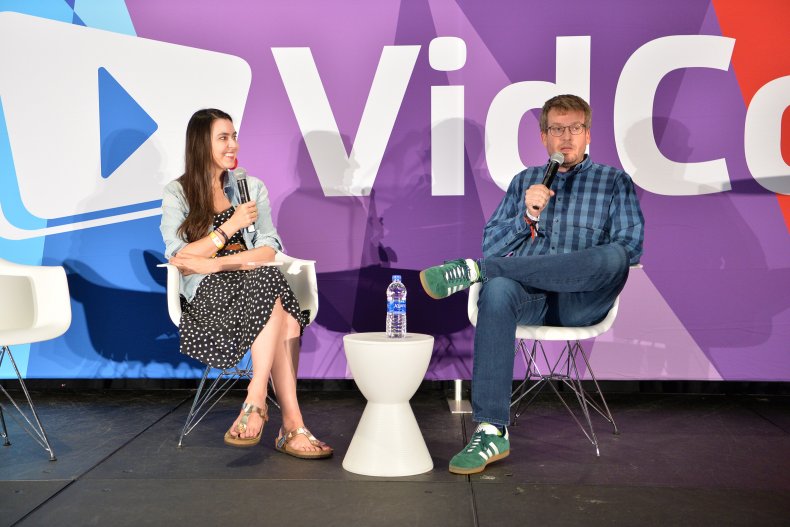 On Twitter, Raichik claimed that the publication of the story resulted in the harassment of her family and her having to be "holed up in a safe location."
While many on the right used Raichik's concerns for safety to criticize Lorenz's work, the journalist argued that Raichik had more responsibility than the average public citizen, citing the account's massive online following.
"Raichik isn't just some average woman w/ a social media account, she's a powerful influencer operating a massively impactful right wing media shaping the discourse around LGBTQ+ rights," Lorenz tweeted, adding that "Zero people involved in this story are remotely close to teenagers. Not everyone w/ a social media acct is a teenager!"
Lorenz also said that she used every tool available to her in order to "ensure [she] had the correct woman."
In a statement sent to Newsweek, Cameron Barr, a senior managing editor at the Post, disputed Raichik's claims that details of her personal life were publicized in the story and said Lorenz's reporting was within the publication's standards.
"Taylor Lorenz is an accomplished and diligent journalist whose reporting methods comport entirely with The Washington Post's professional standards," Barr said. "Chaya Raichik, in her management of the Libs of TikTok Twitter account and in media interviews, has had significant impact on public discourse and her identity had become public knowledge on social media. We did not publish or link to any details about her personal life."
Other reporters—including NBC's Brandy Zadrozny, Gimlet's Alex Goldman, Vice News' Trone Dowd and The City's Nicholas Dawes—came to Lorenz's defense on Tuesday, citing the use of private investigators by other publications in cases like the Harvey Weinstein sexual assault allegations.
Mashable's Matt Binder also pointed to the fact that Raichik's identity had been confirmed by independent journalist Glenn Greenwald before the Post published Lorenz's story.
"[A]ll the info in the Libs of TikTok piece was already publicly available online. but Taylor had one thing that no one else had which made the report possible...Glenn Greenwald accidentally confirming their identity lol," Binder tweeted.
Lorenz said that while most of the discourse around her story was focused on the "harm" she allegedly caused Raichik, she hoped readers would understand the bigger picture of her reporting and the real-life impact Raichik's anonymous posts had on everyday people.
"Lots of convo about the 'harm' of covering a powerful online figure, but not much abt the harm done to the average LGBTQ+ ppl the acct seeks to drive out of schools and public life. I hope people read this whole story and understand this account's impact," she said.
Update 04/19/22 6:50 p.m. This story was updated with comments from Barr.