Carnival Sees Busiest Booking Week Ever After CDC Rescinds Cruise Advisory
Cruise company Carnival saw its busiest booking week ever, from March 28 through April 3, just as the U.S. Centers for Disease Control and Prevention (CDC) rescinded its coronavirus advisory for cruise travel, Reuters reported.
The CDC lifted the advisory on March 30, midway through the record week of bookings.
The change brought to an end a nearly two-year period in which the public health agency had designated cruise ships as having a "high" or "very high" risk for transmission of the virus.
In the U.S. alone, dozens of cruise ships, which can hold thousands of passengers at one time, have seen coronavirus outbreaks. But ever since the peak of the Omicron variant–driven wave earlier this year, virus cases have been on the decline, leading companies, leaders and agencies to ease some mitigation guidance and measures.
The new bookings record showed a double-digit increase from Carnival's previous weekly record, the company said in a press release.
Carnival President Christine Duffy said in a statement that factors like the "excitement of the industry's restart," the return of its fleet, the guest response to the cruise line's 50th anniversary and the work of employees "have all contributed to the strong demand we are seeing, and this record-breaking booking week."
Carnival shares were up almost 4 percent in afternoon trading, Reuters reported.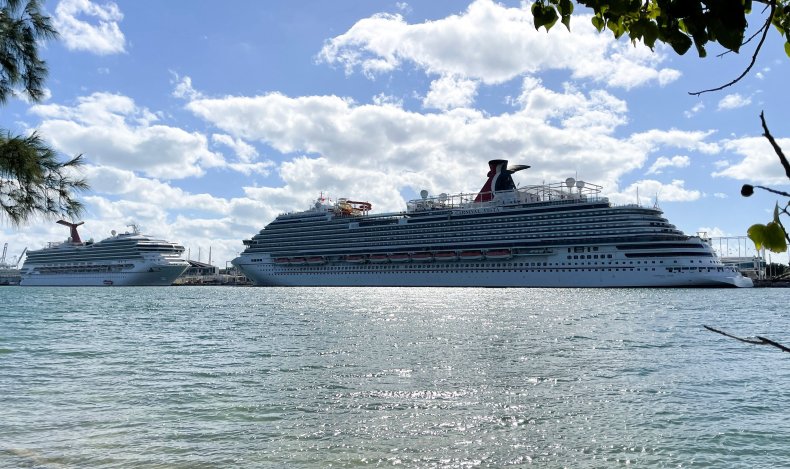 Of the company's 23 ships, 22 have now resumed guest operations at all of the year-round U.S. ports, the release said.
The final ship, Carnival Splendor, is scheduled to resume service in Seattle on May 2. The company also plans to begin services on a new ship, Carnival Celebration, at its Miami port in November, according to the release.
The CDC still recommends that cruise travelers make sure they are up to date on their COVID-19 vaccines before any trips. Also, immunocompromised travelers should speak with their doctors about any precautions they need to take for cruise travel.
The agency also notes that the coronavirus can be easily transmitted between people residing in close quarters on ships.
"If the virus is spreading on board a cruise ship, passengers and crew are at risk for infection, even if they are up to date with their COVID-19 vaccines," the CDC wrote on its website.
Earlier this year, a Princess Cruise ship had to dock in San Francisco after 12 passengers tested positive for the virus.
Newsweek has reached out to the CDC for comment but did not hear back by publication time.
Update 04/5/22, 5:15 p.m. ET: This story was updated with additional information and background.