Declare End to Korean War, Activist Groups Unite to Tell Biden
A new report by leading activists has outlined a case for President Joe Biden to declare peace with North Korea, formally ending a war that ended informally with an armistice nearly 70 years ago. They argue that would set the stage for improved security and stability on the Korean Peninsula and the world beyond.
The report, entitled "Path to Peace: The Case for a Peace Agreement to End the Korean War," published Tuesday and obtained in advance by Newsweek, was compiled by Korea Peace Now!, a coalition of women's groups advocating for an official end to the Cold War-era conflict.
It also includes contributions from an array of voices, including experts from the Defense Priorities and Quincy Institute think tanks, as well as the Federation of American Scientists and SOAS University of London's Centre for Korean Studies, joining together in support of a "peace-first approach."
"The failure to officially end the Korean War continues to fuel deep insecurity,
intense militarization, and unconscionable human costs," the report states. "Pressure has failed for decades to resolve this worsening crisis."
The report calls for the three parties who signed the armistice putting an end to the Korean War enter into a formal peace agreement.
"Based on this report's findings, we recommend that the United States, South Korea, and North Korea promptly decrease military tensions by concluding a fair and binding peace agreement," the report states.
The report says that this pact "would mark unambiguous recognition, by all sides, that wartime rights to use force have ended," and is described as "a long overdue and mutually beneficial step that is critical to the effective resolution of the wider crisis, including nuclear and human rights issues."
The proposed peace treaty is based on five principles: 1) achieving a timely, unconditional arrangement; 2) being bound by international law; 3) representing a final settlement of the war; 4) serving as the foundation for a larger more, comprehensive peace regime; and 5) fulfilling the duties of all sides to end the conflict without imposing concessions.
The report argues that in order to be sustainable, the treaty should be rooted in the principles of cooperative and shared security, ending the Cold War divide, achieving a nuclear weapons-free world and incorporating women's participation in such processes.
"As the most solemn instrument available to renounce use of force, a peace agreement would demonstrate the sincerity of the parties in seeking a peaceful resolution," the report said. "It would create unparalleled new momentum toward the creation of a lasting and stable peace regime in the region."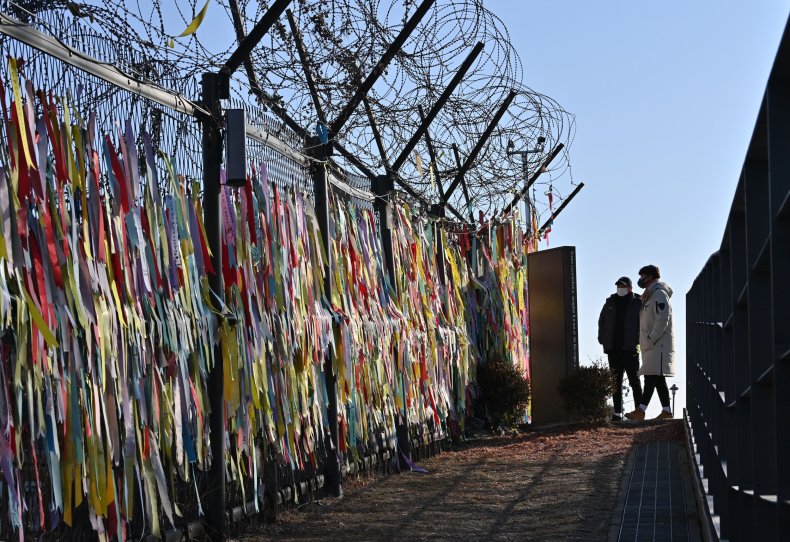 The Biden administration has inherited the Trump administration's frozen denuclearization-for-peace process that made unprecedented inroads into notoriously elusive and militarized North Korea, but which stalled quickly over the past two years. As the Biden administration assumes the controls, fears of a return to risky escalation are taking hold.
Just days before Biden's inauguration, North Korean Supreme Leader Kim Jong Un referred to the U.S. as his country's "greatest enemy" and emphasized the need for new, more powerful nuclear weapons. He showed off a new submarine-launched ballistic missile at a grand military parade marking the end of his ruling Korean Workers' Party 8th Party Congress.
Biden has expressed criticism of his predecessor's direct, top-level diplomacy with Kim, who blamed the U.S. for being unwilling to lift sanctions despite their ongoing negotiations. Biden officials have not explicitly ruled out meeting with the young ruler, but have emphasized an approach that more readily incorporated the positions of regional allies.
Speaking to MSNBC on Monday, Secretary of State Antony Blinken described North Korea's growing nuclear arsenal as "a problem that's gotten worse across administrations," including that of Trump and former President Barack Obama, for whom Blinken served as deputy national security adviser and Biden as vice president.
"The first thing we're going to do is to review the policy across the board to look at what tools we have," Blinken said, "including additional sanctions, including especially additional coordination and cooperation with allies and partners, but also to look at diplomatic incentives."
The Korea Peace Now! report notes that Biden has the authority to ratify peace treaties, though he may need to seek the advice of lawmakers. Several members of Congress endorsed Tuesday's report, with Rep. Ilhan Omar of Minnesota, Rep. Jan Schakowsky of Illinois and Rep. Barbara Lee of California offering words of praise.
"It's long past time for Congress to formally end the Korean War," Lee said in a release sent to Newsweek. "Keeping this conflict on a hair trigger has left diplomatic efforts vulnerable to mistrust and miscalculation. This report outlines how a negotiated agreement can reduce the risk of war, and allow Koreans and Americans to build a more peaceful and prosperous future. I will keep working in Congress with allies like Women Cross DMZ to make that a reality."
Kim also has the authority to ratify treaties, as does his parliament, the Supreme People's Assembly, to some degree. In South Korea, President Moon Jae-in can conclude and ratify peace agreements upon approval from his nation's National Assembly, though inter-Korean ties sometimes afford special privileges to the executive branch.
Throughout the course of the latest peace talks, even amid breakdowns, the Moon administration has demonstrated a determination to advance the inter-Korean peace progress. Seoul has expressed confidence that the Biden administration would support this goal.
"The launch of the Biden administration would provide a turning point to newly restart U.S.-DPRK and inter-Korean talks," a South Korean Unification Ministry official told Newsweek on the eve of Inauguration Day last month.
The country, officially known as the Republic of Korea, hoped both its ally, the U.S., and its rival, formally called the Democratic People's Republic of Korea, would work toward an understanding rather than confrontation.
"The ROK Government expects the new U.S. administration and North Korean authorities to move forward in building relations through dialogue and negotiations in a more flexible manner," the official said. "Seoul will also do its best to create a virtuous circle with substantial progress between inter-Korean and U.S.-DPRK relations."