Cases Fall in Europe but WHO Warns Of Another Tough Six Months
COVID cases are falling across Europe for the first time in months in a sign that new widespread lockdowns may be working.
Two weeks ago the World Health Organization (WHO) reported around two million new infections per week across the continent. Last week, that number fell by 10 percent, to 1.8 million.
Dr. Hans Kluge, WHO Europe director, said the despite the drop in cases, a "tough" six months lie ahead with Europe once more the epicenter of the pandemic. The continent had recorded more than 29,000 new COVID-19 deaths last week, Kluge said.
Across Europe, 4,500 lives are still lost to the virus every day. So far, Europe has seen 15,738,179 confirmed infections and 354,154 deaths attributed to COVID-19, according to WHO data.
Kluge said Europe accounted for 28 percent of global cases and 26 percent of deaths and expressed particular concern over the situation in Switzerland and France, where intensive care units are at 95 percent capacity.
"Europe is once again the epicenter of the pandemic, together with the United States," he told a news conference in Copenhagen, Denmark, adding that the latest figures showed there was "one person dying every 17 seconds".
Strict restrictions were announced at the end of October across Europe, largely seeing certain businesses closed and gatherings banned or reduced in size. The lockdowns are generally less severe than those implemented during the COVID first wave in the spring, with schools generally remaining open and limits on travel less strict than they were.
A month into its lockdown, France saw its seven-day average for new daily cases cut almost in half, to 28,500. The United Kingdom, Spain, Belgium, Switzerland, and the Czech Republic have also reported a decrease in infections.
The U.K. became the first country in Europe to pass 50,000 deaths, only the fifth country to do so after the United States, Brazil, India, and Mexico. According to the latest figures released by the British government, there are currently 1,453,256 cases in the U.K. and 53,775 people have died within 28 days of a positive test.
The development of vaccines, which train the immune system to fight off the virus, have raised hopes of bringing the pandemic under control. "There is light at the end of the tunnel but it will be a tough six months," Kluge said. At a virtual summit on Thursday, European Commission President Ursula von der Leyen said the bloc could approve two vaccines by year's end.
Four vaccines - Oxford, Pfizer-BioNTech, Sputnik, and Moderna - have reported good preliminary data. "We will continue coordinating our efforts to keep citizens informed on vaccination," Von der Leyen said.
Kluge said recent progress on vaccines was promising but did not yet represent "a silver bullet" because "we know the supply will be limited particularly in the beginning". In the meantime, social distancing and wearing a mask remained the best ways to mitigate the spread of the virus, he said.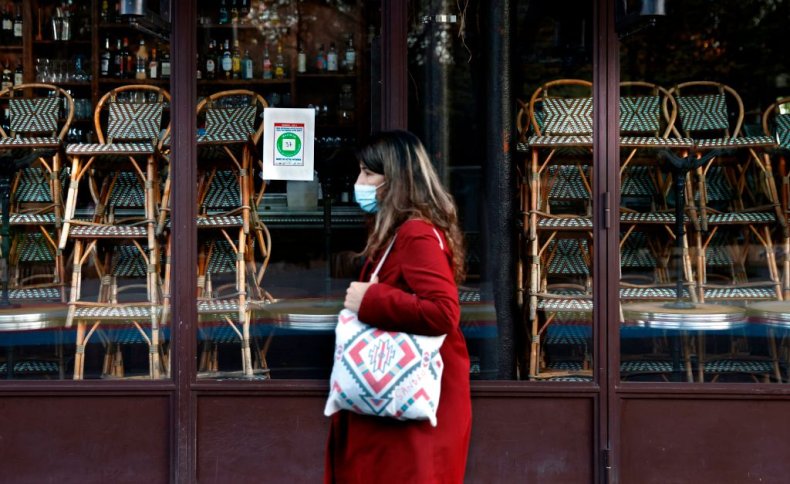 British Health Secretary Matt Hancock claimed the U.K. could begin a mass rollout of a COVID vaccination alongside flu vaccines "within a matter of weeks". He told Sky News: "Normally 15 million people are vaccinated against flu. This year it will be 30 million – the biggest number in history.
"We hope that we will also have a COVID vaccination program alongside that. It will be a huge effort, but I know that the NHS (National Health Service) is up for it."
EU leaders have come up with a €1.8 trillion ($2.1tn) EU budget until 2027 which includes a €750 billion ($890bn) coronavirus recovery fund. Hungary and Poland have so far blocked approval of the budget, over a clause that ties funding with adherence to the rule of law in the bloc.
Across the continent, thoughts have turned to Christmas, with fears the holiday could be put on hold this year. In Italy, where COVID deaths have already more than doubled in November compared with October, Prime Minister Giuseppe Conte warned that the holiday would look very different this year.
"Big parties, kisses, and hugs will not be possible, this would mean an abrupt rise in the [infection] curve in January," he said, adding: "We hope that we can still buy and exchange gifts."
Scientists advising the UK government have raised similar concerns and warned that any break in restrictions to allow people to meet up on Christmas Day could see even tougher rules on mixing brought in for the New Year. Every day that restrictions are lifted will need two days of tighter restrictions as a result, Dr. Susan Hopkins, the government's medical adviser, warned.
Dr. Julian Tang, a clinical virologist at the University of Leicester, previously told Newsweek that a Christmas break will likely see "a surge of cases detectable over the following two to three weeks."