Casey Anthony Peacock Documentary Slammed: 'Why Give Her a Platform?'
Casey Anthony, who was once accused of murdering her toddler, is getting a Peacock documentary, and many on the internet are not pleased.
On Tuesday, Peacock released the teaser trailer on Twitter for Casey Anthony: Where The Truth Lies, a three-part documentary series that will be released on November 29.
"After 11 years, Casey Anthony breaks her silence for the first time on camera," the tweet read.
The announcement was met with some shock and displeasure.
"Why tf does she have a platform?! See this the s*** I be talking about," one user wrote on Twitter, sharing Peacock's tweet.
"Whyyyyyyyyy are yall making her relevant again @peacock, we don't wanna... put money in her pockets," another Twitter user said.
"I can't even begin to explain how s***** it is of Peacock to give this monster a platform," tweeted another.
"No one literally wants to see this b****," another wrote.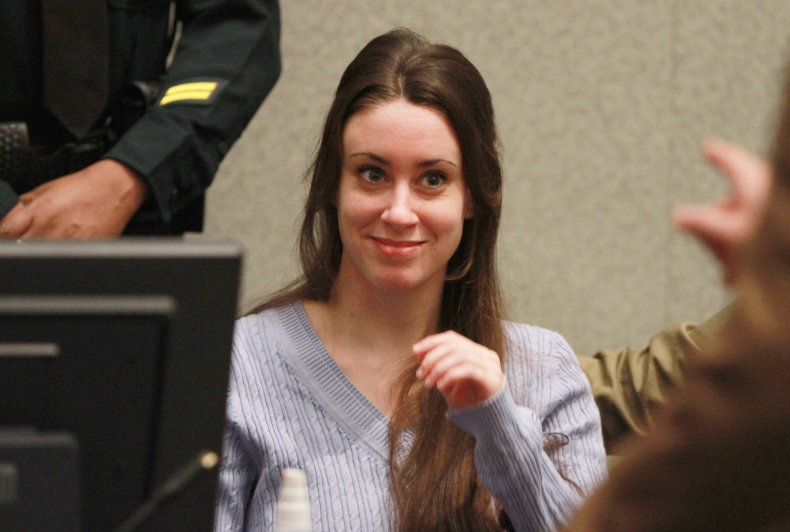 In 2008, two-year-old Caylee Anthony disappeared. Later the same year, her body was found inside a trash bag in the woods near the family's home in Orlando, Florida.
Her mother, Casey Anthony, was on trial for six weeks in 2011 before being acquitted of her daughter's murder.
"See this is what happens when y'all continue watching shows like Dahmer..... giving these killers platforms bc their content sells. disgusting!!!!!!!!!!!" Another user wrote.
Many online were upset by the Netflix series Dahmer—Monster: The Jeffrey Dahmer Story, a show that told the story of serial killer Jeffrey Dahmer and was criticized for being insensitive to the families of Dahmer's victims and for glorifying Dahmer, who was played by actor Evan Peters.
The documentary comes a few years after it was reported that Anthony was creating a film titled As I Was Told, which was later scrapped due to COVID-19. The film, she claimed at the time, was to be about her life after Caylee, and promised both "legal and erotic content."
She told The Daily Mail in 2019 that after her daughter's death, "Yes I drank and carried on like nothing happened. The movie is called As I Was Told because I'd done what I was told to do. I had to put on a fake persona throughout those 31 days."
Anthony had said that a man who found Caylee's body told her to continue with her life as normal, and to pretend she didn't know of Caylee's death. According to Anthony, Caylee's body was wet as if she had drowned. The man reportedly told Casey he would "take care of it."
Newsweek reached out to a representative at Peacock for additional comment.