In Leaked Audio, Georgia Republican Says 'Craziest' Right-Wing Candidate Will Win Primary
Georgia GOP gubernatorial candidate Casey Cagle was secretly recorded criticizing an election he sees as a race to appeal to the party's "craziest" right-wing base.
In the audio, Cagle can be heard complaining that the Republican primary race is only about pandering to "who had the biggest gun, who had the biggest truck and who would be the craziest."
Cagle's Republican opponent in the July 24 primary runoff election, Georgia Secretary of State Brian Kemp, responded to the leaked May recording by accusing Cagle, the lieutenant governor, of condescending to the state's gun-toting, truck-driving voters. Kemp, who finished second behind Cagle in the May 22 primary, has appeared in controversial campaign ads pointing shotguns, revving up chainsaws and using a "big truck" to "round up" undocumented immigrants.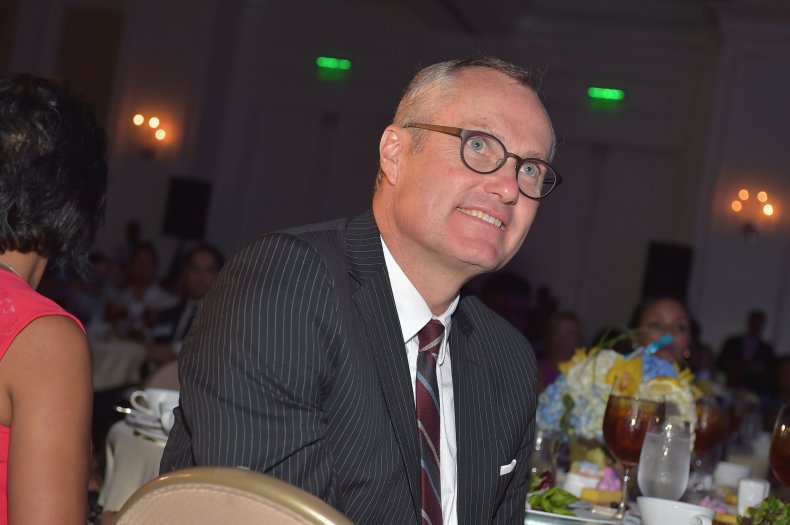 Cagle's comments from a May meeting were recorded and leaked to local media by another Republican gubernatorial candidate, Clay Tippins, who was defeated by Cagle and Kemp in the May primary. Cagle can be heard saying that Kemp's provocative ads are "creative" but target a "very rabid audience" within the Republican Party's base of voters. Cagle's seemingly private conversation criticizing the race to the party's far right is now being used to brand him as an elitist in an election pitting two Donald Trump–supporting candidates against each other.
The Kemp campaign released a May ad in which he says, "I got a big truck, just in case I need to round up criminal illegals and take them home myself. Yep, I just said that." The ad also shows him revving up a chainsaw to "rip up some regulations" and opens by showing an explosion in a yard as he declares, "I'm so conservative, I blow up government spending."
Kemp's videos have set the tone for the election to move further and further to the right, with a clip released Friday by the campaign saying, "Cagle caught on tape AGAIN insulting you," in reference to the leaked remarks.
A campaign video released by another candidate who was defeated during the May primary, Georgia state Senator Michael Williams, showed Williams touting a "deportation bus" he would use to round up undocumented immigrants.
But Cagle, who serves with Republican Governor Nathan Deal, still has the support of the party's more moderate, business-minded establishment members, in addition to more fundraising power. Cagle garnered 38.95 percent of the vote compared with Kemp's 25.52 percent during the May primary runoff. And over the weekend, the National Rifle Association (NRA) dealt a big blow to Kemp's campaign by endorsing Cagle for governor.
In February, Cagle issued a threat to Delta Air Lines, saying that if the airline severed ties to the NRA in the wake of the Parkland, Florida, school shooting, he would "kill any tax legislation that benefits" the company. The leaked recordings reveal him bragging that the move "ain't about public policy. It's about s*** politics."
Scott Binkley, Cagle's campaign manager, released a statement in which he doubled down on the comments Cagle made in the leaked recordings. "While Brian Kemp's ad campaign was admitting that he had no qualifications beyond owning a truck, Casey Cagle was talking about creating 600,000 jobs with Gov. Deal, college and career academies, and helping struggling parents who need options beyond foster care."
Meanwhile, Democrats are reveling in the Republican Party's race to the right, with candidate Stacey Abrams set to challenge the GOP candidate in the November election. Abrams, a gun control supporter and former state House minority leader, is the first African-American to gain the governor's nomination in Georgia history.
Georgia Democrats released a statement on Thursday saying both Kemp and Cagle would "undo and destroy the advances that Georgia has made under the Deal administration, particularly on Georgia's business climate."
SaveSave