Who Is Stacey Abrams? Georgia's First Black Woman to Be Nominated for Governor
Stacey Abrams became the first black woman nominated by a major political party in America for the position of governor when she was selected by the Democrats in a primary on Tuesday night to fight for Georgia in the November midterm elections.
And that means if the 44-year-old wins the contest for Georgia, securing the governorship from the incumbent Republican party, she will make even bigger history to become America's first black female governor.
"Team Abrams just won our primary election, and this victory belongs to you," the former state house leader posted to Facebook after her victory.
"Everyone who stood with us and fought for progress in the face of doubt. Everyone who believed that a little black girl who sometimes had to go without lights or running water—who grew up to become the first woman to lead in the Georgia General Assembly—could become the first woman gubernatorial nominee from either party in Georgia's history.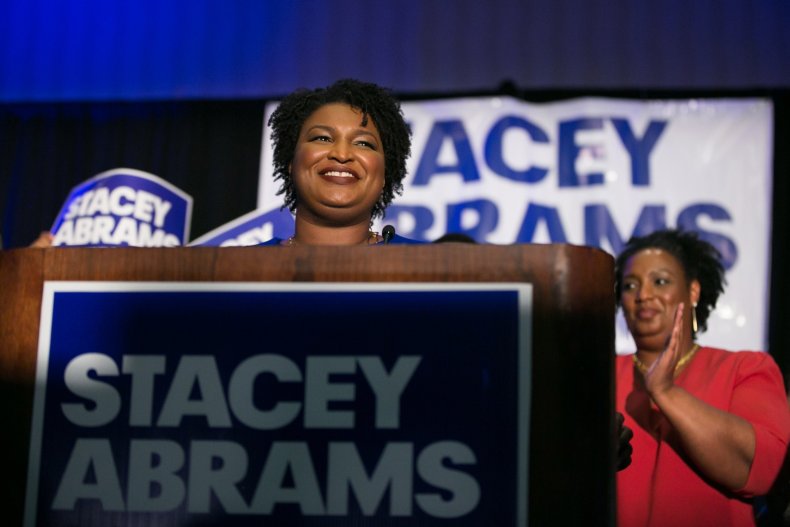 "Tonight's victory was only the beginning. The road to November will be long and tough, but the next step is one we take together."
Abrams defeated Stacey Evans, a Democratic member of the Georgia House of Representatives, to secure the nomination. "Congratulations, @staceyabrams. It was an honor to run in this historic primary against you. Now it's time to rally behind our nominee—let's turn Georgia blue, y'all," Evans tweeted.
Abrams grew up in Gulfport, Mississippi, before her parents moved her and her five siblings to Atlanta, where her mother and father studied divinity at Emory University and became United Methodist ministers, according to Abrams's campaign biography.
Abrams has degrees from Spelman College, the LBJ School of Public Affairs at the University of Texas and Yale Law School. She has at various times been a tax attorney, state legislator, author of eight romantic novels and beverage entrepreneur, among other pursuits.
In 2010, she became the first woman to lead either party in the Georgia General Assembly and the first African-American to lead in the House of Representatives, her biography says.
Abrams is standing on an avowedly liberal platform, which some say is a risky move in a state like Georgia, where a pitch to moderates in the center may be a wiser strategy.
"It's still a red state, even though it's getting more purple every year," Kerwin Swint, chairman of the political science department at Kennesaw State University, told the The New York Times.
But the Georgia governorship has only been in Republican hands since 2003. Before then, from 1872, it was held by a Democrat. Abrams's task is to test just how purple Georgia has become—and maybe even return the governorship to the Democrats.
Abrams's Republican rival for the governorship will be either Lieutenant Governor Casey Cagle or Secretary of State Brian Kemp, who are heading for a July runoff for the GOP nomination for Georgia governor.