America's First Black Woman Governor or a Gun-Loving, Anti-Immigrant Republican? Georgia's Choice in November
Stacey Abrams wants to be the United States' first black female governor—and she just might succeed.
The former Georgia House minority leader defeated primary opponent Stacey Evans Tuesday night as she amassed a massive early lead of almost 50 points, bringing her one step closer to breaking a new barrier for the state's gubernatorial office.
Abrams's win had long been forecasted by the national attention her campaign received from the outset: She's earned support from sitting members of Congress like Vermont Senator Bernie Sanders and Georgia Representative John Lewis; from national women's groups like EMILY's List, Planned Parenthood and NARAL Pro-Choice America; and, on Monday, from Hillary Clinton. With this robust backing, Abrams raised over $3.3 million, and got ahead of Evans by nearly 20 points before crossing the finish line at the polls on Tuesday.
It was no photo finish.
Abrams's win could be a sign the Democratic Party is ready to turn over the keys to black women, who have long made up its core base, and, some say, have long been snubbed by the party establishment. This disconnect was thrown into shocking relief when, in December, 98 percent of black women voters cast ballots for Alabama Senator Doug Jones to help him defeat Roy Moore. After the exit polls were released, a chorus of voices called on Americans to "thank black women" for blocking the accused sexual predator from winning a Senate seat,
But black women like Abrams don't want to just be thanked; they want to win.
"I'm hopeful that this isn't just a moment, but a pattern of behavior where we're not only willing to say 'thank you,' but are willing to invest in the vision of women of color and black women whose political leadership is absolutely essential for the 21st century," Abrams told Newsweek in December, after Jones's upset.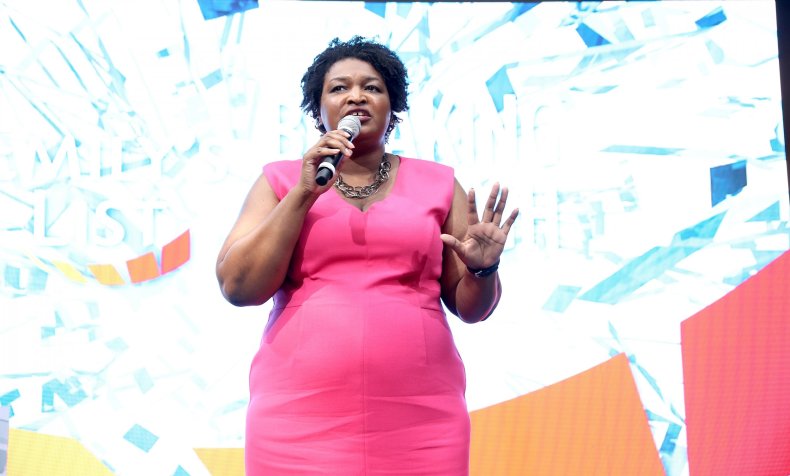 Come November, Abrams will likely face off against either Brian Kemp, Georgia's secretary of state, or current Lieutenant Governor Casey Cagle, who looked poised for a runoff to battle for the Republican nomination as of 10 p.m. ET.
Both GOP competitors have touted hardline anti-immigrant platforms, particularly Kemp, who suggested in a recent campaign ad that he would use his "big truck" to "round up criminal illegals and take 'em home" himself. "Yep, I just said that," Kemp added in the TV spot. Cagle has largely left it to Kemp and another Republican candidate, state Senator Michael Williams, to duke it out over who has the best vehicle for hauling off undocumented immigrants—Williams boasts his own "deportation bus"—but Cagle has done his part to spread alarmist messages about immigrants in the United States.
"Criminal illegal aliens are spreading across the country," Cagle said in a campaign ad. "Liberal politicians in sanctuary cities are shielding them, making it possible for them to terrorize us on our streets."
Both Republicans have also taken a hardline stance on gun rights, with Kemp drawing criticism for pointing a gun at a teenage boy in one campaign ad.
Abrams, on the other hand, wants to focus on the systematic inequalities plaguing the state. She just hopes Georgia voters will trust her to do the job.
"I believe these are solvable problems," Abrams said. "We can change the trajectory of the country and help the communities that are trapped by income inequality and social immobility. But to do so, you have to support people who are willing to test the bounds of our political system.
She added: "It's a question of whether people are willing to invest in my ability to do this job and put energy into breaking this last barrier. Americans' small contributions to black women's campaigns add up very quickly and transform our politics. That's what we're looking for in this time of resistance."