Primary Elections 2018: Meet the Women Candidates Eyeing a Pink Wave in Deep-Red Trump Country
Women are cleaning up in their Democratic primaries already this cycle, landing victories that have so far delivered on the promise of the "pink wave" foretold by the Women's March and the record number of women running for office in 2018.
Last week, women ran in 13 of Pennsylvania's 18 House districts, emerging as decisive victors in eight of those races. Four of the women have a good shot at winning November's general elections and putting an end to their state's all-male congressional delegation. On the same night, first-time candidate Kara Eastman stunned the Democratic establishment when she defeated her centrist competitor Brad Ashford, who lost despite support from the Democratic Congressional Campaign Committee. And, the week before, women in Indiana, North Carolina, Ohio and West Virginia made a strong showing, winning 17 of the 23 Democratic House contests that had at least one female candidate vying for the party nomination.
On Tuesday, women will test the strength of the movement in another handful of solid Republican states—Arkansas, Kentucky, Georgia and Texas—where primary results will begin to indicate whether Democrats can turn red Trump country pink.
Here are a few women to watch:
Lucy McBath
Lucy McBath could deal the Democratic establishment another blow on Tuesday, boasting a healthy chance of beating out Democratic Party favorites Bobby Kaple, a former TV anchor with local party support, and businessman Kevin Abel in Georgia's 6th congressional district. Women Democrats make up about 60 percent of the Democratic voter base in the district, while people of color make up about 25 percent. And, with over $800,000 in campaign funds, McBath tops both Kaple and Abel in fundraising.
McBath is a first-time EMILY's List-backed candidate who was inspired to run when her son Jordan was fatally shot in 2012 after a man opened fire on four teenagers he thought were listening to music too loudly at a gas station. Her son's murder turned McBath, a former flight attendant, into a full-fledged activist, advocating for gun control and civil rights.
New York Senator Kirsten Gillibrand, who has backed a number of first-time candidates this cycle both vocally and with campaign donations, voiced her support for McBath in a Sunday tweet.
National Democrats are particularly sensitive about this district, being that another first-timer, Jon Ossoff, came tantalizingly close to upsetting Republican Karen Handel, the district's current incumbent, in an April 2017 special election, only to lose by fewer than 2 percentage points. Going into Tuesday's primary, they think Kaple and Abel are their best chance at flipping the seat, but McBath could prove otherwise.
"My lived experiences speak to a lot of the issues people in my district are concerned about—health care, gun control; I've helped my mother with Medicare and Social Security," McBath told Newsweek Monday. "I have these life experiences and I think that gives me credibility to speak truth in Washington."
Stacey Abrams
Come November, Georgia could see its first black female governor in the form of Stacey Abrams, the former minority leader of the state's House of Representatives.
Abrams's progressive campaign has won her the endorsement of national women's groups like EMILY's List, NARAL Pro-Choice America and Planned Parenthood, as well as prominent members of Congress like independent Vermont Senator Bernie Sanders.
Abrams's national popularity has helped her bring in about $3.3 million as of the end of March, outraising her opponent Stacey Evans, a representative in Georgia's House running on platforms like raising the minimum wage, making health care affordable and accessible and reforming the criminal justice system. A recent NBC affiliate poll showed Evans lagging behind Abrams by 19 points, making Abrams the likely party nominee.
"I think that it is a deep honor to have the opportunity to do something no African American woman before me has done," Abrams told Newsweek in December, on the heels of Doug Jones's Alabama win, which was in large part thanks to black women voters. "The challenge ahead of me is not about whether I can do the job, but whether people are willing to invest in my ability to do it, and willing to break this last barrier and say, 'Yes, this is possible, and Stacey Abrams is the woman to get it done.'"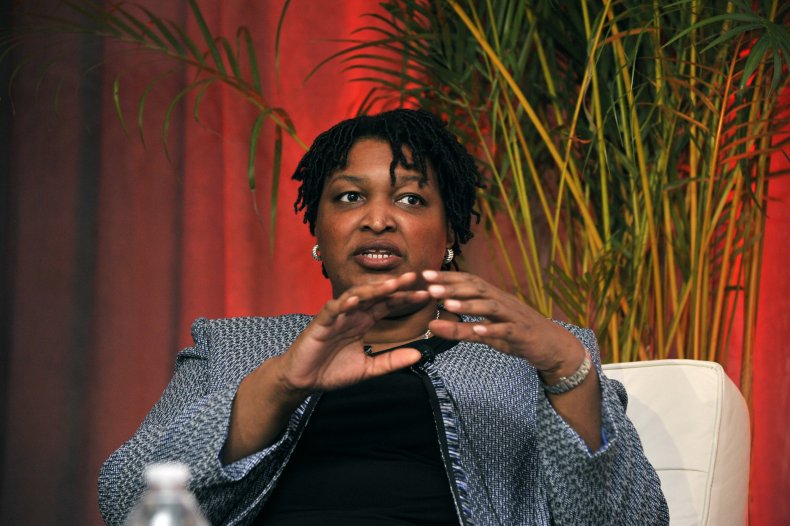 Amy McGrath
Amy McGrath, a former fighter pilot and first-time candidate, wants to be the Democrat to topple three-term Republican incumbent Andy Barr in Kentucky's 6th congressional district, one that Trump won by more than 15 points.
McGrath is currently leading a pack of six Democratic candidates in fundraising, having raised over $2 million for her primary bid, just a few hundred thousand dollars less than Barr. Trailing McGrath is Lexington, Kentucky, Mayor Jim Gray, who was encouraged to run by the DCCC. Still, despite being the establishment pick, there are signs Gray could fall to McGrath: On Friday, the mayor released an attack ad against his leading primary competitor, drawing attention to her recent residence in Maryland. Being that Gray had "largely ignored" McGrath for most of the race, the attack ad suggested, according to the Lexington Herald Leader, that Gray "sees the race as competitive."
If McGrath wins Tuesday night, she would still face an uphill battle against Barr, who's sitting rather comfortably in a solidly red district. But like many Democratic challengers this cycle, McGrath is hoping she can win over disillusioned voters by positioning herself as a political outsider.
"People are tired of the dysfunction in Washington, they're tired of standard politicians," she told Cosmopolitan in February. "I'm not the establishment in the Republican or the Democratic side. I'm just an American who wants better government, who wants to represent the people, who served her country and knows we can do better."
Laura Moser
The results of Tuesday night's runoff election in Texas's 7th congressional district will reveal whether first-time candidate Laura Moser's campaign survived a full-scale attack from the Democratic establishment.
The DCCC's campaign against Moser, who's backed by the Sanders-inspired progressive group Our Revolution, is perhaps the most extreme example of the committee's meddling in primary contests across the country. In March, the DCCC published opposition research against Moser, stating bluntly, "Democratic voters need to hear that Laura Moser is not going to change Washington." The DCCC sought to tear down Moser in favor of her opponent, Lizzie Pannill Fletcher, who landed the first-place spot in the March 6th primary with about 5 percent more of the vote.
With the two candidates neck-and-neck, Tuesday's race could be a nail-biter that ultimately spells further misery for the Democratic establishment, which has already seen at least one major upset so far this cycle. National Democrats worry about blowing their shot at defeating Republican Representative John Culberson, who's held the seat for almost two decades. The district went to Hillary Clinton in 2016, and Cook Political Report rates it as a toss-up, making TX-07 fertile ground for Democrats looking to flip the 23 seats they need to win back control of the House.
Moser has said she's just the person to recapture Trump voters and pick up the critical seat.
"They [the DCCC] think the only candidates who can win are kind of Republican-like candidates," Moser told ABC News in February, ahead of the first primary. "I'm attracting Republican voters not because I'm trying to be a Republican but because I'm a straight talker."
Gina Ortiz Jones
Texas hasn't sent a new woman candidate to Congress in more than two decades, and, only three women currently represent the state's 38-member congressional delegation.
Gina Ortiz Jones wants to be one of the Texas women to change that. Ortiz Jones, an Air Force veteran who served in Iraq, worked for the Trump administration up until June 2017, when she resigned her director post in the Office of the U.S. Trade Representative. Back in January, she told Newsweek that she was ready for her latest challenge: winning Texas's 23rd congressional district's Democratic primary and, eventually, defeating Republican incumbent Will Hurd.
"As a woman, woman of color and member of the LGBTQ community, I think we're just done assuming someone can do for us what we can do for ourselves," Ortiz Jones said at the time. "Why not this? I've got the background, personal experience and the moral courage to stand up and speak for those who can't speak for themselves. This is the fight and I'm willing and able to do that."
The odds are looking good for Ortiz, who won Texas's March primaries with roughly 41 percent of the vote to runner-up Rick Treviño's 17 percent. And while Cook has deemed the district a "lean Republican," TX-23 is essentially a swing district that narrowly went to Clinton in 2016. With the DCCC's backing, Ortiz could turn the district seat blue again. By Ortiz's estimation, it's the Democrats' to lose.
"This a race we lose, not that they win," Ortiz told Newsweek. "It's important to put up candidates who represent and excite the base because when we do that, folks turn out to vote. And when folks turn out to vote, we win."