Internet Convinced Cats Are 'Evolving' As One Gives Itself a Head Massage
This British shorthair cat has amassed a huge following online after his owner posted several videos of the cat using a cat massager on his head and back, with one video generating more than 30 million views already.
The videos were shared on the TikTok account @cicciothebrit by the cat's owner, Robert Scali, who has been amazed by the reaction to his pet's antics.
The most popular video so far in terms of views was shared on January 5 showing Ciccio holding the massager device himself and rubbing it against his face.
In other clips on the account, the relaxing cat can be seen lying next to the massager and letting it rub down his back, relieving all that tension and stress from the poor cat's body.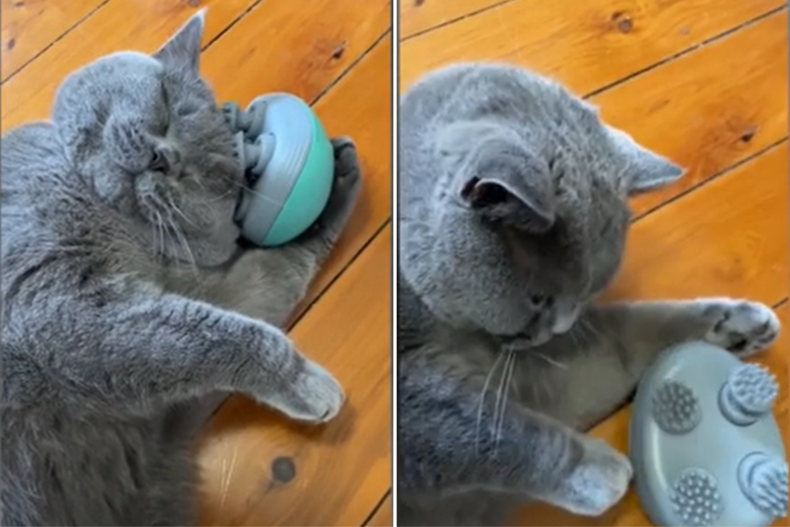 Scali has spoken to Newsweek about his cat's seemingly new favorite toy: "I came across this cat massager product online and thought I'd order it for Ciccio. When it arrived I decided to put it to the test and the result was this hilarious video where he actually held the massager, and he decided to hold it on his head with his paws.
"Ciccio uses the massager regularly but with some assistance. It's a bit of a rare occasion to catch him holding it by himself. I have a few other videos on the TikTok page of him using the massager, similar to the viral one."
Scali isn't the only owner who treats his pet with novel gifts though, as the American Pet Product Association [APPA] found that the pet industry has continued to grow in recent years, with pet owners across the country spending over $123 billion on their pets in 2021.
The highest expenditure was pet food and treats, which was around $50 billion of the market.
The APPA survey also highlighted that although cat owners typically spend less on their pets than dog owners, they still spent an average of $41 on cat toys for their felines throughout 2021.
After seeing how much Ciccio enjoys his cat massager there's no doubting how much he appreciates his owner spending the extra money on him.
After sharing the videos, which have amassed many millions of views on TikTok, Scali also told Newsweek about the reaction he has received on social media. He said: "I didn't expect this video to go viral at all as I only made the TikTok account for Ciccio for fun.
"The reaction has been crazy: to see the true power of TikTok's platform and how much traction a video like this can get in such a short period of time is pretty amazing. Sometimes his videos hit over a million views in a single day and keep going."
The highest viewed TikTok video, with over 30 million views, also has over two million likes and more than 8,000 comments. One comment on the video, which has more than 35,000 likes itself, reads: "When your cat becomes independent & no longer needs you", referencing Ciccio's ability to hold his own massager.
Others were also keen to point out Ciccio's self-sufficiency, as another TikTok user commented: "They are evolving."
Do you have funny and adorable videos or pictures of your pet you want to share? Send them to life@newsweek.com with some details about your best friend and they could appear in our Pet of the Week lineup.