Cat Hilariously Thinks Everything for New Baby Is for Her: 'Rude Awakening'
A pampered cat has delighted audiences across TikTok after appearing to claim all the items belonging to her owner's baby in a newly-viral video.
The TikTok clip, which can be seen here, shows the adorable cat sitting in a newborn's crib and stroller while a caption across the video reads "my cat thinks all the baby's stuff is for her—she's in for a rude awakening."
Since it was first shared to the social media platform on February 28 by @CodiePetey, the post has been viewed over 1.4 million times and liked by over 270,000 amused TikTok users. To date, over 2,000 comments have been left under the post, mostly from TikTokers expressing their delight at the hilarious video.
"The way she's looking around the room like 'ok I could make this work'," one user wrote.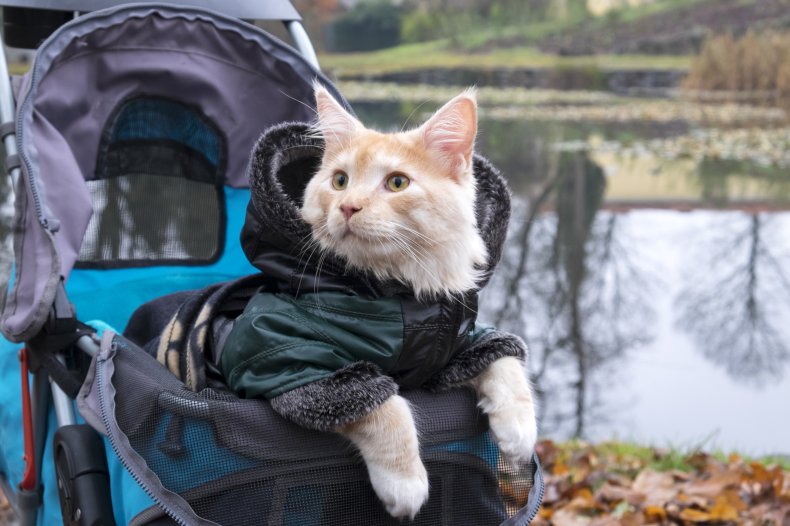 Another user commented: "They are finally going to treat me the way I deserve. Got a room, my own bed, stroller."
How Should You Introduce Your Cat to Your Newborn?
Introducing your cat to your newborn can be daunting, especially as a first-time parent or if your cat hasn't had much exposure to babies. Wendy Diamond, chief pet officer at Animal Fair Media, a lifestyle media company for pet owners, shared her top tips for getting the pair acquainted with Newsweek.
"Introducing cats to newborn babies might be a bit wary at first, but with a little patience, treats and toys, they can become the best of friends," she said.
"Start by introducing your cat to the baby's scent. Bring a blanket or piece of clothing that the baby has worn and let your cat sniff it. Then, slowly introduce your cat to the baby while holding them securely," Diamond continued.
The animal expert added: "Always supervise interactions between your cat and the baby and make sure your cat has a safe space to retreat to if they get overwhelmed."
This safe space can look like a quiet cornet in a room, or a different room entirely.
Lastly, the pet expert advises cat owners to keep their claws trimmed to minimize or prevent any accidental scratches, and to reward their cats for good behavior after they've calmly welcomed the new baby.
Newsweek reached out to @CodiePetey for comment.
Do you have funny and adorable videos or pictures of your pet you want to share? Send them to life@newsweek.com with some details about your best friend and they could appear in our Pet of the Week lineup.