Cat's Dramatic Reaction to Being Offered Pizza Delights Internet—'So Human'
A ginger tabby cat's hilarious reaction to being offered a slice of pepperoni pizza has proven a source of much amusement online.
Milo the moggy's responses to a wide variety of foodstuffs makes up the bulk of the content on his owner's TikTok account, Milo the Critic.
"Hi, I'm Milo. And your food is disgusting," a bio accompanying the account reads.
Although cats have been known to show revulsion to what we eat, a recent clip of Milo's reaction to a slice of pizza has proven more popular than most.
The video, which has attracted over 5.2 million views on social media, can be watched here.
Although some cats have been known to enjoy pizza, for Milo, the traditionally Italian dish is a source of some considerable revulsion.
When it comes to cat diets, there remains some debate among pet owners as to whether felines should be fed meat on a regular basis.
A 2021 study published in the journal BMC Veterinary Research saw 1,325 cat owners polled on what they feed their felines. Of that number, 65 percent offered their cats meat. Yet researchers found that the health and wellness of cats was not adversely affected by being on a plant-based diet.
In fact, the results showed that a lower proportion of cats fed plant-based diets reported having gastrointestinal and hepatic disorders.
Moreover, the cats fed plant-based diets were reported to have more ideal body condition scores and were in general better health than cats fed a meat-based diet.
Perhaps Milo was wise to steer clear of the pepperoni then, though his reaction was a touch dramatic, with the feline instantly retching when presented with the pizza slice.
Despite the cat's obvious disgust, the reaction proved a source of much amusement on social media with fans flocking to comment on Milo's behavior. Monikerrr commented: "WHY IS THE GAG SO HUMAN" with Procrastination Moose adding: "Milo's not liking what he be smellin."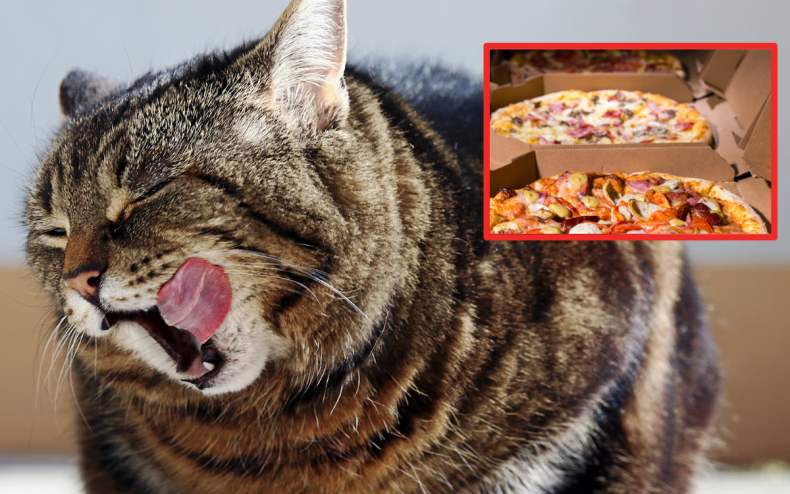 Daisyannef, meanwhile, was taken aback by it all, writing: "Okay but why was the gag so aggressive." Others like Bang Chan were positively amused. "The first gag got me rolling," they said while QueenBea75 lamented: "I wish I had this reaction to pizza, I could use that."
Fellow cat owner Celi found the entire experience very relatable, writing: "My orange cat does this to cucumber slices and lettuce." By contrast, Nananass__. Claimed to have experienced the opposite commenting: "I guess my cat isn't normal cause he tries to eat anything and everything."
Elsewhere, no.1.bingo.fan was similarly repulsed, admitting: "I almost threw up too."
Newsweek has contacted Milothecritic for comment.
Do you have funny and adorable videos or pictures of your pet you want to share? Send them to life@newsweek.com with some details about your best friend and they could appear in our Pet of the Week lineup.