Cat's Reaction to Seeing Hyenas in 'The Lion King' Has Internet In Stitches
A video showing a cat's hilarious reaction to seeing the hyenas in Disney's The Lion King has animal lovers in hysterics online.
Footage of the cat watching the 2019 version of the feline favorite was shared to TikTok by Jackeline Nayelly, posting under the handle nxyelly.01. At the time of writing, the clip has been viewed 11 million times. You can check it out here.
Cats may not watch television in the same way as their human companions, but studies have shown that screen time does provide some level of enrichment for our feline friends.
In a 2008 study conducted by psychologists from Northern Ireland's Queen's University Belfast, researchers found cats enjoyed screen time, especially when the images presented included "elements of prey items and linear movement." The study also concluded that cats were capable of engaging with two-dimensional screens for up to three hours at a time.
In this sense, watching something like the 2019 version of The Lion King, which uses photorealistic computer animation techniques to bring the animal characters of the original Disney film to life, might be about as close as you can get to ideal cat viewing.
However, as Nayelly's video shows, that level of realism does have some minor drawbacks. In the case of Franchesquito, the cat featured in the viral clip, it's the fact that, at one particularly memorable point, things got a little too real for his liking.
Speaking in a voice over accompanying the footage, Nayelly explained: "My cat Franchesquito enjoys watching movies. Today it was the Lion King live action. All goes well for now, but this scene made him a little nervous."
The scene in question comes moments after—SPOILER ALERT—Simba's dad meets his demise. Confronted by his conniving uncle Scar, who secretly orchestrated his sibling's demise, Simba is told to run away, rather than face the blame for his dad's death.
Seconds after Simba's exit, however, a pack of hyenas come into view behind Scar, with the film's central antagonist ordering them to go after Simba and kill him. The hyenas set off in pursuit, cackling maniacally as they go. It's an unsettling sequence and evidently one that proved too much for Franchesquito to bear.
But rather than hide behind a cushion, as is the time-honored tradition of his human friends, he instead decided to make a hasty exit, dashing off in the direction of the door, evidently fearful that the hyenas on screen could soon come looking for him.
He had nothing to fear, of course, with Franchesquito's scaredy-cat reaction instead eliciting laughs among those watching online. Mi123ch said Franchesquito's "survival skills activated" after he saw the hyenas. "Just in case they come after all of them," they explained.
"He had flashbacks from his previous lives," _she2real_ commented while Elecktra Lynch thought he had shown his "potential to be the next Simba." Armando Huaman, meanwhile, concluded: "At that moment, Franchesquito felt the true terror." Fersj93 also urged Nayelly to take her cat "to the cinema to see it in 3D."
Some felt a tinge of sympathy for the frightened feline with tatyluvstohike writing "poor cat" with ajf.gg also commenting: "awh." Thankfully Franchesquito appears to have gotten over the scare, with a second clip showing him and another cat happily watching a video of a bird on the same television. Watch it here.
Newsweek has contacted Nayelly for comment.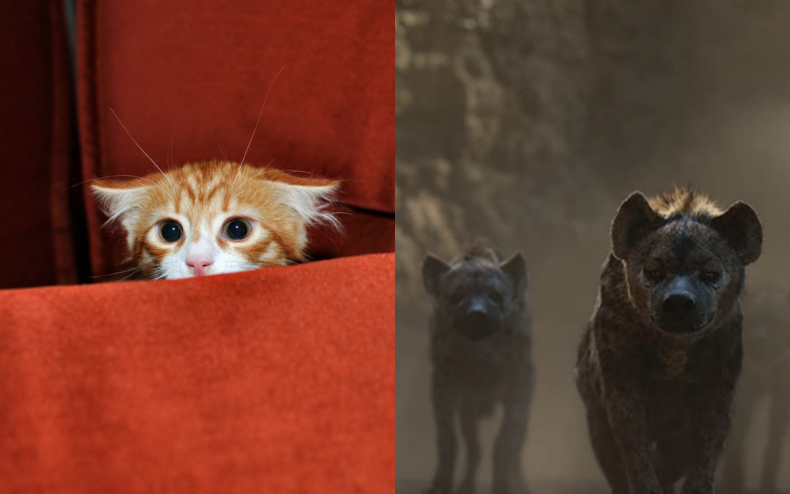 Do you have funny and adorable videos or pictures of your pet you want to share? We want to see the best ones! Send them in to life@newsweek.com and they could appear on our site.