Cat's Response to Not Getting 21 Hours of Sleep Delights Viewers
A cat named Aurora has melted hearts all over the internet after a video of her refusing to wake up because she hadn't had her full 21 hours of sleep went viral on social media.
In the video, shared on TikTik on Thursday by the cat's owner, under the username Roro.cat, Aurora can be seen sleeping face down on her mother's lap, refusing to wake up as she smooshes her face on the blanket.
The heartwarming post comes with a caption that says: "My cat if she doesn't get at least 21 hours of sleep." Followed by: "The side eye."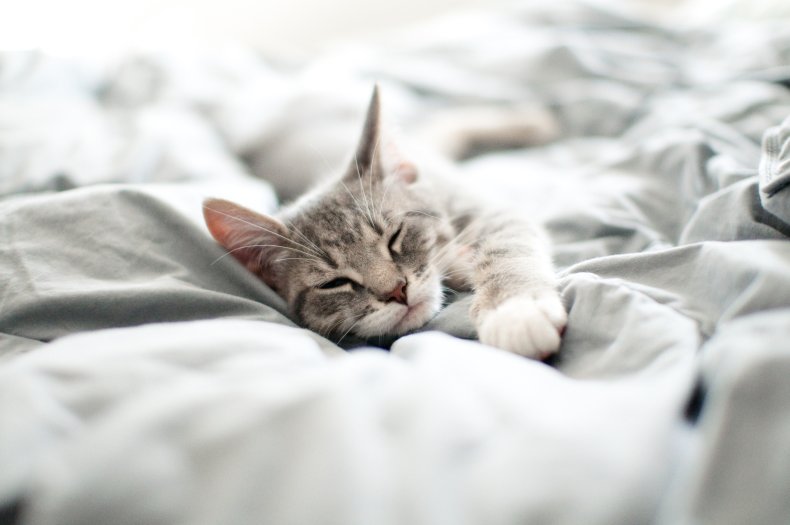 According to Britannica, cats sleep on average 15 hours per day, even though some stretch it to 20 hours, especially if they're older cats or kittens. Because cats are natural predators, all the sneaking and punching exhausts them, and that is a trait they inherit from their ancestors, the wild cats, who need to hunt in order to survive and need to recharge.
The website also says: "And they are not just predators, they are crepuscular predators, which means that the go lights come on for them at dawn and dusk during the twilight hours when their prey, rodents and birds, are equally active. The rest of the day, cats sleep."
Aurora's owner told Newsweek that the cat "spends the majority of her day sleeping. She needs her beauty rest and is a very grumpy lady without her scheduled 7 naps!"
"She doesn't like to be woken up, but she often chooses my lap as her napping spot- which makes it hard for me (mom) to move," she said. "The reaction from the audience is that Aurora is really all of us, she is a high-maintenance gal, but she is the queen of the house so what she wants she gets!"
The video quickly gained popularity all over social media, attracting animal lovers from across the platform, and it has so far received more than 314,800 views and 69,200 likes.
One user, thatdudeman, commented: "I still have 20 hours to go." And jess1151 said: "Beauty like that doesn't just happen." mel wrote: "i love when cats lie facedown." And Delilah & Decklyn added: "Yet they have the audacity to wake us up at 6am."
Yosoy.samanthaa joked: "me everyday." And Voyager Harness said: "We feel your pain." eos added: "because 20 is just not enough."
Another user, forthesakeoflaugh, commented: "She sleeps a lot because she is bored and she does not get enough attention." And lakesoffire said: "That's a quality perch she's got going." and added: "HER SMOOSHING HER LITTLE FACE."
Jesusthemoosey wrote: "And then they be meowing eating at 12-3 am." And holygrial04 joked: "whatever you think you're doing Möther...just don't," while claudia added: "Someone warm her little nose up."
Update 03/20/23, 11:51 a.m. ET: This article was updated with comment from Aurora's owner.
Do you have funny and adorable videos or pictures of your pet you want to share? Send them to life@newsweek.com with some details about your best friend and they could appear in our Pet of the Week lineup.