Cat Snuggling With Newborn Melts Hearts Online—'Best friends for life'
Best friends William and Teddy have delighted the internet in a viral video on TikTok. The surprising part? Teddy is a fluffy white cat and William is a human baby.
The video, shared on TikTok in January by user williamandteddy, has received 8.6 million views and thousands of delighted comments.
In the viral video, Teddy the cat is seen curling up with his new human friend almost although he is cuddling the baby.
"So sweet. Love this so much," wrote one user. While another said: "That is two beautiful babies right there."
With 45.3 million households in the U.S. reporting they own a cat, our feline friends are often as much part of the family as fellow humans.
Feline behavior consultant Jennifer Van de Kieft told Newsweek: "Cats and babies can get along fine. You want to supervise the interactions to ensure safety."
When it comes to creating a harmonious relationship between your feline friends and new arrivals, Van De Kieft said: "Supervise interactions to ensure they go well and are all safe. When the baby comes home, let the cat see the baby in short sessions and pair it with things that the cat likes, such as affection, treats and play.
"Always give your cat places to hide so they can decompress from the stress of the household changes. This is particularly important when the baby becomes a toddler and is mobile."
​​
Commenting on the video, Van De Kieft said: "That video is just adorable. As long as the interactions are being supervised, and you know your cat well, this can be perfectly safe. Not all cats will be this comfortable being this close to your baby. Every cat is an individual which is why it's important to know your cat before allowing this to happen."
Delighted by the video, one TikTok user said: "That's his baby." Another said: "That is an adorable babysitter you've got."
"Best friends for life," wrote one commenter.
Many users also shared their positive experiences with babies and cats. One viewer wrote: "Our cat always had to be by my son's side. It's a beautiful thing." While another shared: "We had kitties when my oldest two were babies that stood guard and liked to sleep in their swing and next to them in bed."
Handled correctly, a cat and human relationship from an early age can be a really wonderful thing. In an article about introducing cats to newborns, Healthline wrote: "There's often strong societal pressure for expectant parents to say goodbye to their beloved kitty before a baby joins the family. But if you take the safety issues into consideration and find ways to respect both your cat's and your baby's boundaries, you can all live happily ever after."
Newsweek has reached out to williamandteddy for comment.
In 2021, the internet loved seeing this cat introduce its kitten to a new baby in a viral video. In January, another unlikely feline friendship with a hamster caught the attention of the internet.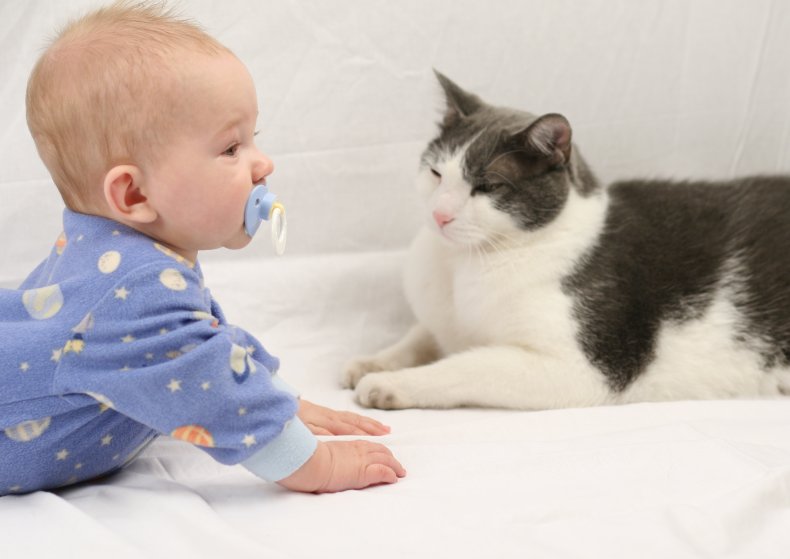 Update 2/22/22, 3:41 a.m. ET: This article has been updated with comments from Jennifer Van de Kieft.