Cat Hilariously Caught on Camera Stealing a Taco at His Own Birthday Party
The moment a cat was caught red-handed stealing a taco during his birthday party has delighted the internet after he was caught on camera this week.
Jen Bristol is from Washington, D.C. where she lives with two Egyptian Mau cats, named Memphis and Cash, who are both now a year old.
Last weekend, Bristol invited friends to celebrate the felines' birthdays with a lavish party at their home, complete with decorations, food, and cocktails.
Bristol told Newsweek: "I absolutely love Memphis and Cash. They bring me so much joy every single day so I thought it was only proper and right to celebrate their first year of life."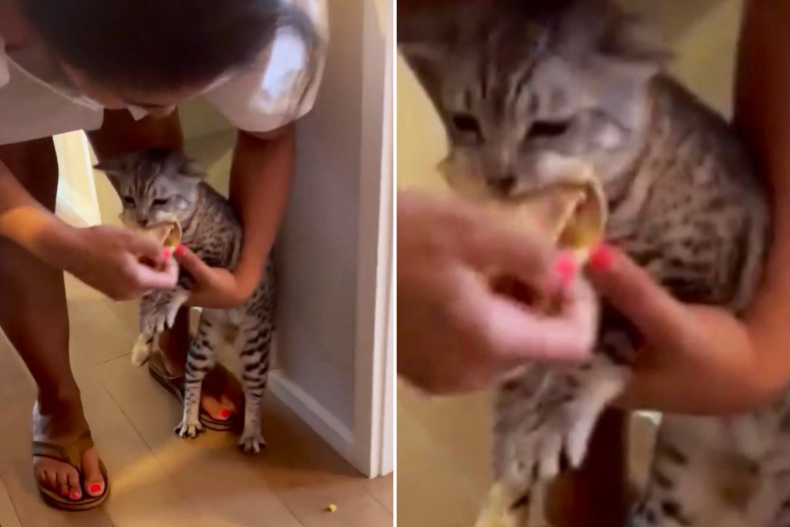 After the event, party attendee Marissa Barrera shared a tweet that quickly gained viral attention—showing off the moment that birthday boy Memphis grabbed himself a little treat—a Trader Joe's taco from owner Bristol's incredible food spread.
Barrera's tweet read: "I went to a cat birthday party yesterday where the birthday boy stole a taco," alongside a picture of Memphis desperately trying to hang onto his stolen treat as his owner tries to prize it back. With more than 23,000 likes and thousands of retweets, the picture has left viewers in stitches.
On Twitter, one commenter said: "It's his birthday he deserves it," while another noted how he was "living his best life."
Alongside sharing her Egyptian Mau's latest antics on their Instagram account memphisandcash_, cat lover Bristol is also part of the online #catsandcocktailsclub.
"I've been part of the community since February last year," she explained. "It's essentially a group of Instagram cat accounts all over the country that get together to make craft cocktail recipes. Someone is responsible for hosting every week, they come up with a craft cocktail and they bring a recipe to the group."
The feline cocktail fans also have group chats where Bristol says they talk almost every day about everything from what their cats are up to to their latest drink creations. "We're all friends at this point," she said.
Bringing her local friends and online community together, Bristol used the cat birthday party to prepare for her hosting of #catsandcocktailsclub on August 12.
"I thought it would be fun to do a cocktail tasting for my party," she explained. Coming up with three different recipes that encapsulated her cats—including the aptly named "Walking in Memphis," Bristol hosted an Instagram Live while she and her friends tasted the three cocktails and picked their favorite.
But during the live stream, crafty kitty Memphis was caught in the act as he jumped onto the counter and helped himself to a taco.
"It wasn't the first one," said Bristol. "He was stealing them throughout the party. They're absolutely brilliant cats. They're always thinking four steps ahead."
In fact, she even explained how she had to hold off on putting out her carefully crafted charcuterie board until more of her guests arrived. "I had to wait until I had critical mass at the party to police the salami," she laughed. "They'll take any opportunity to get food."
Delighted by the viral reaction, Bristol hopes that her mischievous felines can bring joy to others. "For me, it's just Saturday, y'know?" she said. "They're always doing something funny and silly. But I love bringing the boys to the world and bringing a little bit of joy to people."