An elderly cat who's set to celebrate her 23rd birthday is melting hearts online in viral videos, with her owner labeling her a "queen."
Lily the cat was born in 1999 and has lived so long she can officially drink alcohol, with the senior lady getting ready to mark another year in March.
Her owner, Reece Putinas, began sharing videos of his beloved companion on his TikTok account @nuckfoodle over lockdown as he was "bored."
As the world fell in love with her signature meow and sideways walk, after suffering a possible stroke, Putinas now regularly shares heart-warming content featuring Lily.
The 34-year-old, from the U.K., explained he first got Lily after a double tragedy when he was a boy, after losing two kittens to car accidents in 1998.
The actor told Newsweek: "Children as we know get really attached to animals so for me this was a very hard pill to swallow losing two cats in the space of five months."
Despite the loss, the following year he saw an ad in the local paper for some kittens up for sale.
"It was decided that I would get two kittens as then they would potentially play and stay together thus less likely to go off exploring and cross the road.
"I remember seeing this tiny little ball of fluff and her colors were just gorgeous and I had to have her. I also got another cat from the same litter who would be called Rosie. Both of them were only seven/eight weeks old when we got them and I at the time was only 11 years old," he reminisced.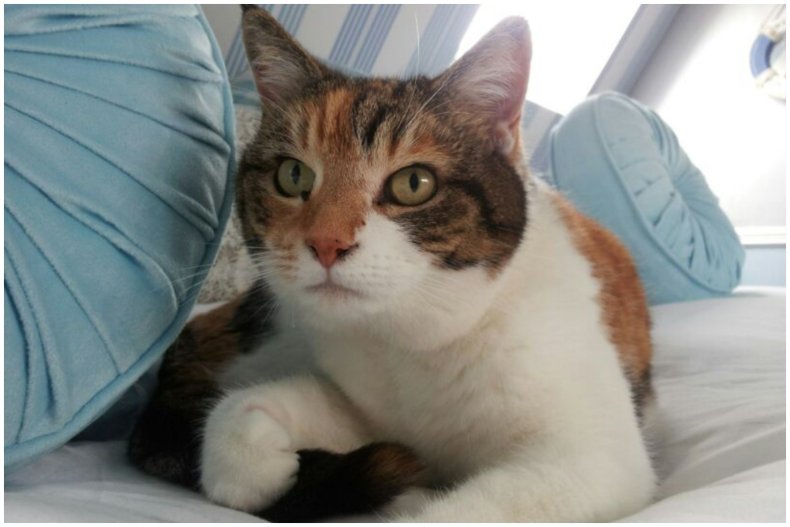 Over the years he got another cat, Billie, in 2005, and a fourth, named Tink, a few years later. Rosie was put to sleep in 2015, Billie passed away in 2020 and Tink never returned one day.
But Lily is still going strong, as he said: "I cannot believe how long we have been together and never in my life did I anticipate that she would live this long.
"I thought when Rosie had to be put down in 2015 Lily would shortly follow as they were the same age but here we are seven years later and she's still going."
He reminisced over Lily's long life, saying: "In her younger years Lily was always out playing and when home she kept pulling the house plants over, would often scratch off the wall paper in my bedroom and used to bring me a mouse's head as a gift since she had eaten the body. Sometimes I would literally find just a mouse stomach on the floor... gross.
"Nowadays she will go out in the garden occasionally, where she will often feast on the plants only to then come into the flat and be sick. However, she is mostly an indoor cat now."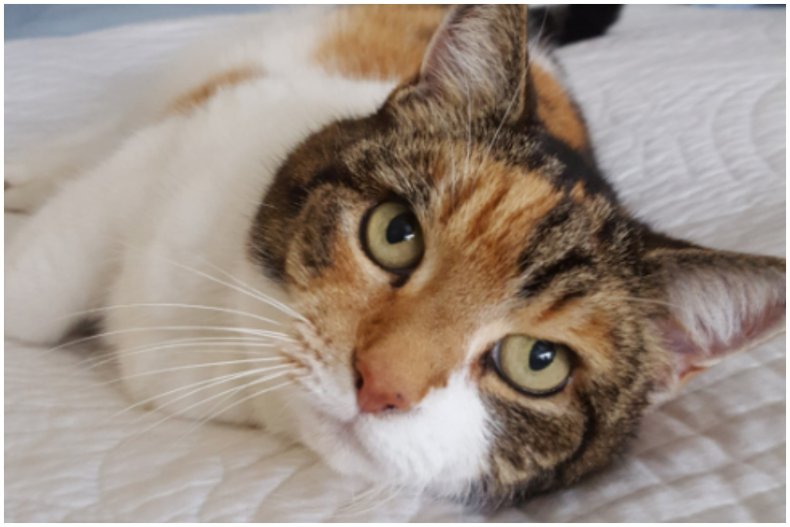 She had a health scare two years ago, as Putinas recalled: "In the summer of 2020 I found Lily at the bottom of the garden, she was unable to stand up and I took her inside where she drank from her water bowl for a good 10 minutes.
"She began to walk very wobbly so fearing the worst I took her to the vets but they couldn't find anything wrong with her. They believe she had a stroke which is why she walks the way she does. She has walked like that ever since the summer of 2020."
He's adapted his home for his elderly friend, saying: "I now have the ramp for her as she likes to sleep on the sofa with her blanket instead of her basket, I clean her eyes for her and often comb her to keep her fur in good condition."
Other than minor age-related ailments, the pair are getting ready to celebrate Lily's upcoming birthday.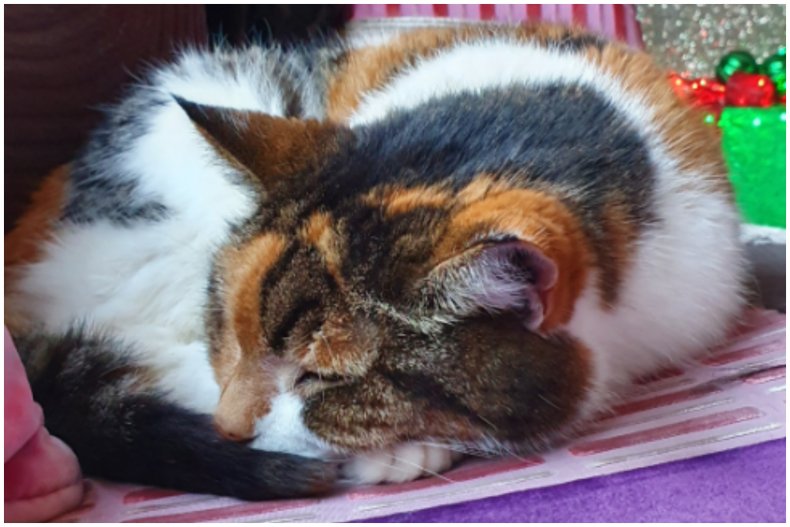 He raved: "Lily's personality is so loving, she purrs constantly, is very vocal and will always brush up against you for attention, she is a very affectionate cat and not once has she ever hissed, scratched or tried to bite me.
"I have thought about the inevitable, I like to think she has many years left but at her age things can change so quickly. It really saddens me as she's been with me over two thirds of my life. She's literally watched me grow up.
"I often get asked if I would get another cat but I cannot answer that right now as Lily is such a huge part of my life."
Her global fans—from the U.S., Japan, Brazil, Argentina, Poland, Australia, New Zealand and the Philippines—are equally besotted by Lily.
Putinas added: "Very quickly I realized people were falling in love with her and to this day I never could have anticipated we would reach over 400,000 followers and over 75 million lifetime views.
"Aside from the odd comment of people saying she is suffering and should be put down, most people's reactions and comments are of pure joy and love, we often get told she brings people to tears and that we have the most beautiful bond."
One popular video, captioned "she knows when it's dinner time. We made it 2022 my 22 year old queen," was watched more than 11 million times since being shared earlier this month.
The clip moved people to tears, as Kinza & Rida wrote: "This made me cry."
Meg thought: "That cat deserves a wagyu steak with the finest caviar for dinner. I can only hope my girls live this long."
Joseph Empey commented: "You walk them steps, queen."
While Melissa R said: "So glad she made it to 2022."
And Trinitē Barton added: "These vids got me clutching my cat like a purse in an alley way."