'Catastrophe' Creators on Carrie Fisher's Final Scenes and How They Will Handle Her Death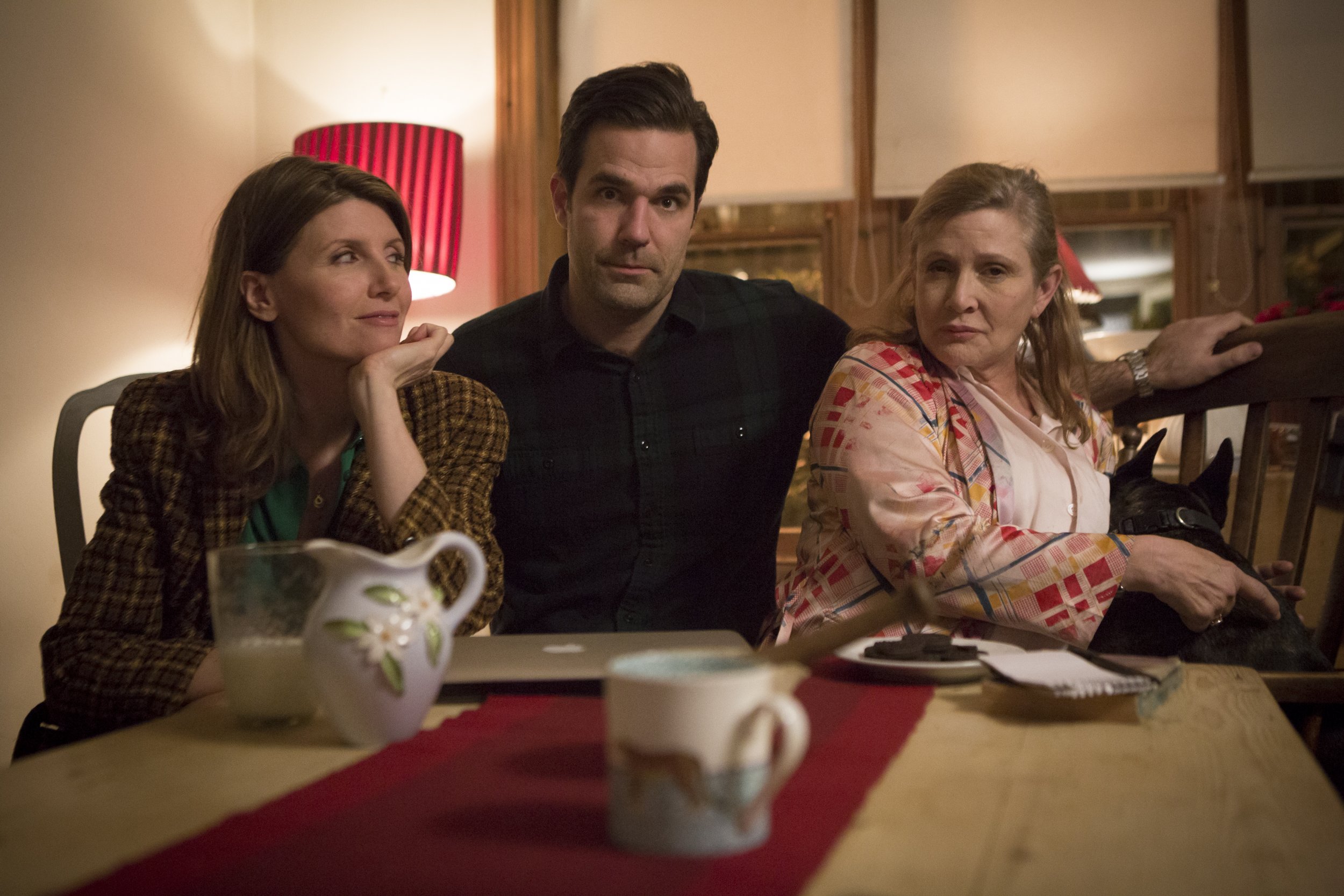 For millions, Carrie Fisher was Princess Leia—or, rather, General Organa in the last Star Wars film, The Force Awakens. But in the final two years of her life, before her sudden death in December 2016, Fisher took on another memorable role, as Rob Delaney's nagging mother Mia in Catastrophe, the British comedy that has become an international success.
Co-created by and starring Delaney and British comedian Sharon Horgan, Catastrophe's third season begins in the U.K. later this month. It will feature Fisher's zany character—so often at odds with Horgan's character Sharon (Delaney's wife in the comedy)—in a more prominent role than the previous two seasons. It also marks one of her final screen roles before her death.
Newsweek attended the premiere of Catastrophe Season 3 in London on Tuesday night where the first two episodes were screened. Although the show hasn't lost any of its uproarious wit, and Horgan and Delaney were on good form in a post-screening Q&A, there was a somber moment as the stars reflected on Fisher's sad passing.
Horgan told the audience the actors weren't able to spend a lot of time with Fisher while filming the previous two seasons because she "flew in, did her bit over a day or two."
But the latest season gave Horgan and Delaney the opportunity to write a bigger role for Fisher and get to know her better.
Related: Sharon Horgan is Ready to Take America Penning HBO's Divorce
"We wrote a bigger, chunkier part for her in Episode 6 and got to spend time with her," Horgan said. "She was part of the gang. All the cast got to spend more time with her. It was a real honor and privilege."
Horgan added: "She was incredibly witty company and loved saying asshole-y things to everyone. But she was also a really kind and supportive person."
Fisher filmed all of her scenes for Season 3 before her death, just as she did her scenes in the next Star Wars film, The Last Jedi. The U.K.'s Channel 4 has already ordered a fourth season of the Emmy Award-nominated comedy, but Delaney and Horgan have yet to work out how they will write out Mia.
"We haven't thought about that yet," said Horgan. "Hopefully some time will pass and we'll think of a fitting end to that story."
The show creators also told the audience the humorous story of how they managed to cast the international icon in the show back in 2014.
"We wanted Rob to have an awful mother and luckily she was in the market to play awful women," Horgan said.
"We wrote the pilot and wrote the mom, not knowing who it would be. Then, years ago, we went to the Attitude magazine awards and Graham Norton got a lifetime achievement award, and Carrie Fisher gave it to him," Delaney added. "Her speech was just amazing. We were watching it and Sharon said, 'What if she played your mom?' I said, 'Sharon, you're crazy.'"
Horgan revealed that Delaney tried to catch Fisher's attention on Twitter about the role.
"No response," Delaney quickly interjected.
"Then we got to her agent. We sent her scripts for the pilot and Season 1 and she said, 'OK, sure.' And thank God," he said.
Catastrophe Season 3 premieres on February 28 on Channel 4 in the U.K. It streams internationally on Amazon Prime.