Cat's Limp Miraculously Disappears When Owner Tries To Take Him to the Vet
The moment a cat's bad leg miraculously healed as his owner went to take him to the vet has left the internet in stitches.
Finn is a 3-year-old rescue cat and lives in Nova Scotia, Canada, with his owner Kourtnie Williamson who one day noticed that he was limping.
"He started limping on a Tuesday morning, and when I got home from work I was immediately concerned," Williamson told Newsweek. "He's usually really playful and loves attention, so when he didn't greet me at the door I knew something was off. I noticed the limp was still present, and he started raising his paw, even when he was sitting or laying down. I wasn't sure what was wrong at that point, but I was worried he was injured. That's when I called the vet to get their opinion."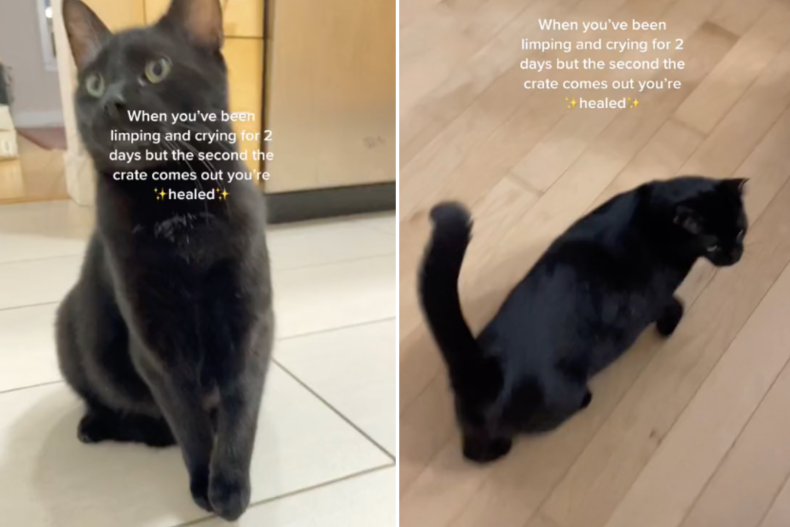 Why Do Cats Limp?
If you notice your cat limping, it could be as a result of an injury or of another medical issue that is impacting their joints, muscles, bone or other tissue.
Most commonly, limping occurs as a result of a trauma like jumping, falling from a high surface or even being hit by a car.
Cats are very good at hiding their pain, so if your cat is exhibiting signs of pain, it is important to have them examined by a vet.
Williamson was able to get a vet appointment for Finn the next day and decided that if he was still limping in the morning she would take him to be checked out.
"He limped the entire day, but the second I brought out his carrier to take him to the vet, he stopped," said Williamson.
Finn began putting weight back on the paw and walked away from his owner and the carrier.
"The limp didn't fully go away, but he wasn't hobbling around anymore," said Williamson. "That's when I knew, it definitely wasn't as serious as he was making it out to be. I started wondering if he was doing it for the extra attention I was giving him."
In stitches at the video, TikTok users shared their reactions in the comments.
"Black cats are sooooo dramatic," said one commenter, while another said: "My cat would forget which paw he was 'limping' on."
"This is like when you ask a toddler 'you wanna go to the doctor?' and they instantly respond with the stern 'no,'" said another reply.
Despite the miraculous recovery, Williamson did still speak to a vet, just to be sure. Luckily, the vet said that he was fine and likely just landed wrong on his paw.
"Once we got home from the vet, the limp basically disappeared," said the owner. "I shared the video because I thought it was funny. Who knew cats were smart enough to overexaggerate injuries to get attention?"
Thankful that Finn was completely fine, Williamson did want to stress the importance of taking your cat to be checked out if they seem like they're in pain.
"Animals are good at masking their pain," said Williamson. "Especially when they are scared of the vet. I'm glad I got him checked and it was nothing serious."
Do you have funny and adorable videos or pictures of your pet you want to share? Send them to life@newsweek.com with some details about your best friend and they could appear in our Pet of the Week lineup.