Cats Rescued From 'Dangerously Hot' Unventilated Mobile Home in Missouri
Several cats were rescued from a "dangerously hot" unventilated mobile home in Missouri amid a sweltering heat wave that has affected vast swathes of the United States over the past week.
The Animal Cruelty Task Force (ACT) of the Humane Society of Missouri (HSMO) rescued eight cats and eight dogs from "inhumane conditions" during an operation in Pettis County on Thursday at a property in Sedalia.
The cats were being kept in a mobile home with no ventilation and "dangerously hot temperatures," the nonprofit said in a statement.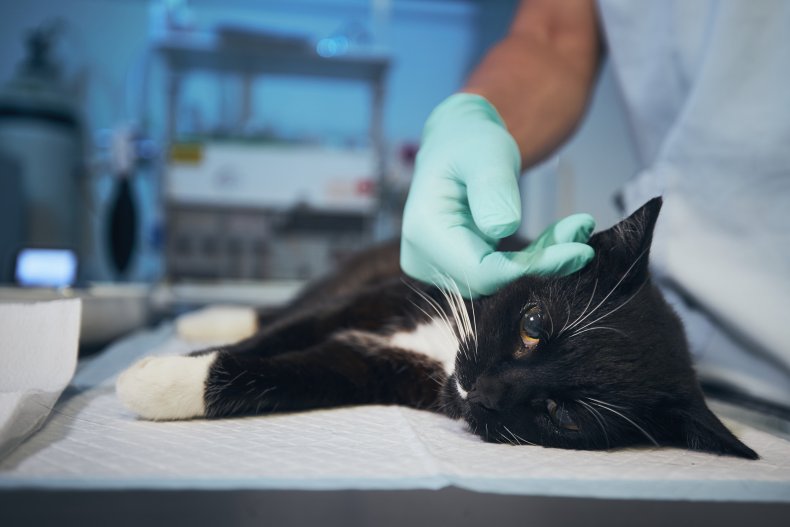 "The cats were heat-stressed, filthy, and flea-bitten, with some of them suffering severe facial and optical injuries," the HSMO said. "Four of the younger kittens had to have fluids administered and investigators noted it was doubtful the kittens would have survived much longer in that environment."
The dogs, meanwhile, were "filthy and underweight," according to the nonprofit. The residents of the property have subsequently been arrested on suspicion of animal neglect.
The rescue operation came as the heat index—a measure of what the temperature feels like to the human body—reached into the hundreds in several locations across the state, as well as in many other parts of the country.
The extreme heat this week has brought temperatures that are well above normal for this time of year in many areas, breaking several records. At one point, more than 100 million people—around a third of the entire U.S. population—were living under heat alerts.
Missouri was among the states where heat records were broken over the past week. St. Louis, for example, saw a high of 100 degrees Fahrenheit on Monday—a new record for the date of June 13, according to the National Weather Service. And heat advisories remain in effect for some parts of the state.
Excessive heat can be extremely dangerous to animals, as well as humans, especially in cases where pets have been neglected by their owners, for example, when people leave them in vehicles or places without adequate shade, ventilation or water.
The HSMO task force also conducted two further rescue operations on Thursday—another in Pettis County and one in New Madrid County. In total, the ACT recovered 22 dogs and cats living in "inhumane conditions" across Thursday's three operations.
During the other rescue operation in Pettis County, the ACT found five significantly undernourished dogs in "varying conditions." One of the dogs was severely emaciated, so much so that its ribs were visible. Another emaciated dog was rescued during the operation in New Madrid County.
All of the animals were taken to HSMO's headquarters in St. Louis where they will receive care and rehabilitation.
"The appalling conditions that these poor animals endured, especially in this oppressive heat, are deplorable and inexcusable," said HSMO President Kathy Warnick. "The welfare and rehabilitation of animals in need continues to be our top priority and we're extremely thankful for our partnerships with local law enforcement that allow us to give animals like these a second chance at a brighter future."
Earlier this week, more than 2,000 cattle died amid the heatwave in Kansas due to heat stress from high temperatures, humidity and a lack of cooling winds, according to local officials.