CDC Director 'Very Concerned' Warnings About Coronavirus Aren't Resonating with American Public
The director of the Centers for Disease Control and Prevention (CDC) said during a congressional hearing Thursday he is worried the American public is not taking the continued threat of the novel coronavirus seriously.
The hearing took place after more than a week of protests swept through the U.S. in response to the death of George Floyd, a black man who died while in police custody in Minneapolis, Minnesota on May 25. Though some protesters have worn face coverings in recognition of official health guidelines established during the pandemic, the preventative action was not universal, as photos displayed during the hearing demonstrated. Some individuals in large crowds, such as beachgoers, have also been photographed without masks.
"We're very concerned that our public health message isn't resonating," CDC Director Robert Redfield said. "We continue to try to figure out how to penetrate the message with different groups."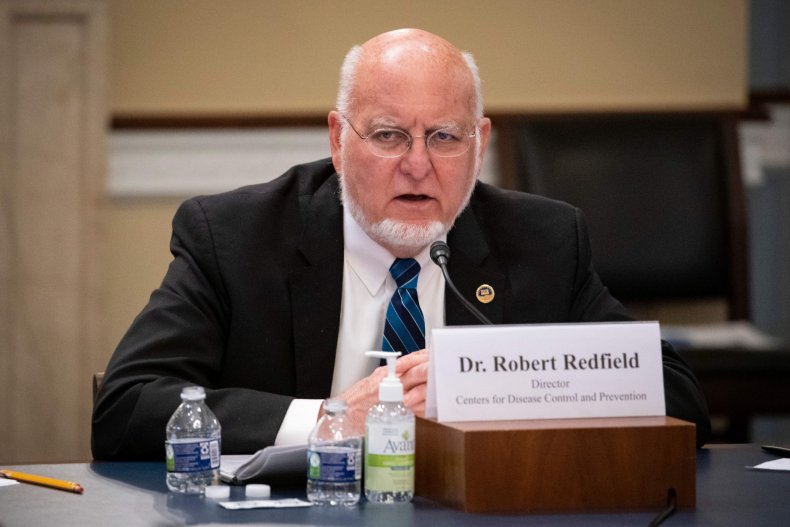 A few weeks after the World Health Organization declared COVID-19 a global pandemic, the CDC issued guidelines recommending all Americans wear masks or other forms of face coverings while around other people. A face covering was not intended to protect its wearer, Redfield explained, but to protect others nearby. Though he said the CDC believed at the start of this year that most people who contracted the virus would be symptomatic, the last few months of data revealed asymptomatic cases were just as common—and virus carriers that didn't have symptoms were much more difficult to identify.
"If people were asymptomatic or pre-symptomatically infected, if they were wearing a face covering, they would have less ability to transmit to others," Redfield said. "That's why we embraced this important public health tool. I will say that we continue to see this as a critical public health tool."
While Democratic Rep. Roybal-Allard of California agreed with Redfield's call to continue wearing face coverings and wondered aloud why President Donald Trump was not adhering to the mask recommendations—a query Redfield did not address—Republican Rep. Andy Harris of Maryland pushed back on the issue. Harris questioned the science behind the effectiveness of face coverings and said the country was experiencing "a cult of masks" that resulted in individuals facing harsh criticism for choosing not to wear them.
"Clearly there is science behind the potential benefit, if I am infected, of wearing a face covering in changing the amount of infectious virus that can go across a 6-foot space or a 3-foot space," Redfield told Harris. "We have good data to show that."
After the hearing, Harris told Newsweek the directions the public has received about mask use have not added up. "We are at a point regarding the use of masks where we have to let the science catch up to the dogmatic declarations made about mask use," Harris said. "First it was no masks, then everywhere masks, then inside only masks, then bandanas, then face shields—without any real science to back up a lot of the recommendations. And the press, by insisting that the president should wear a mask even at times when it's clearly not called for, and certainly not proven useful, has fueled the 'cult of masks.'"
According to Redfield, photos depicting Americans choosing not to wear masks at protests is not his only concern. While Redfield said he observed many residents wearing masks near his home in Baltimore, the same was not true in the nation's capital.
"We will continue to try to message as well we can," Redfield said. "We're going to encourage people that have the ability to request or require a mask when they're in their environment to continue to do that.
"We do think this is an important health tool, and we're going to continue to try to figure out how to get more and more people to embrace it," he said.
While officials across the country have voiced concerns that the large gatherings seen at protests could trigger a second virus outbreak in the U.S., health officials at the national and international levels have long warned a second wave could occur in the fall. Redfield said keeping preventative measures like wearing face coverings and observing social distancing in place could help the country brace itself for a dreaded second round.
"These social distancing strategies that we've learned are something we need to perfect," he said. "We're going to need them to be our major defense again in October, November, December."
This article has been updated to include a statement from Rep. Andy Harris.