CDC Director Walensky Dodges Question About Data Supporting Need for Vaccinated to Keep Wearing Masks
The director of the U.S. Centers for Disease Control and Prevention (CDC) appeared to dodge questions Wednesday when pressed about why the agency hasn't updated guidance on whether Americans who are fully vaccinated against COVID-19 should continue wearing masks.
In an interview with CNN's Chris Cuomo, Dr. Rochelle Walensky was questioned several times about the CDC's current mask guidelines, which maintain that fully vaccinated people should continue wearing facial coverings in public indoor settings or in certain crowded spaces outside.
In an effort to clarify the agency's guidance, Cuomo asked Walensky to offer data to suggest why vaccinated Americans can't "take the mask off" and "live their lives." The CNN host noted that the agency may be playing it "too safe" and questioned whether its slow approach to updating guidelines could have a negative impact on the vaccination effort at large.
"There are two arguments here: One is that it's too safe, and that causes time and delays and also creates exposure on the political flank," Cuomo said, while noting the Republicans have accused the CDC of failing to provide timely guidance and causing confusion throughout the pandemic.
"The practical side is that there's so few breakthrough cases," Cuomo added. "We need people to get vaccinated, you need to give them more carrots. Look at the science and say, The risk is almost de minimis. Take the mask off, live your life and let's see who gets vaccinated."
In response, Walensky declined to say when or how the CDC was planning to update its guidelines. She instead said that the agency needs to follow the science, "which is emerging every single day, with regard to variants, with regard to transmissibility, with regard to protection."
"Our job is to protect not just individuals. Our job is to protect populations...and I'm really looking forward to updating our guidance very soon," she said.
Cuomo then went further and asked Walensky to offer specific data as to why the CDC is still insisting that vaccinated Americans wear masks.
"What data do you have that suggests you need to go slow before you let people completely unmask and live their lives if they've gotten the vaccine? I know you're waiting for the data to say it's safe, but what data do you have to say that it's unsafe?" he asked.
In response, Walensky appeared to dodge the specifics of the question but said the CDC was tracking emerging data related to coronavirus variants.
"We know that data are emerging, have been emerging in regard to the variants. Specifically the U.K. variant; the Brazil variant, which is increasing here in the United States; the South Africa variant; and now we have variants coming from India as well," she said.
"With those variants here, we do want to make sure that those data are going to be out and demonstrate that our vaccines will work, and I'm looking forward to updating our guidance very soon," she added.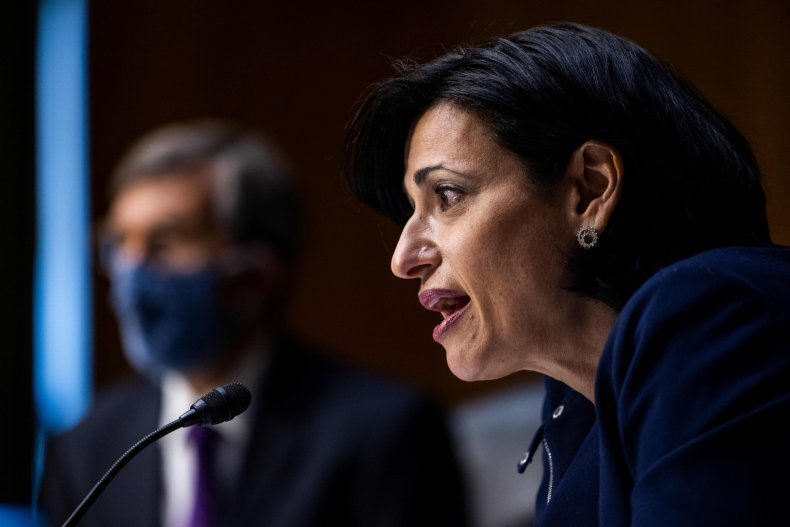 The interview came amid ongoing criticisms from politicians and health experts that the CDC guidelines are unnecessarily strict, particularly in regard to wearing masks in certain outdoor spaces. Earlier this week, the CDC faced backlash after a New York Times report said the agency released misleading figures that overplayed infection transmission in outdoor spaces.
The agency also received pushback from a number of pediatricians when its summer camp guidance said masks need to be worn at all times, even outdoors and by vaccinated adults and children as young as 2.
Dr. Jay Bhattacharya, a professor at Stanford University Medical School, told Newsweek last week that the agency's guidelines are "more conservative than the evidence warrants."
"I would recommend the CDC tell vaccinated people, 'Live your life free,'" Bhattacharya said. "I mean, there's no reason for vaccinated people—either for themselves or for others—to wear a mask, not really."
Such a move, he argued, could send a pro-vaccination message and act as an incentive for people to become fully inoculated.
Newsweek contacted the CDC for additional comment but did not hear back in time for publication.