CDC Expands Omicron Variant Monitoring to 4 Airports Servicing South African Flights
The Centers for Disease Control and Prevention (CDC) on Sunday expanded surveillance of the Omicron variant to four airports, two of which service flights directly from South Africa.
The enhanced biosurveillance program will test passengers entering the United States traveling from southern Africa, including passengers making connections through Europe, said XpresSpa, the company conducting the surveillance, in a statement.
It serves as an expansion of the program that was implemented in September at John F. Kennedy International Airport, Newark Liberty International Airport and San Francisco International Airport—some of the largest international airports in the United States, the statement said.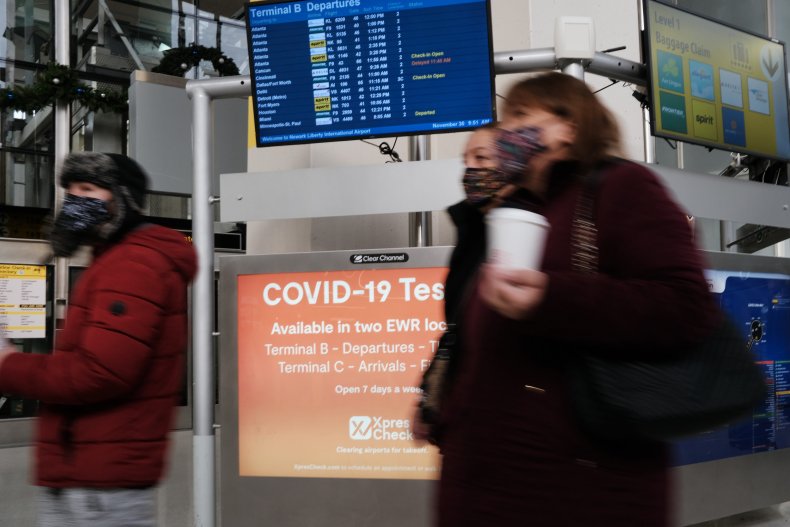 It is also being expanded to include Hatfield-Jackson Atlanta International Airport, which services flights from Johannesburg, the statement said. Newark Liberty International Airport also services flights from Cape Town and Johannesburg, according to FlightConnections.
"This program allows for increased COVID testing for specific international arrivals, increasing our capacity to identify those with COVID-19 on arrival to the United States and enhancing our surveillance for the Omicron variant," CDC Director Rochelle Walensky said at a White House news conference on Tuesday.
When contacted by Newsweek for comment, a spokesperson for the CDC referred to the statement by XpresSpa.
The news comes as the United States and other countries work to slow the spread of the Omicron variant. Last Friday, the Biden administration announced that it would impose travel restrictions from South Africa and seven other nations after the Omicron variant was discovered in the country.
The restrictions also apply to travelers coming from Botswana, Eswatini, Lesotho, Malawi, Mozambique, Namibia and Zimbabwe. U.S. citizens are not being held to the ban, but they must show proof of a negative COVID-19 test if they are traveling from these countries.
Much about the Omicron variant is still unknown to scientists, but some have warned that it may be more resistant to COVID-19 vaccines. It is not known if it causes more serious illness than other variants. The variant has a large number of mutations, which scientists have raised concern about.
So far, the United States has not detected any cases of the variant, but during a COVID-19 briefing Monday, President Joe Biden said it is "almost inevitable" that it would arrive.
The variant has been detected in several countries in all nearly all parts of the world. The first cases of the variant in North America were detected Sunday night when two people in Ottawa, Canada who were traveling from Nigeria tested positive for it.