The Centers for Disease Control and Prevention (CDC) issued new guidance on face masks on Thursday in a key moment of liberation from an unpopular measure designed to limit the spread of COVID-19.
People who are fully vaccinated against the virus no longer need to wear masks or follow social-distancing guidelines in most indoor and outdoor settings, except as required by state and local laws or other regulations, according to the guidance.
As of Thursday, 25 states, Puerto Rico and the District of Columbia (D.C.) had mask mandates in place. Reactions to the CDC's decision differed across the country, with some governors taking immediate action and others saying they will review the advice.
This list contains the latest information about mask mandates in each state:
California
Governor Gavin Newsom has said that California's current mask mandate will no longer be in place after the state fully reopens on June 15. The state currently requires mask-wearing in indoor settings other than your home regardless of vaccination status. That includes public transport. Outdoor masking is also required, except for fully vaccinated people unless they're attending crowded events.
"No. Only in those settings that are indoor -- only in those massively large settings where people around the world, not just around the country, are convening, and when people are mixing in real dense spaces," the Democrat said in a televised interview.
"Otherwise, we'll make guidance recommendations, but no mandates and no restrictions on businesses large and small."
Colorado
Governor Jared Polis has lifted the statewide mask mandate for those who are fully vaccinated against COVID-19. Previously, the state required face coverings indoors unless 80 percent of the people present were vaccinated.
Connecticut
Governor Ned Lamont quickly adopted the CDC guidelines on Thursday. The state has a higher vaccination rate than neighboring New York or New Jersey, according to ABC 7.
"Outdoor masking is no longer required for anybody, vaccinated or unvaccinated, unless you are in a very tight area, one of those particularly large events, where I would still recommend it, especially to those who are unvaccinated," Lamont said.
"Indoor masking will still be required for the unvaccinated for a little bit longer."
Delaware
Delaware is reviewing the CDC guidance, according to WPVI, but for now it will continue to enforce the mask mandate indoors and outdoors where it's not possible to keep six feet away from people from other households,.
"Delaware's emergency order still requires masks indoors. We will communicate updates to Delaware's requirements once we have reviewed the implications of CDC's guidance," said Mary Fenimore, spokesperson for the Delaware Department of Health and Social Services.
However, Delaware is due to lift some of the restrictions on May 21, including outdoor masking requirements, and social distancing will be reduced to three feet.
Hawaii
Governor David Ige said the state is reviewing the CDC guidance but that a mask mandate remains in place for outdoor and indoor settings, according to Hawaii News Now.
"The state mask mandate continues to be in force. ... We will continue to enforce the mask mandate," Ige said.
Illinois
Governor JB Pritzker has said the state will revise its COVID-19 rules in light of the new CDC guidance. Illinois was already set to move into the so-called "bridge" phase of reopening on Friday, which will allow increased capacity at outdoor events.
"I firmly believe in following the science, and will revise my executive orders in line with CDC guidelines lifting additional mitigations for vaccinated people," Pritzker said. "The scientists' message is clear: if you are vaccinated, you can safely do much more."
The Illinois rules will therefore "mirror" current CDC guidance on masks, according to The Chicago Sun Times.
Kentucky
Governor Andy Beshear said Kentucky will adopt the CDC guidance, but people will still have to wear masks in crowded groups and in settings such as public transportation and nursing homes.
Maine
Maine has left its mask mandate in place for now and will allow venues to operate at full capacity from later this month. Social distancing will be required indoors and where it's not possible to wear masks. The state currently requires mask-wearing in public indoor settings except when eating and drinking, according to The Bangor Daily News.
Maryland
A mask mandate for indoor public spaces in Maryland will remain in place and won't be lifted until 70 percent of the state's population has been fully vaccinated, according to WBAL-TV 11. About 40 percent of Maryland's residents have been fully vaccinated, while about half have received at least one dose.
Massachusetts
Governor Charlie Baker said his state's indoor mask mandate will remain in place for now. Masks must be worn in all indoor public spaces and outdoors where social distancing isn't possible.
Michigan
Michigan is reviewing its policy on masks following the CDC guidance and made no immediate changes. Last week, the state revised its mandate so that mask-wearing was no longer required at outdoor events with less than 100 people.
Fully vaccinated people are not required to wear masks at indoor residential gatherings, according to Fox 2, but unvaccinated people must still wear them in indoor settings.
Under the state's reopening plan, the mask mandate would be dropped when 70 percent of adults have received at least one dose of vaccine. That figure currently stands at around 55 percent.
Minnesota
Governor Tim Walz is lifting his state's mask mandate on Friday for vaccinated and unvaccinated people. The state's guidance will still encourage unvaccinated people to wear masks, but it will no longer be a legal requirement, according to the Star Tribune.
Nevada
Nevada immediately adopted the new CDC guidance as a result of a May 3 emergency directive signed by Governor Steve Sisolak that made the state's rules align with CDC recommendations, according to the Las Vegas Review-Journal.
New Jersey
New Jersey's mask mandate remains in place at the moment. The state is reviewing the new guidance, but for the time being masks are required in indoor settings and outdoors where social distancing isn't possible.
Governor Phil Murphy's aim is to vaccinate 70 percent of the state's adult population by July. Currently more than half of the state's residents haven't been vaccinated, according to northjersey.com, with 3.58 million people fully vaccinated as of Thursday.
New Mexico
New Mexico is reviewing the CDC guidance and could soon see a change to its mask mandate. The state revised its rules on April 28 to align with CDC recommendations and currently requires mask-wearing in public settings with exceptions like eating, drinking and exercising.
"The New Mexico Department of Health is reviewing the CDC's newly released guidance for fully vaccinated individuals – we expect adjustments to the state's public health order to be made imminently after a thorough evaluation of the new information," the governor's office said in a statement to KRQE.
New York
Governor Andrew Cuomo won't lift New York's mask mandate yet and said in a statement that the state is reviewing the new guidance. New York changed its rules last month to allow fully vaccinated people to go without masks when outdoors. Masks are still required indoors for vaccinated and unvaccinated people.
North Carolina
An indoor mask mandate remains in place in North Carolina while the state reviews the guidance. Governor Roy Cooper is expected to provide an update on Friday, according to WCNC.
Ohio
A statewide mask mandate in Ohio will be lifted on June 2, along with most other health orders regarding the virus.
"It's time to end the health orders. It's been a year. You've followed the protocols. You've done what we've asked. You've bravely fought this virus," Governor Mike DeWine said.
Oregon
Oregon's mask mandate has been lifted for fully vaccinated people in line with the CDC guidance.
"Going forward, fully vaccinated individuals in Oregon will generally not have to wear masks or practice physical distancing indoors or outdoors, with exceptions," said Charles Boyle, a spokesperson for Governor Kate Brown.
Pennsylvania
Pennsylvania will follow the CDC guidelines and lift a mask mandate for fully vaccinated people, according to WGAL News 8. Mask-wearing will still be required for unvaccinated people until 70 percent of the population has been vaccinated.
Rhode Island
Rhode Island hasn't dropped its mask mandate. People must still wear masks in public settings such as stores regardless of their vaccination status. However, fully vaccinated people don't need to wear masks outdoors.
Vermont
Vermont will change its guidance to align with the CDC on Saturday, according to NECN. The vaccinated and unvaccinated will be able go outdoors without masks if they can socially distance.
Virginia
Virginia is reviewing the CDC guidance, but the state's mask mandate remains in place for now. People are still required to wear face coverings indoors, but the state is "in the process of aligning state guidance with federal policy," a spokesperson for Governor Ralph Northam told WRIC.
Washington
Washington will lift its mask mandate for fully vaccinated people, adopting the CDC guidance. Businesses will still be able to require mask-wearing on their premises.
West Virginia
West Virginia will lift its mask mandate on June 20 because the state is expected to have vaccinated two-thirds of its residents by that date. Governor Jim Justice has said the mandate will be lifted even if that goal isn't reached.
"We'll be close enough," Justice said. "We're going with that date, period.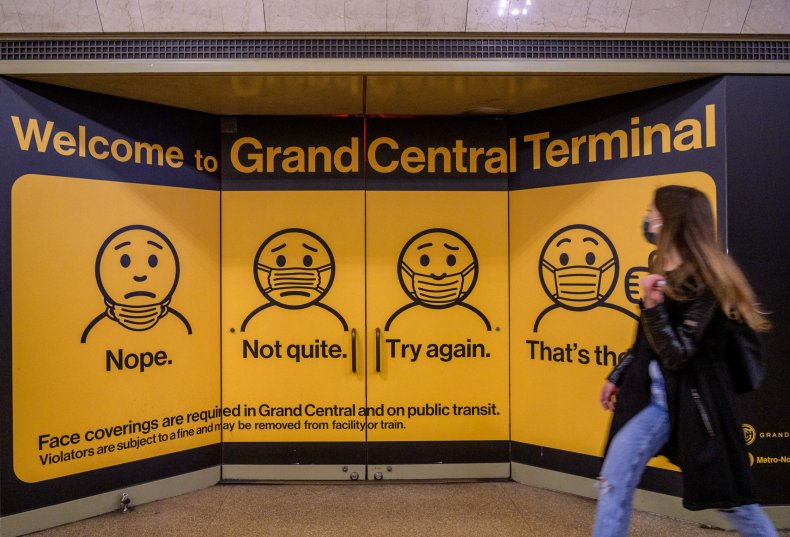 Uncommon Knowledge
Newsweek is committed to challenging conventional wisdom and finding connections in the search for common ground.
Newsweek is committed to challenging conventional wisdom and finding connections in the search for common ground.
About the writer
Darragh Roche is a U.S. News Reporter based in Limerick, Ireland. His focus is reporting on U.S. politics. He has covered the Biden administration, election polling and the U.S. Supreme Court. Darragh joined Newsweek in 2020 from PoliticusUSA and had previously worked at The Contemptor. He attended the University of Limerick, Ireland and ELTE, Hungary. Languages: English, German.
You can get in touch with Darragh by emailing d.roche@newsweek.com.