CDC Recommends Wearing Mask Indoors When Not at Home, a Day After Biden Says He'd Urge Nationwide Masks
The Centers for Disease Control and Prevention (CDC) recommended "the universal use of face masks" on Friday, which includes wearing a facial covering when indoors and not at home.
In the agency's Morbidity and Mortality Weekly Report, the CDC cited "high levels of community transmission," and urged Americans to apply increased precautions to curb the spread of the virus. Those preventive measures include the use of facial coverings in all indoor settings.
"Consistent and correct use of face masks is a public health strategy critical to reducing respiratory transmission of SARS-CoV-2, particularly in light of estimates that approximately one half of new infections are transmitted by persons who have no symptoms," the agency wrote.
"Compelling evidence now supports the benefits of cloth face masks for both source control (to protect others) and, to a lesser extent, protection of the wearer," the CDC said.
The report noted that face mask use is most important in indoor spaces and when six feet of social distance cannot be maintained outdoors.
"Within households, face masks should be used when a member of the household is infected or has had recent potential COVID-19 exposure (e.g., known close contact or potential exposure related to occupation, crowded public settings, travel, or nonhousehold members in your house,)" the agency added.
The recommendation to wear masks indoors comes a day after President-elect Joe Biden said he would encourage nationwide use of masks at the start of his presidency. On Thursday, Biden said he would urge Americans to commit to 100 days of wearing masks on his first day in office.
"The first day I'm inaugurated to say I'm going to ask the public for 100 days to mask," Biden said in an interview broadcast on CNN. "Just 100 days to mask, not forever. One hundred days."
"And I think we'll see a significant reduction if we occur that, if that occurs with vaccinations and masking to drive down the numbers considerably," he added.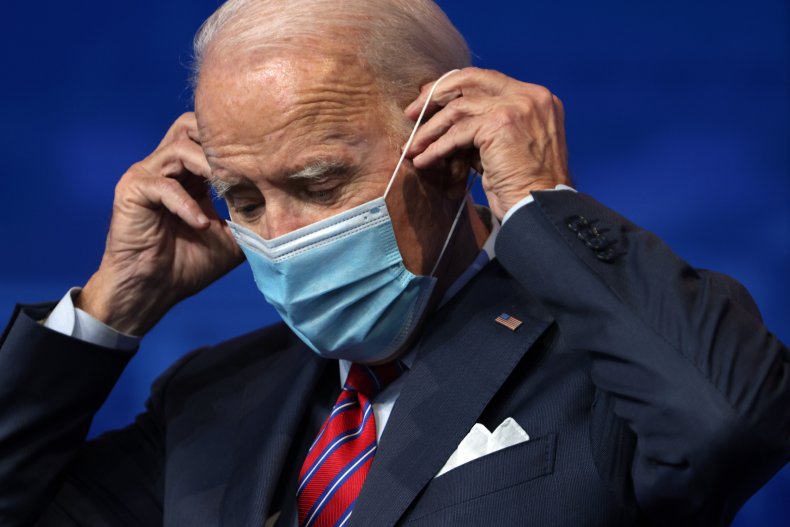 Newsweek reached out the Biden transition team for additional comment, but did not receive a response in time for publication.
In addition to wearing masks, the CDC recommends that Americans maintain social distancing and avoid crowded outdoor gatherings, as well as nonessential indoor spaces, such as restaurants.
"These actions will provide a bridge to a future with wide availability and high community coverage of effective vaccines, when safe return to more everyday activities in a range of settings will be possible," the CDC said.
The CDC and Biden's recommendations come as the U.S. is experiencing its worst COVID-19 outbreak to date.
On Thursday, the country reported its highest-single day death count, with over 3,100 people succumbing to the virus. Hospitalizations and infection rates are on the rise as well, with over 100,000 people hospitalized in the country for the first time this week, and new daily cases exceeding 160,000.
In total, the U.S. has recorded over 14.2 million infections and 277,958 deaths since the pandemic first started, according to data from Johns Hopkins University.
Experts have expressed fears that the virus surge could become even worse in the aftermath of Thanksgiving gatherings, and as Americans prepare to gather for the upcoming Christmas holiday.
Dr. Anthony Fauci, the nations leading infectious disease expert, told Newsweek that January could be the worst month yet.
"January is going to be terrible," he said, explaining that the country is going to have "the Thanksgiving surge superimposed upon the Christmas surge. So it's entirely conceivable that January could be the worst."