CDC Removes Suggestion to Limit Singing During Religious Services in Coronavirus Guidelines
The Centers for Disease Control and Prevention (CDC) amended its COVID-19 guidelines for religious services days after President Donald Trump announced places of worship would be included on the federal list of essential services.
After the president instructed all governors to allow churches to reopen immediately last Friday, the CDC published a set of guidelines for religious leaders to follow to prevent further spread of the virus. Among the recommendations listed were social distancing, limiting attendance at services, adding services to better distribute patrons among those offered and limiting singing during services.
"Consider suspending or at least decreasing use of a choir/musical ensembles and congregant singing, chanting, or reciting during services or other programming, if appropriate within the faith tradition," the initial guidelines read. "The act of singing may contribute to transmission of COVID-19, possibly through emission of aerosols."
On Friday, CNBC reported that the CDC changed its recommendations two days later. An image capture shared by the news outlet showed the CDC's original guidelines, which have been amended on the institute's website to remove mention of congregant singing.
The updated recommendations also include mentions of the First Amendment that did not appear in last Friday's version.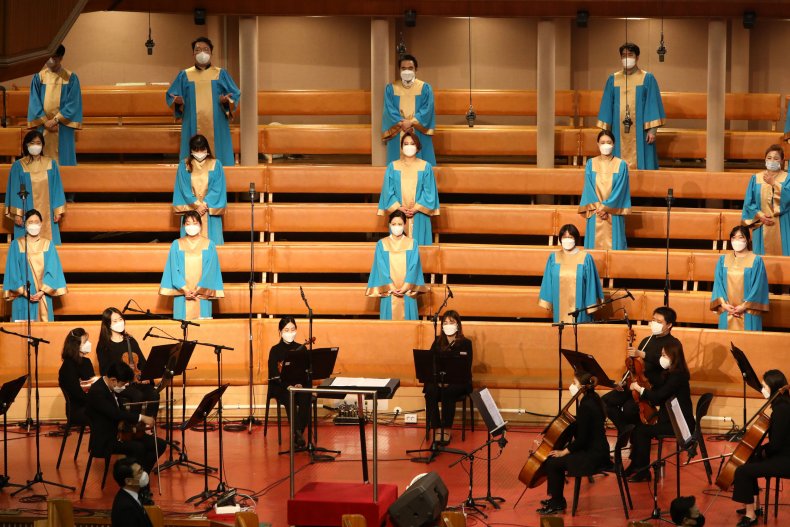 "This guidance is not intended to infringe on rights protected by the First Amendment to the U.S. Constitution or any other federal law, including the Religious Freedom Restoration Act of 1993," the CDC wrote at the top of its guidelines for religious services. "The federal government may not prescribe standards for interactions of faith communities in houses of worship, and in accordance with the First Amendment, no faith community should be asked to adopt any mitigation strategies that are more stringent than the mitigation strategies asked of similarly situated entities or activities."
The debate over whether places of worship should permit patrons to gather has been ongoing since the pandemic began spreading across the U.S. While many states have encouraged places of worship to hold services online and limit physical interactions among congregants, some worship leaders have continued to hold in-person services, occasionally resulting in COVID-19 outbreaks among attendees. Others have filed lawsuits against governors on First Amendment grounds in efforts to pull back the stay-at-home restrictions that have prevented them from gathering.
Though the CDC continues to advise Americans to observe six feet of social distancing while around other people, recent scientific studies questioned whether that amount of space is enough to protect an individual from contracting the virus. According to a study by researchers at the University of Nicosia, Cyprus, a single cough can spray germs up to 19 feet away in breezy conditions, and researchers at the National Institutes of Health said early data indicates speaking produces more airborne droplets of saliva than coughing.
In a report published on May 15, the CDC said an outbreak at a choir practice in Washington during which social distancing was not enforced was likely "augmented by the act of singing."
"The act of singing, itself, might have contributed to transmission through emission of aerosols, which is affected by loudness of vocalization," the report said. "Certain persons, known as superemitters, who release more aerosol particles during speech than do their peers, might have contributed to this and previously reported COVID-19 superspreading events."
It was unknown if the CDC's updated guidelines for religious services indicate the agency no longer considers singing to be a dangerous mode of transmission for COVID-19.
The CDC did not respond to Newsweek's request for comment in time for publication.