Cede France to Putin, Not Ukraine—Mayor of Occupied City
The mayor of occupied Ukrainian city Melitopol has dismissed any suggestion Kyiv surrender territory in pursuit of a peace deal with Russia, as Ukrainian resistance continues on the southern front and behind enemy lines.
Ivan Fedorov condemned Western politicians—particularly French President Emmanuel Macron—who are accused of advocating for Ukrainian concessions to end the invasion.
"We can give permission to Putin to exchange some part of Ukraine for some part for France, and it will be a great deal," Fedorov said, when questioned about Macron's recent urging of Western partners not to be tempted by possible "humiliation" of Russia.
"Why must Ukraine give some part of our territory?" asked Fedorov, who spoke to Newsweek from Zaporizhzhia, located near the southern front line and about 60 miles north of Melitopol.
"Ukraine will not go to the Russian Federation. If Macron wants to make an exchange, we can make an exchange. We can exchange some parts of the south of France for some parts of southern Ukraine."
The president's office has denied reports that Macron is pushing for Ukrainian concessions. The Elysée Palace said in May that Macron has not sought any territorial concessions and "has always said that it was up to the Ukrainians to decide the terms of their negotiations with the Russians."
Still, Ukrainians have little trust in the Élysée Palace given the president's public efforts to maintain dialogue with Russian President Vladimir Putin. Newsweek has contacted Macron's office to request comment.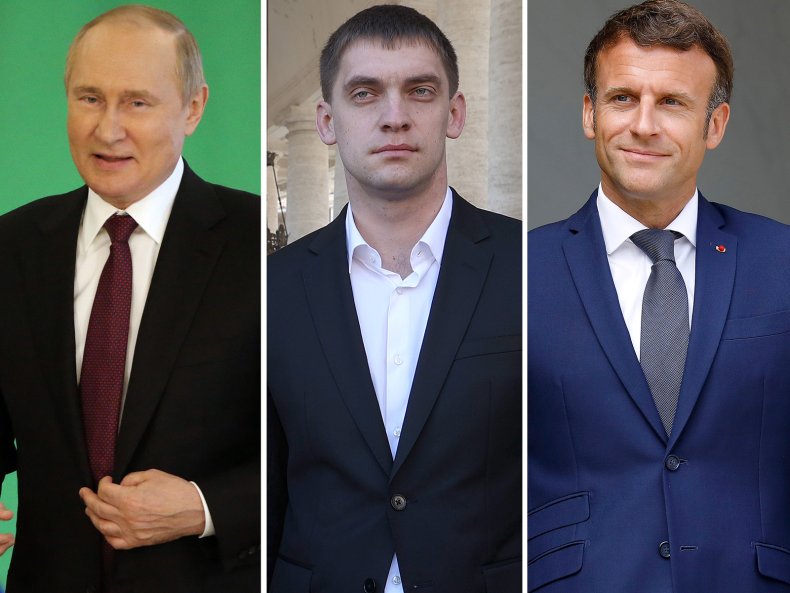 Fedorov said the only acceptable outcome of the war is Ukraine's return to its 1991 borders—i.e. the reclamation of all territory occupied by Russian and proxy forces since 2014.
Melitopol was one of the first major Ukrainian cities to fall to the Russian invasion. Fedorov was captured by Russian soldiers when Melitopol was occupied, though was soon freed in a successful Ukrainian special forces mission.
"I don't want to speak about it, because it does not matter," the mayor said of his brief detention by the Russians. "Now we must do everything possible to make our victory nearer every day. I do not have huge problems, and all problems can be solved when we celebrate our victory."
Melitopol now sits some 45 miles behind the front line, which cuts access to the city of Zaporizhzhia to the north. Recent weeks have seen Ukrainian counterattacks liberate territory outside Zaporizhzhia and to the west of Melitopol near the city of Kherson. But progress is slow and costly.
Fedorov said he believes his city will be retaken, but would not predict when. More than half of Melitopol's pre-invasion population of 135,000 have left the city, he said.
The remaining population face several key difficulties. "The first problem is they have no money, and the second problem is that products are very expensive," Fedorov said, noting that Ukrainian ATMs rarely work and the prices of everyday goods are three or four times higher than in government-controlled Ukraine.
Meanwhile, occupiers are cementing their control. "Russians are regularly kidnapping citizens," the mayor said. "In the last 100 days, they've kidnapped more than 500 citizens. Some they hold three days, some more than 50 days, some more than two months."
Newsweek has contacted the Russian Foreign Ministry to request comment.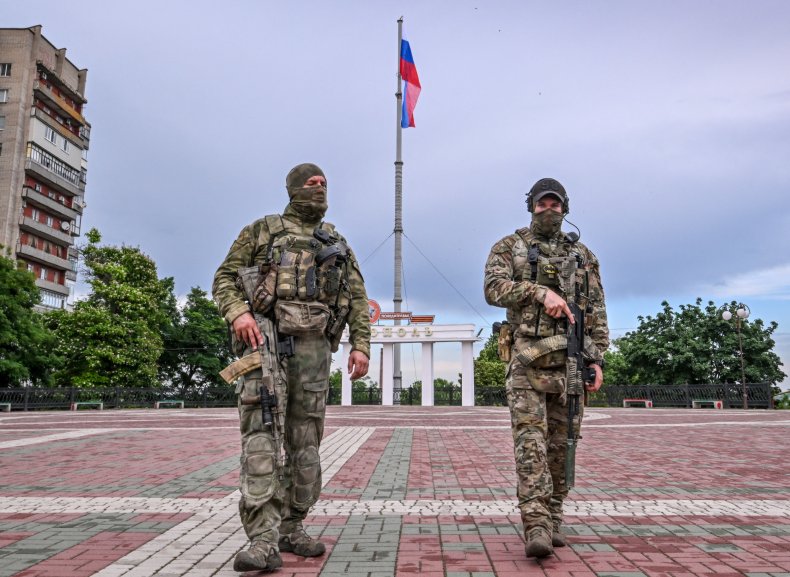 All municipal departments are being run by a handful of people, Fedorov added, claiming the police department is at 10 percent strength. Any Russian collaborators, the mayor said, will be found and charged as criminals when Melitopol is recaptured.
Guerrilla resistance networks have been operating in southern occupied regions, particularly in Kherson and Melitopol. In the last month, units in Melitopol have reportedly assassinated Russian officers and set off a car bomb, among other operations.
"We had powerful protests in Melitopol from the first days," Fedorov said. "Now we do not have protests on the streets, but protests from our partisans and our special secret services. That's why every day we will see more and more and more such actions."
While partisans agitate and Ukrainian troops counterattack, Fedorov urged the West to provide more weapons and heavy military equipment. "We need a strong position in the international community, and a strong position in all civilized countries," he said. "Now I don't see a strong position."
"Many European Union countries talk about their strong positions, but don't do deeds," the mayor added. "Now we need deeds."