Ukraine Will Defeat Russia, 'Convinced and Confident' Blinken Says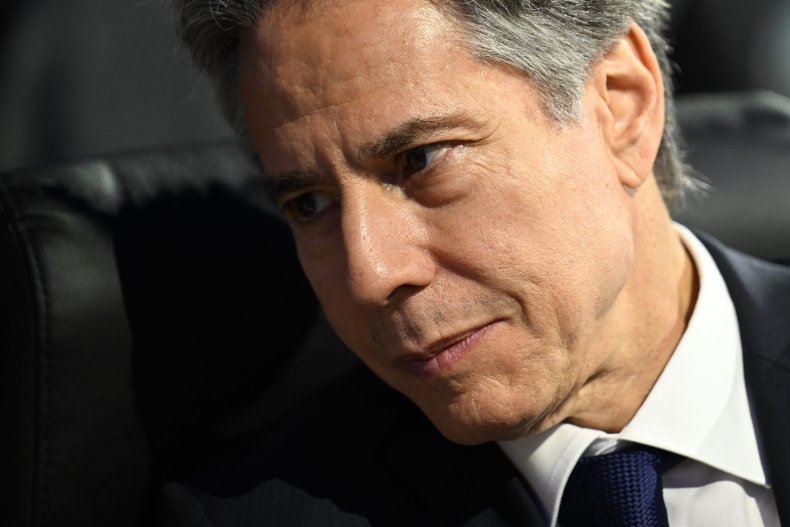 Secretary of State Antony Blinken says that he remains "convinced and confident" that Ukraine will ultimately defeat Russia.
Blinken maintained that the balance of the nearly four-month war had not turned in Russia's favor during a Tuesday interview with Judy Woodruff on PBS. While he said that Ukraine had suffered "significant casualties" during fierce fighting in the Donbas region, Blinken predicted that the country would retain its sovereignty "long after" Russian President Vladimir Putin was in power.
"The Ukrainians are fighting for their country; they're fighting for their future; they're fighting for their freedom," Blinken said. "It's unclear what the Russians are fighting for, except to advance the whims of Vladimir Putin and the bizarre belief that Ukraine is not a sovereign, independent country and needs to be subsumed somehow into Russia."
"So I am convinced and confident that, at the end of the day, Ukraine's independence, Ukraine's sovereignty will prevail and will be there long after Vladimir Putin has left the scene," he continued.
Blinken said that the "terrible death" in Ukraine was "the result of Russia's aggression" and would continue until the war was over. He declined to directly weigh in on suggestions that Ukraine may need to make territorial concessions to Russia in order the end the war.
"Ukraine's future is up to the Ukrainians," Blinken said. "It's up to the Ukrainian people and, ultimately, those decisions will be made by its democratically elected government, including President [Volodymyr] Zelensky."
"He will have to determine what's in the best interests of his country, of his people, and we'll support that," he added. "We'll look to the Ukrainians to decide what's in their best interest."
A poll released by the Kyiv International Institute of Sociology last month found that 82 percent of Ukrainians were against securing a peace deal by conceding Ukrainian territory to Russia under any circumstances.
The battle for Donbas has recently centered on Severodonetsk, where Russian forces could be poised for a total takeover after already gaining a clear upper hand and control of most parts of the city.
While pleading with Western countries to supply additional aid on Tuesday, Zelensky said that the Ukrainian military was working hard to "hold on" to Donbas, while noting that there had been "painful losses in the Kharkiv region" in addition to Severodonetsk.
Russian military success in Donbas has led some analysts to conclude that the war has tilted in favor of the Kremlin. However, a senior U.S. Defense Intelligence Agency official told Newsweek on Wednesday that Ukraine was likely to eventually emerge with "an advantage."
"The Russian military is getting weaker by the day, with little prospect of overall replenishment or meaningful reinforcement," the official said. "Meanwhile, Ukraine is holding on ... [and] standing on the brink of major Western augmentation of its offensive capability."
"Even if Russia manages to take all of Donbas in the coming weeks, we'll still see a standoff where Ukraine increasingly has an advantage," the official added.
Newsweek has reached out to the Russian Ministry of Defense for comment.