Spielberg, Drake Targeted by Private Jet Account That Exposed Kylie Jenner
The Twitter account that exposed Kylie Jenner's short-haul flights is reporting other celebrity findings.
Celebrity Jets, known as @CelebJets on the platform, tracks stars' private jet flight paths and emissions. On Wednesday, July 13, Celebrity Jets revealed the Kylie Cosmetics founder, 24, took a three-minute flight, which would have been a 40-minute drive. The tweet caused uproar on social media, with many branding the Kardashians star a "climate criminal."
Now, the site is reporting on other celebrities including Steven Spielberg and Drake.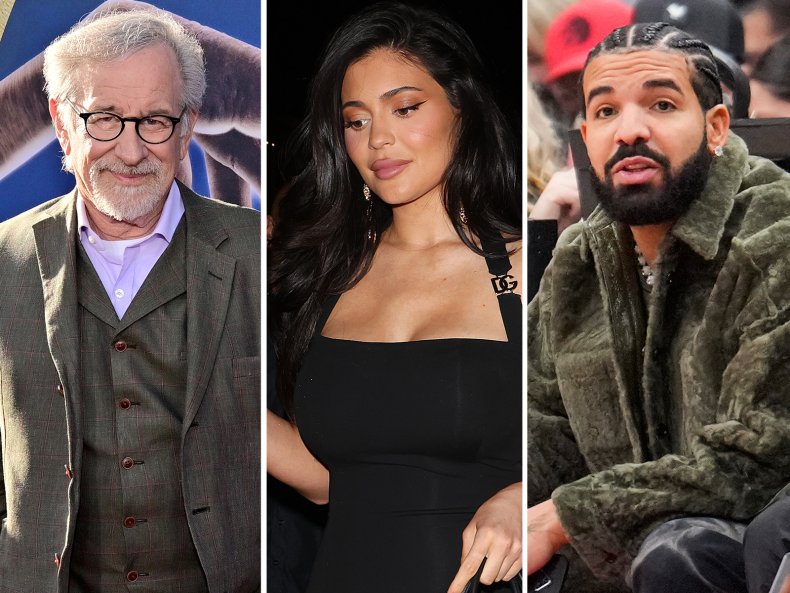 "Steven Spielberg's Jet Took off near Martha's Vineyard, Massachusetts, U.S. Going to Teterboro, New Jersey, US (TEB, Teterboro Airport) arriving in ~56m," one tweet alleged. In a separate post, the account said the 184-mile journey cost $2,754 in fuel and caused four tons of carbon dioxide (CO2) emissions.
A recent flight by Drake from Nice, France to Barcelona, Spain is said to have used a whopping $10,384 worth of fuel and generated 16 tons of CO2 emissions. In another flight to Ibiza, the rapper, 35,—whose real name is Aubrey Drake Graham—is said to have chartered an airplane that consumed $7,042 in gas and generated 11 tons of CO2 emissions.
They weren't the only celebrities to be called out. Oprah Winfrey, Floyd Mayweather, Mark Wahlberg, Blake Shelton, Kenny Chesney, Jay-Z, Kim Kardashian, Travis Scott and more were also exposed.
Scott and girlfriend Jenner received more backlash on social media after the mom of two—who shares daughter Stormi and a son with the rapper—posted a photo of their private jets on Instagram. "You wanna take mine or yours?" she captioned the shot.
The controversy comes amid unprecedented, record-breaking heat waves across Europe. The United States is also experiencing historic droughts. Lake Mead is only 28 percent full, according to the Wall Street Journal, and California is currently experiencing its driest year on record, the Weather Channel reported.
According to a CBS2 News report, Kourtney Kardashian's $8 million Calabasas home used 245 percent of its water allotment in May despite major restrictions that were introduced to the state in December. After the news was made public, the reality star also endured criticism.
One person tweeted: "75,000 people rely on a water supply that's dangerously low, and you're going over your share by 245 percent? Why are you such a f***ing asshole?"
A second suggested Kardashian, who Celebrity Net Worth estimates is worth a $65 million, pay an additional "insane fee" for being "inconsiderate."
Celebrity Jets tracks flights with a bot using ADS-B data. Though the account is unverified, it's linked to @ADSBexchange, which is verified.
Newsweek has reached out to Celebrity Jets for comment.