Chrissy Teigen, Seth Rogen, Celebrities Donate Money to Bail Out Those Arrested in Nationwide Protests
Chrissy Teigen, Seth Rogen and a wave of other celebrities have pledged money to bail out protesters arrested during nationwide protests over the death of George Floyd.
Teigen, 34, said she decided to make a $100,000 donation after President Donald Trump declared Saturday night was "MAGA night" at the White House.
"In celebration of whatever the f*** maga night is, I am committed to donating $100,000 to the bail outs of protestors across the country," she wrote on Twitter.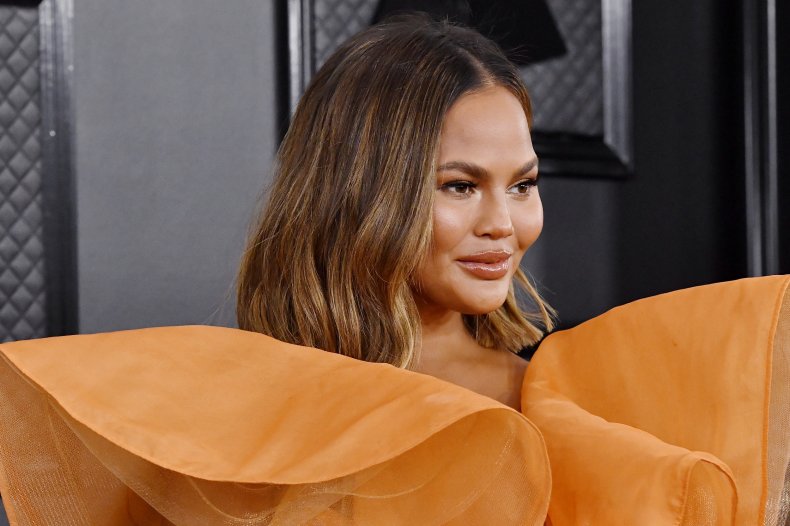 Trump had condemned protesters in a tweet on Saturday morning, claiming they were "professionally managed" and had "little to do with the memory of George Floyd."
"Tonight, I understand, is MAGA NIGHT AT THE WHITE HOUSE???" he ended the tweet, without elaborating on what that meant.
Teigen, a model and cookbook author, later upped her donation to $200,000 in response to a tweet—which has since been deleted—in which a user called the protesters "rioters and criminals."
"Ooo they might need more money then. Make it $200,000," she wrote.
A number of other celebrities have also revealed that they've donated funds to help bail out protesters over the past few days.
Seth Rogen tweeted a chain of donations saying he had "matched" a contribution and "then much more" to the Minnesota Freedom Fund (MFF), a nonprofit that pays bail for those who could not otherwise afford it.
Other famous names, including Steve Carrell, Don Cheadle and Patton Oswalt, shared the chain adding that they had also "matched" a donation.
Rapper Noname started another chain, saying she had donated $1,000 to the fund and adding: "Celebrity accounts that follow me… match."
Jameela Jamil, James Blake, Yara Shahidi and Janelle Monáe were among the celebrities who said they had matched Noname's donation.
Social media has been flooded with posts from people sharing that they have donated to the organization in recent days and some celebrities have taken to Twitter to urge people to contribute what they can.
Padma Lakshmi wrote on Twitter on Friday that Minneapolis police were "arresting Black journalists and killing Black people for simply existing, while the leader of our government tweets: "When the looting starts, the shooting starts," baiting a race war. This is America in 2020."
Alongside a link to the MFF's website, she added: Here's how you can help as an ally right now. Put your anger, grief and sadness into action and help to pay bail for arrested protesters."
Actor Mark Ruffalo also urged his followers to donate to the nonprofit, saying "they're combatting the harms of incarceration by paying bail for low-income individuals who cannot otherwise afford it."
Almost 1,400 people have been arrested during protests in 16 U.S. cities since Thursday, according to a tally by the Associated Press.
The unrest started in Minneapolis after the death of Floyd, a black man, in Minneapolis police custody on Monday and then spread to cities across the U.S.
Video footage showed a police officer pressed a knee on Floyd's neck while he gasped that he couldn't breathe. The officer, Derek Chauvin, was arrested on Friday and charged with third-degree murder and second-degree manslaughter. Chauvin has been fired from the police department, along with three other officers.
Chauvin's arrest did little to stop protesters decrying years of police killings of black people.
Many of the protests started out peaceful, but later descended into violence, with clashes between protesters and police seen in cities including Minneapolis, Los Angeles, Atlanta and New York City.
The nationwide protests come after Americans have faced months of lockdown due to the coronavirus pandemic, which has killed more than 100,000 people in the U.S., left millions out of work and disproportionately affected black people.
Correction 6/16/20, 6:30 a.m. ET: This article and its headline were updated to correct the spelling of Seth Rogen.