Which Celebrities Are Voting For Donald Trump?
November 3 is here and America is heading to the polls to vote for either Joe Biden on Donald Trump in what is a generation-defining election.
More than 91 million Americans had already cast their votes before today, with millions more expected to cast their ballots on the day itself with a 60 percent turnout predicted.
So far early polls have been edging in the Democrats' favor with many famous Biden supporters using their high profiles to urge their fans to get out and vote.
So while most of Hollywood is in the liberal camp, there is still a sizeable amount of celebrity support for Trump.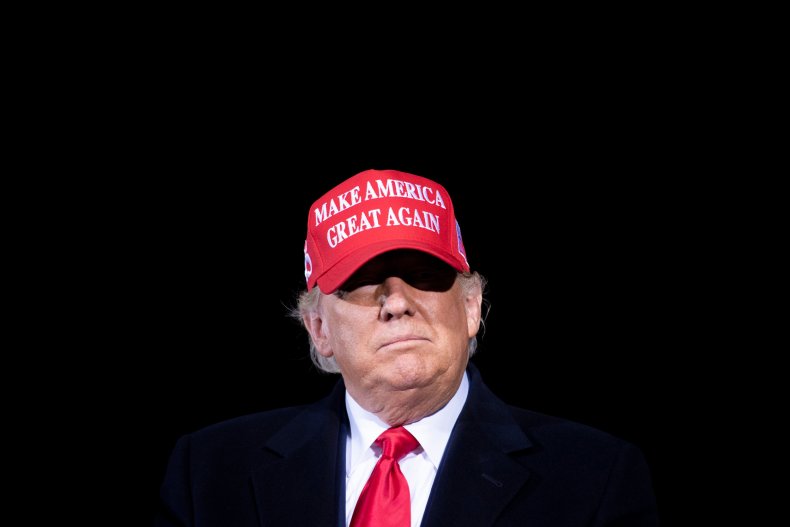 Here are the celebrities who are voting for Donald Trump.
Waka Flocka Flame
The "No Hands" rapper posted on Instagram last week: "There are two types of people in this world: Those who resist change in favor of nostalgia and those who move with the times and create a better future."
Kirstie Alley
The Veronica's Closet star confirmed her support for Trump in October and has been making regular appearances on Fox News as a talking head ever since.
Alley revealed her reason for voting for the president for a second term in 2020 is because "he's NOT a politician."
James Woods
Hercules voice actor James Woods is another long-time and fervent Trump supporter.
Roseanne Barr
The controversial comedy actress posted a photo wearing a MAGA hat earlier this year.
Lil Wayne
Lil Wayne made headlines—and endless memes—last week when he declared his support for Trump.
The "Lollipop" hitmaker shared a photo of himself alongside Trump Thursday with the caption: "Just had a great meeting with @realdonaldtrump @potus besides what he's done so far with criminal reform, the platinum plan is going to give the community real ownership. He listened to what we had to say today and assured he will and can get it done."
The actor who once played Superman has been a vocal Trump supporter and advocate for law enforcement.
Ted Nugent
Country singer Ted Nugent is voting for Trump.
"I think he's the greatest president in the history of America," he told "Pat's Soundbytes Unplugged" podcast, adding: "I think he's the greatest leader in the history of the human experience."
Kid Rock
Alongside Donald Trump Jr., Kid Rock co-hosted a Trump rally in September in Michigan. The singer also supported the president in 2016.
Stacey Dash
The Clueless actress is famously a Republican and has #MAGA" and "#WomenForTrump" in her Twitter bio.
Lil Pump
"Gucci Gang" singer Lil Pump took to Instagram on last week to give Trump his official endorsement, first posting a photoshopped picture of himself with the president. "THE DAY I MET TRUMP #trump202022020," he captioned the image.
Scott Baio
The former Happy Days actor spoke at the 2016 Republican National convention and has been a prominent Trump supporter ever since.
Jon Voight
The veteran actor has been a vocal Trump supporter and has openly supported the Republicans' reelection campaign.
Tekashi 6ix9ine
Tekashi 6ix9ine told the New York Times: "I don't think Trump trolls. I think Trump is genuinely Trump. I get compared to Trump every day. But I love Mexican people. I don't think we're the same."
Asian Doll
In October, Asian Doll posted tweet claiming that she rather vote for President Trump than "that other dude."
Dennis Quaid
The Parent Trap actor is supporting Trump.
"I think Trump, no matter what anybody thinks of him, is doing a good job at trying to get these states—and all of the American people—what they need,"he said in April 2020 per The Daily Beast, "and also trying to hold our economy together and be prepared for when this is all over."
Antonio Sabato Jr.
Former General Hospital star Antonio Sabato Jr. told Variety that his support for Trump saw his career suffer.
Conor McGregor
The outspoken MMA athlete tweeted that Trump was the GOAT (Greatest of All-Time) President.
Carol McGiffin
The British TV presenter defended Kirstie Alley recently and said she herself would vote for Trump if she was American on an episode of Loose Women.
Kevin Sorbo
Andromeda actor Kevin Sorbo tweeted: "If Biden wins the country will be destroyed. Vote accordingly."
Isaiah Washington
"Walking away ... is a sacrifice, it's a risk, and there's a penalty for it," The Grey's Anatomy actor said when he left the Democrats in 2019.
He told Fox Nation's Nuff Said (via The Hill) that the reason why he chose to "walk away from the Democratic Party as I know it ... is that something doesn't feel right."
Samaire Armstrong
The actress who starred in the O.C. posted a video to Instagram sharing her support for Trump.
Randy Quaid
Dennis' brother Randy has also voiced support for the President and his handling of the pandemic.
In July, he tweeted, per Buzzfeed, (but since deleted): "If President Trump wasn't doing a great job solving COVID-19, wouldn't high risk touchy-feely candidate Sloppy Joe be dead by now? #TrumpPence2020."
Stephen Baldwin
Baldwin tried to set up a lunch date with fellow Trump supporter Isaiah Washington earlier this year.
Kelsey Grammer
The Fraiser actor praised Trump and defended voting for him in 2016 on PBS.
Jana Duggar
The reality TV personality posted a video to YouTube showing her support of Donald Trump.
Travis Tritt
Country singer Travis Tritt has tweeted his support for Trump.
Chuck Woolery
The former game show host has publicly voiced his support for Trump.